Here Are The Lucky 4th Airsoft Players' Choice Awards Raffle Winners
OptimusPrime
11 Feb 2014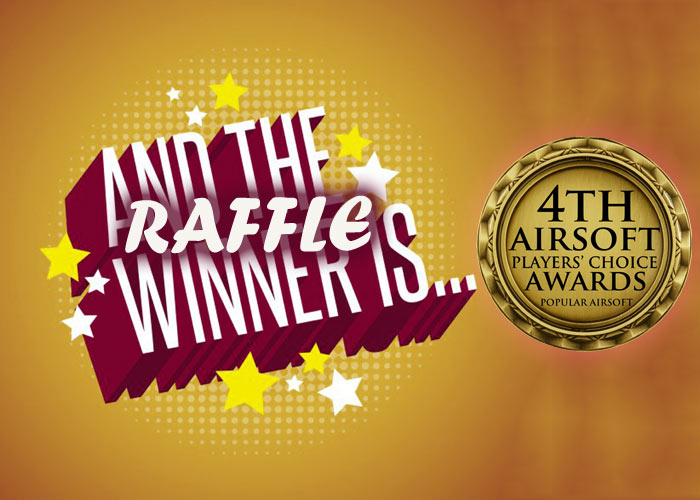 As we wait all the winners of the 4th Airsoft Players' Choice Awards to get in touch with us for their shipping details (there is an Awards plate that is sent to all the winners who want their awards), we now go to what is very important for all the voters and those who sent in their nominees --- the announcement of the raffle prize winners.
Those who nominated and voted had greater chances to win a raffle prize as their names are entered twice for the raffle. The prizes are some of the most sought after products these days and even us here are salivating at the prizes though we cannot be part of the raffle prizes.
For privacy reasons (so that email harvesters won't get the exact email addresses of the winners for the purpose of spamming them with viagra or porn offers) we are posting the winners with parts of their email details blotted out. We will be sending an email to all the raffle winners this weekend to inform them. If the email(s) bounce back after several emails, the winner gets to forfeit the prize and we'll select another winner.
If you think you are a raffle prize winner as based on the list below, get in touch with us asap so we can confirm if you won and arrange shipping details.
The winners of airsoft guns, please ensure that you are allowed to own one as based on your local laws. If the winner is from the United Kingdom, we shall require the winner to present to us their UKARA number. The winners must be willing to accept any fees such as customs duties when the prize is delivered to them.
The prizes are non-transferable or non-convertible to equivalent cash amount.
Congratulations to the raffle prize winners!
Tokyo Marui HK416D DEVGRU Custom New Generation AEG
Frank <spon*****@gmail.com> (Ireland)
Tokyo Marui M870 Tactical Gas-Powered Shotgun
Hardy <hardy*********@telenet.be> (Belgium)
Tokyo Marui M320A1 Airsoft Grenade Launcher
Karol <karol***@o2.pl> (Poland)
Tokyo Marui M9A1 Gas Blowback Pistol
Mark <overlord****@hotmail.co.uk> (England)
Inova T3 Tactical Flashlights (3 Winners) from Specshop.pl
Gustav <gustav****@live.de> (Germany)
Hosaka <g17_*****@yahoo.co.jp> (Japan)
Irwin <irwin*****@gmail.com> (USA)
E&L Airsoft EL-74N Assault Rifle Replica from Gunfire
Jarnier <jajar****@yahoo.fr> (France)
Specna Arms SA-A01 Carbine Replica from Gunfire
Josef <josef**********@yahoo.de> (Österreich/Austria)
Gunfire Gift Sets Comprised of HDR Smart Tac Gloves, Bottle of Rockets Platinum 0.30g BBs,
Gunfire 2014 Calendar, and Gunfire Key Leash (3 Winners)
Jottis <rrp******@hotmail.com> (Sweden)
Juanjo <tirador********@hotmail.com> (España/Spain)
Kamil <szamil***@onet.pl> (Polska/Poland)
Jing Gong JG AK-47 RIS Folding Stock AEG Black (2013 edition) from Airsoft Atlanta
Joseph <joseph********@yahoo.com> (USA)
As always, don't forget to show your appreciation to our sponsors and supporters by clicking on their logos belown and visit their websites:
MAIN PRESENTER

GOLD SPONSORS
SPONSORS