SOCOM Tactical: Trust Fire MC1 EDC Rechargable FLashlight
OptimusPrime
20 Oct 2020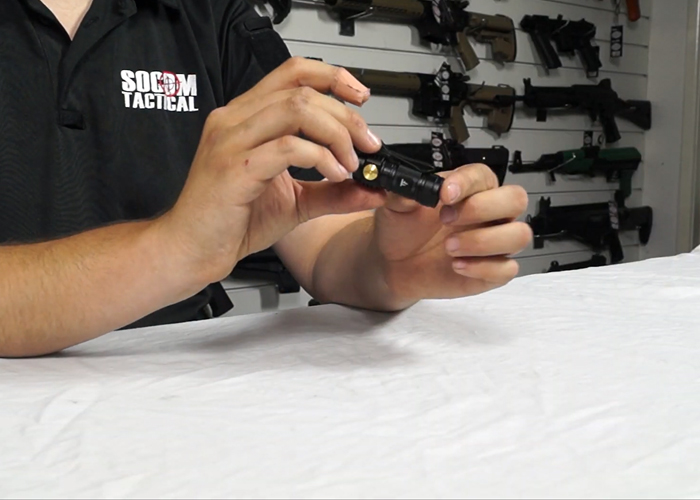 SOCOM Tactical feature the Trust Fire MC1 EDC Flashlight that has adjustable output and like many flashlights coming out nowadays, is also rechargeable... "The Trustfire MC1 brings you the ability to have a high output rechargeable torch, in a compact size.
The MC1 EDC flashlight is metal and has some clever and helpful features. The body is textured for superior grip. At the front is the Cree XP-L HI LED and located just behind it on either side of the torch is the magnetic charging port and the on/off button on the opposite side. If you tap the on/off button it will flash the little LED inside the button and show you the power level. If it flashes a green light you have between 100% and 50%, Yellow is 50% to 20%, red is 20% - 5% and flashing red is less than 5%. To turn it on you press and hold the button until the light appears and then let go. To switch between mode from that point you just tap the button. When you turn the MC1 off it will remember which light setting you left it on so it will switch on again on the same mode. If you wish to turn on the strobe mode you simply keep holding down the button after the light has switched on. Behind this is the double-sided clip, which means you can clip it to different items pointing in different directions when needed. It comes with a rechargeable IMR16340 battery but can also run on CR123A batteries. To access the battery you undo the tail cap. The tail ap houses a magnet so you can easily attach the torch to metal when working on something.
Inside the box will be the MC1, the battery, the charging cable, the clip, the lanyard, a replacement o-ring, keyring ring and the manual.
Features:
Metal construction
Magnetic charging
Tail cap magnet
Micro USB magnetic charging cable
Double-sided pocket clip
Runs off rechargeable IMR16340 battery (included) or CR123A battery
Power level light
IPX 8 waterproof rating
1.5m impact resistance
Cree XP-L HI LED
Lumens: 15 (low) / 168 (Medium) / 1000 (high and strobe)
Beam distance: 12m (low) / 51m (medium) / 129m (high)
Run time: 54h (low) / 139min (medium) / 75min (high)
Size: 56mm x 20mm
Weight: 44.5g"