Is the MAS-G Advanced Airsoft Grenade BFG The Ultimate Airsoft Grenade?
Gungho Cowboy
17 Aug 2015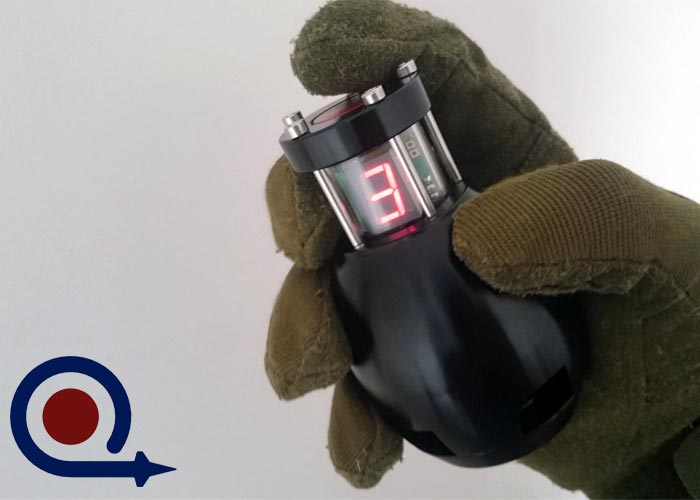 I wondered if there are some recent crowdfunding projects for airsoft that have been successfully funded as there is a poor achievement rate for airsoft projects that tapped crowdfunding to turn their developer's ideas into reality. Indeed, there have been a very few projects that were funded over the years, and one of the most recent ones actually is something for airsoft players to look forward to as it is a multi-functional Blank Firing Grenade that has been designed with airsoft in mind.
Called the MAS-G Advanced Airsoft Grenade BFG and designed by Molyneux Advanced Systems, it achieved 487% if its funding requirements on Indiegogo last 3 July 2015. Watching the product pitch on Indiegogo, I do really wish it will be delivered to funders. The developers promise a lot of features as shown in the list below:
1-9 Second Countdown Grenade
Tilt Mine with Optional 1-9 Second Delay
Virtual Trip Wire Mine also with optional delay
Zero-G 'In Flight' Arming
Beeps after use making it easy to find after the game
Lost and Found website so the finder can enter their details and your serial number
Smart charger which only works with your grenade serial number (Can be disabled)
Waterproof to 30 Metres
Beeper volume and Display brightness control
Interchangeable bases for Blank / Primer pre-loads and other future options
Remote detonation via RIS mounted IR designator (Optional extra)
Just look at that list! It does more functions apart from being a BFG, with the exception of expelling BBs or smoke. It is a Blank Firing Grenade so it is based on sound as compared to existing airsoft grenades in the market. Just like the Airsoft Innovations Tornado Impact Grenade, it's reusable and can be retrieved with its blinking LED light and beeps after it gets thrown. Though if you're worried that you will lose the MAS-G even with the already built-in "find me" feature, then better ask the developers to rather adopt what Airsoft Innovations did to their Tornadoes --- painted them in bright colours. This way, they would be easier to find rather than rely on blinking LED light and beeping sound since these will eventually turn off as soon as the battery charge runs out.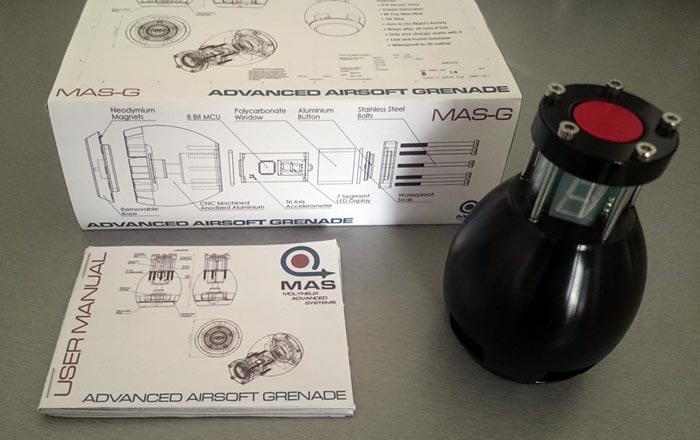 With that suggestion said and hopefully the developers would consider it, I think the MAS-G promises to be a more cost-effective airsoft grenade due to is reusability as compared to disposable sound and pyro airsoft grenades in the market, even if it has a higher acquisition cost. Now, what the developers need to do is go through the designs and prototypes and move to production. Molyneux Advanced Systems have an initial target release month of August 2015 but they announced that the time to delivery will be extended as they will go through they will be redesigning the Blank Firing Base that will be specific to the .209 primer and the 9mm half load blank based on the feedback of customers on Facebook.
We don't know if the developers are taking pre-orders apart from the Indiegogo campaign where at £55GBP, a supporter from the UK will get 1 MASG set and for worldwide customers, it was £60GBP. The best really is to wait for their updates on Facebook or at the Indieogogo funding page. So far, there is no definite release date yet as the project remains at the Prototyping stage.