Max Venom's MXP-DW Is The Simplest PDW Kit For Your Glock Pistol
Gungho Cowboy
07 Dec 2022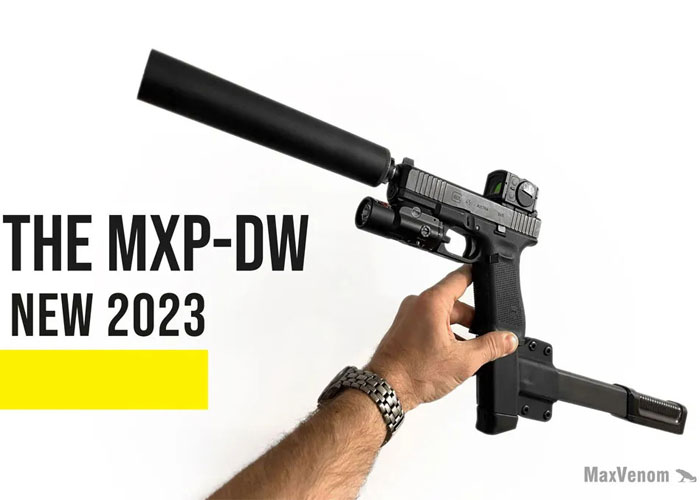 We all want a stable shooting platform with our pistols, but sometimes getting the kits to convert them into PDW-style weapons also comes at a cost. If you want a no-frills kit for your Glock pistol, then you might want to consider the new MXP-DW from Max Venom.
Just one look and it will make you smile. It's so barebones that makes you question why hasn't someone made something similar before, even amongst airsoft designers who are also very creative in coming up with new contraptions to make airsoft players open their wallets.
---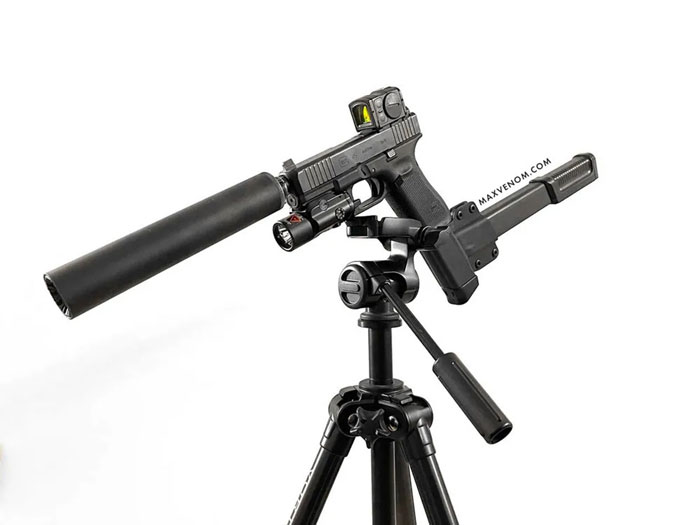 ---
The Max Venom MXP-DW allows you to maintain your present pistol configuration and when adding the kit, you get a stable shooting platform that also serves as a holder for spare magazine, making one at the ready immediately if you need a fresh load. The design is simple since for those who make Kydex holsters may want to take a look at it for inspiration.
It is an L-shape dual mag coupler that can hold extended Glock magazines and the magazine also serve as the stock to shoulder the MXP-PDW. It is a limited run for now and for the holidays they are releasing 300 units for US$98.00.
---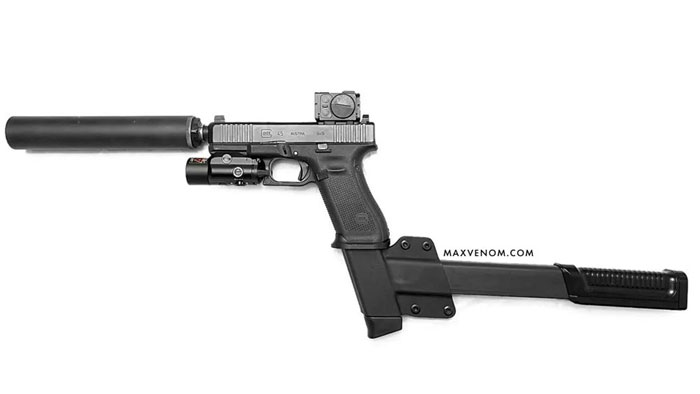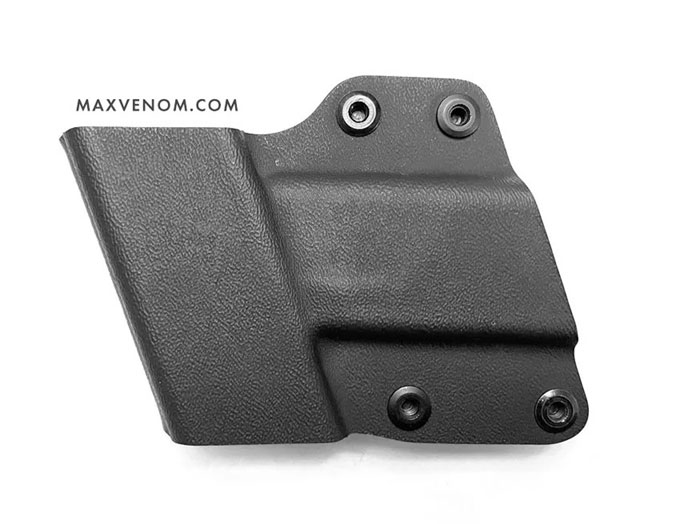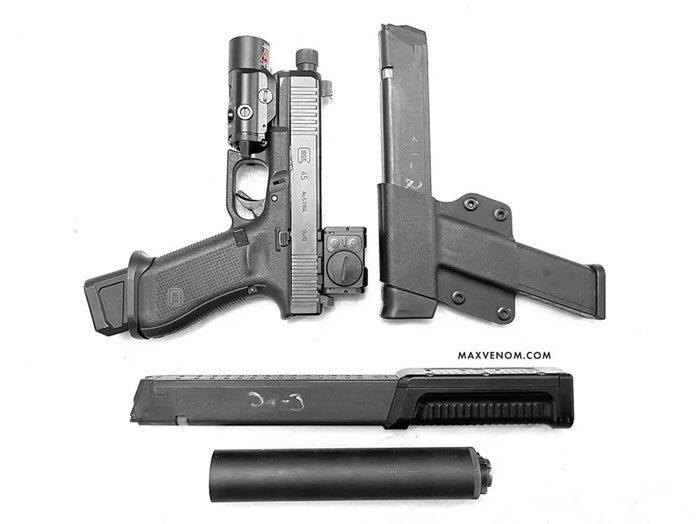 ---
Pretty sure someone's already having ideas using a similar approach in airsoft.
More from Max Venom below:
---
Why the MXP-DW?

If you've maximized your personal defense handgun, it is likely outfitted with a red dot sight and even a light.

At some point, you may have considered owning a PDW style chassis, but found you could not keep your RDS mounted to your weapon slide. Or needed extra tools to hold the contraption to your handgun. (FAIL).

You may have also considered buying TWO of the same handgun so that one can be used as a PDW and the other as your EDC just so that they can utilize the same ammo and the same magazine (also FAIL).

The MXP-DW solves for all the above and more!

Do you already carry an optimized EDC handgun? Do you carry a spare magazine? Then you are already more than half way there!

Capacity

When not used in conjunction with your firearm, the MXP-DW serves as an IWB spare magazine holster.

It holds two magazines: One 32 round Glock magazine and one standard 17 round mag.

This combination seats IWB or AIWB nicely as its configuration is a close facsimile of the footprint of the Glock itself.

Deployment

To deploy your handgun in PDW configuration simply load the 32 round magazine into your Glock 17/45, with the slide locked back (empty chamber). Exchange the 17 round magazine for a 32 +20 PCC extended magazine and you are set!

Features

More reasons to get your MXP-DW:

A revolutionary new IWB/AIWB spare magazine carry device.
Amplifies your Personal Defense capability at a moment's notice.
Multiplies the volume of ammo that you already carry.
Acts as a counter-balance device when shooting suppressed.
Provides a stabilizing third point of contact when rested against any part of your body that is NOT your shoulder.
Readily stow-able for Every Day on or off body carry.
HIGHLY cost-effective alternative to all over built over priced PDW style chassis on the market today.
Requires ZERO tools and installs in seconds.
In short
We believe that the MXP-DW is the BEST non chassis PDW configuration on the market because we believe that the best PDW is the one that you already have on your person!

Max Venom is rolling into the holidays with a limited production of the MXP-DW ready to ship.

Be one of the first 300 to order now and capitalize on our limited introductory price.

Important Details. Do not skim.

Do we really need to say this stuff?

Glock 32 round magazines NOT included
Glock 17 round magazine NOT included
Glock Magazine well NOT included
Goliath +20 Magazine extension NOT included
Glock 45 NOT included
Silencer NOT included
TRL IR NOT included
Aimpoint ACRO NOT included
The MXP-DW is a revolutionary new 17/32 IWB spare magazine holster.

The MXP-DW is a revolutionary new "chassis free" balanced/stabilized PDW type conversion.

The MXP-DW is designed and intended for use specifically with 1 X OEM Glock 32 round magazine and 1 X OEM Glock 32 magazine with a Goliath +20 magazine extension; specifically in the orientation of the Goliath +20 enhanced magazine facing towards the body as illustrated in the product photos. The MXP-DW is designed and intended for use with a suppressor.

The MXP-DW is designed to balance and stabilize your firearm as you shoot. This balance and or stability is not a substitute for maintaining proper grip and control of your firearm/handgun in the customary manner at all times.

Behind The Design

Many years ago I had a hand in bringing to life a chassis system for a Glock pistol. After sharing a few rudimentary drawings, the project was off and running and the product realized without further consultation.

But the outcome did not exactly align with my vision. My goal was to facilitate the ability of an operator to rapidly transform their side arm into a more formidable PDW-style weapon that was extremely light weight and ideal for moving fast; for use in missions such as Tactical Man Tracking, utilizing night vision technology.

Such a system was, at the time, revolutionary and a fantastic means of equipping what was otherwise an ordinary handgun with a red dot optic, light and laser sight.

The times have changed. Such bells and whistles as red dot optics, lights and lasers are now par for the course for any given pistol, yet the PDW chassis persists. Why?

Because some of them are awesome. Others.. not so much.

I have been an industry consultant for well over a decade. I am a knife designer to most but to others I am also a cutting edge product developer. And I have come to realize a more sublime way of utilizing today's "ordinary" handgun as a PDW.

And the MXP-DW was born.