Meet The Bundeswehr's New Sniper Rifle: The G29 By Haenel
Gungho Cowboy
19 Feb 2016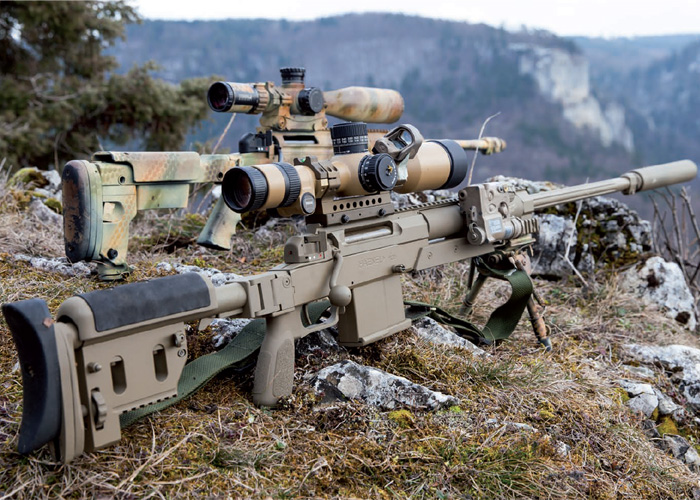 In February 2014, the Bundesamt für Ausrüstung, Informationstechnik und Nutzung der Bundeswehr (BAAINBw) or the German Army's Purchasing, Information Technology and Support Operations Office, put out a tender for the purchase of medium range sniper rifles chambered for the .338 Lapua Magnum that will get the Bundeswehr designation as the G29 (Scharfschutzenwaffe mittlere Reichweite Gewehr G29).
The contract was estimated to be 2.29 million euros and the winning rifle will supplement and eventually replace the G28 sniper rifle which is based on the Accuracy International AWM Sniper Rifle.
After numerous delays and legal wrangling, CG Haenel Suhl GmbH's, with their offering, the Haenel RS9, won the contract early this month. According to all4shooters.com, the contract entails the company to supply 115 rifles, equipped with Steiner Military riflescope 5-25x56 and B&T Rotex silencers.
The Haenel RS9 which is the magnum version of the Haenel RS8. is a bolt action rifle and chambered with the .338 Lapua Magnum only but gives it a maximum range of 1,500 metres. It is a heavy rifle at 7.54 kilograms and has a folding stock, which is useful for storing in a gun bag and it comes with a specially designed muzzle break to reduce recoil, jump, and flash. Accordingly, the RS 9, or the G29 Medium Range Sniper Rifle as its official Bundeswher designation, will be having the RAL8000 colour, which is the same colour as the G28 DMR in use in the Bundeswehr and supplied by Heckler & Koch.

If airsoft players want a new sniper rifle in the market, then perhaps they should clamor for airsoft manufacturers to consider the Haenel RS9.
C.G. Haenel, located in Suhl/Germany, offers a sniper rifle system developed especially for the use by police and military forces. The bolt-action concept sets a standard in ergonometrics and modularity. The rifle can easily be adapted to the needs of the shooter and the situation – without using any tools.
The RS8/9 system is a "state of the art rifle" with high functionality. The developers only used the best available materials and production technologies – without any compromises. Experienced weapon designers developed the rifle in cooperation with experienced police officers.
C.G. Haenel uses powerful production facilities in Suhl with the possibility to produce cold-hammered barrels and to apply CNC technologies. The production process meets the industrial standard ISO 9001 and NATO standards.