AMS Memorial Day Doorbusters
OptimusPrime
25 May 2012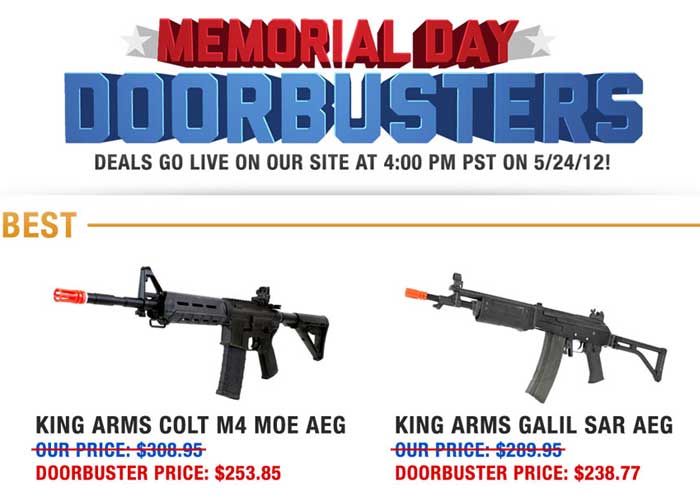 Grab some deals whilst you can as this is already ongoing when this news got posted... "We're having an amazing week here at Airsoft Megastore and because Memorial Day is coming soon, we decided to start your long weekend off by having a surprise doorbuster sale. The sale will begin today (5/24) at 4PM Pacific Time sharp. With 18 quality airsoft products all at extremely reduced prices how can you say no? All our products are backed by our 45-day product warranty.
So you know you don't have to worry about purchasing from us. Don't forget that we have true free shipping on orders over $99 and a free airsoft promo giveaway going on at the same time.



Also, don't forget about our Youtube Subscriber Contest where we give ALL our new and old Youtube subscribers a chance to win Airsoft Megastore exclusive Swag Bags and/or an Airsoft Megastore Armory M4 for FREE! Watch the video for more details:
Click here for more details on how to win.
Like us on Facebook.
Subscribe to our Youtube channel.
Airsoft Megastore
www.AirsoftMegastore.com"