Evike.com: ICS CXP-MARS PDW9 AEG
OptimusPrime
17 Oct 2019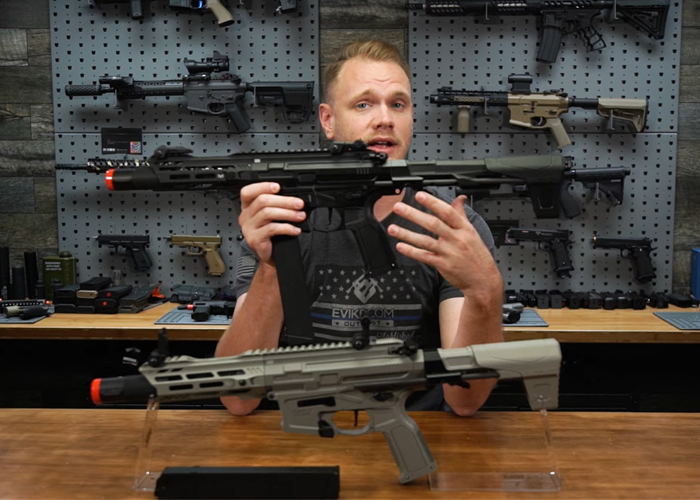 ICS Airsoft got their CXP-MARS PDW9 AEG ready to be displayed at the AirsoftCon 2019 event to be hosted by Evike.com this weekend. This AEG is on pre-order and here is Matt to tell more... "The MARS PDW9 is ICS's entry into the pistol caliber carbine (PCC) market. Borrowing features from their full size CXP-MARS rifles, these PDW sized guns offers the same great performance as their larger counterparts, but in a sleek and compact form factor. Rather than taking a full size AR style receiver and just putting a pistol caliber magazine into it, the entire receiver has been redesigned and modernized to fill the role for a smaller profile weapon.
Features:
Precision CNC machined aluminum alloy upper and lower receiver
CNC machined aluminum ultra-lightweight 'Komodo' 6.5" M-LOK handguard; 'Shadow' barrel extension / mock suppressor
ICS MARS Version 2 gearbox w/ built in MOSFET and reinforced internals (6061 Aluminum cylinder head & piston head, MIM (Metal Injection Molded) pinion & bevel gears, 8 steel teeth piston)
Ambidextrous dual-magazine release (Standard Button Style & Paddle Style); Ambidextrous fire selector; Ambidextrous bolt release; Ambidextrous charging handle
PDW style adjustable stock w/ large easy access battery compartment in buffer tube
Slip resistant textured pistol grip
Flip up front & rear sights
Flat top Picatinny receiver for optics"