GHK AUG GBB-R HPA-Tapped High Capacity Magazine Build
OptimusPrime
26 Mar 2021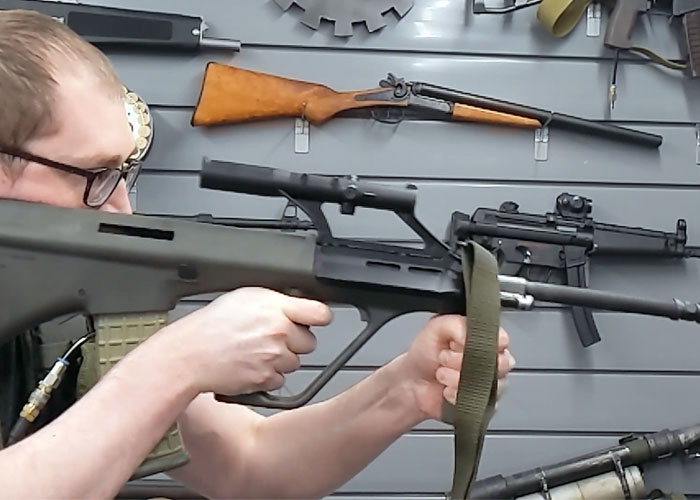 Explosive Enterprise show how they created a HPA-powered GHK AUG Gas Blowback Rifle using an HPA-tapped Marui high capacity AUG AEG magazine... "Here's the process of splicing together a GHK AUG magazine, a spare GHK AUG mag shell, a Tokyo Marui hi-cap, and some basic fittings to produce a hi-cap magazine for the GBBR AUG.
It's designed to replicate the 42rd magazines produced by Steyr and primarily intended for the AUG light machine gun configuration. They can be distinguished from normal magazines by their length, having 10 horizontal ribs rather than the normal 7 on 30rd magazines.
The final mag holds around 550 BBs and feeds ~300 on a full wind. The GHK AUG in the demonstration is running on an input pressure of ~100 PSI.
Parts and tools:
GHK AUG magazine
Extra GHK AUG magazine shell
Tokyo Marui AUG hi-cap
1/4-in. coiled spring for the feed track
M17x1 tap (to screw the gas plug into the shell)
1/8-in. NPT tap (to tap the gas plug for the HPA fittings)
M5x1 tap (for the reinforcement screws on either side of the gas plug)
Thin spring steel (for the BB fill hole cover)
1/8-in. NPT male-to-female elbow fitting
1/8-in. NPT male 6mm hose push-to-connect
6mm OD, 4mm ID vinyl tubing (aka macroline)
Standard HPA quick disconnect (ie another male 6mm hose push-to-connect, plus a Foster 22-2B quick-connect)"