TM Scorpion Mod M 19 April Release
OptimusPrime
09 Apr 2018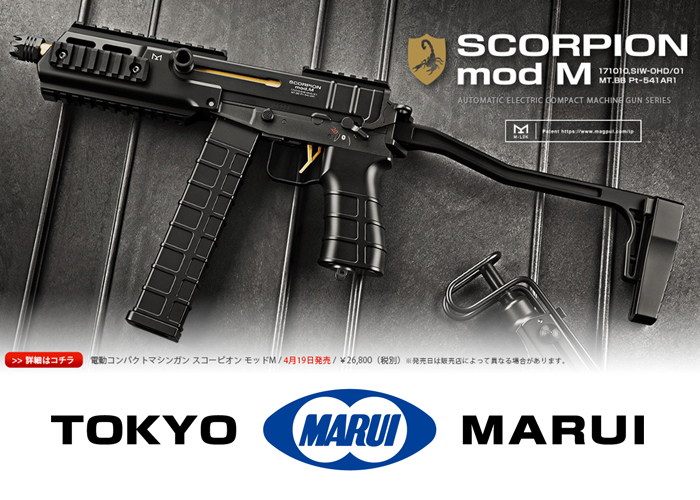 The upcoming airsoft redesign of the Scorpion Vz.61 by Tokyo Marui, the Scorpion Mod M, will be finally released on the 19th of April 2018... "Scorpion Vz.61 which is compact and lightweight and well-trained is modernized independently as Tokyo Marui as 'Mod.M'!
We adopted parts of original design everywhere, including rail system which enhances extensibility, multifunctional stock which increases stability feeling, levers which improve the certainty of operation, and pursued operability while widening the range of tactics. Moreover, by adopting trends in shape and color, it is a model aimed at "modernization" in both performance and appearance.
Major features
Compact Mechanical Box: Conventional electric gun performance condensed into a compact mechanical BOX. It is now possible to line up more compact models while maintaining hit accuracy and flight distance.
M-LOK rail system: Adopt the latest rail system "M-LOK" on the side of the front part with rails above and below. You can add rails of the size that suits your needs to the necessary parts. Three types of 3 slots, 5 slots, and 7 slots are included for each M - LOK rail of width 20 mm (Picatinny standard). It can be easily detached with the supplied hexagonal wrench.
Folding stock: Resin made of lightweight stock, the bat plate grooving became a slip prevention, and the stability feeling improved when you set it up. At the time of stock folding, you can grasp the bat plate like a fore grip.
Reversible type flash hider: The flash hider of the strike face shape can be changed to a flat design by installing it in reverse. Also, if you remove the flash hider, you can install a muzzle option with a 14 mm reverse screw specification such as a silencer.
Modern design: Adopted gold color which imaged titanium nitride coating on outer barrel and trigger, bolt cover. The waffle pattern of grip and magazine is a design that makes it hard to slip at grip and makes you feel strong.
EX conversion adapter included: 7.2 V micro 500 battery can be used by EX conversion adapter.
Continuous magazine attached: Includes 260 shots and a continuous magazine adopting a resin outer case."