Valken Kilo Tracer Unit At Shot Show 2020
OptimusPrime
13 Mar 2020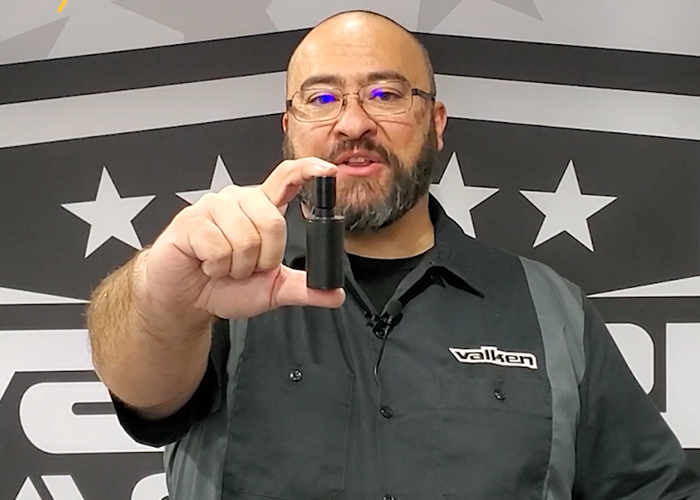 Valken Tactical got their own Tracer Unit product called the Valken KILO Tracer Unit and it's available to order by resellers right now... "The Valken Kilo Tracer Unit is one of the smallest airsoft barrel mounted tracer units in airsoft. It's improved illuminator uses two high powered UV LED's that enhance BB glow activation for an ultra bright trace. The tracer unit has a built-in rechargeable lithium polymer battery, which is accessed by removing the front cover and charges quickly with the included micro USB cable (wall plug not included). A full charge will last over 22,000 rounds, or up to 10 hours constant on. It also comes with a manual on/off illuminated button, but also has an intelligent motion sensor that turns the tracer unit on after 3 BB's fired, or turns off after idling for 40 minutes. The Valken Kilo Tracer Unit is also covered by Valken's standard warranty against manufacturer defects up to 90 days after purchase.
FEATURES
Barrel mounted tracer unit for airsoft rifles and pistols
Mounts to 14mm CCW male rifle barrels
Mounts to 11mm CW female pistol barrels (with included adapter)
High powered dual UV LED's
Sustained ROF up to 35 rounds per second
Built-in rechargeable Lithium Polymer battery
Works with green tracer BB's
Auto turn on after 3 BB's fired
Auto shutoff after idling for 40 minutes
FCC, CE, ROHS compliant
SPECIFICATIONS:
Color: Black
Diameter: 27mm (1.06in.)
Length: 67.3mm (2.65in.)
Thread Direction: 14mm CCW (11mm CW to 14mm CCW thread adapter included)
Batteries: Rechargeable Built-In LiPo Battery
Material: Aluminum, Plastic
Package Includes: Tracer Unit with Integrated Battery, USB Charging Cable, 11mm CW to 14mm CCW Thread Adapter, and Manual"