Airborne Airsoft Blitz CQB London
Operator7
18 Mar 2016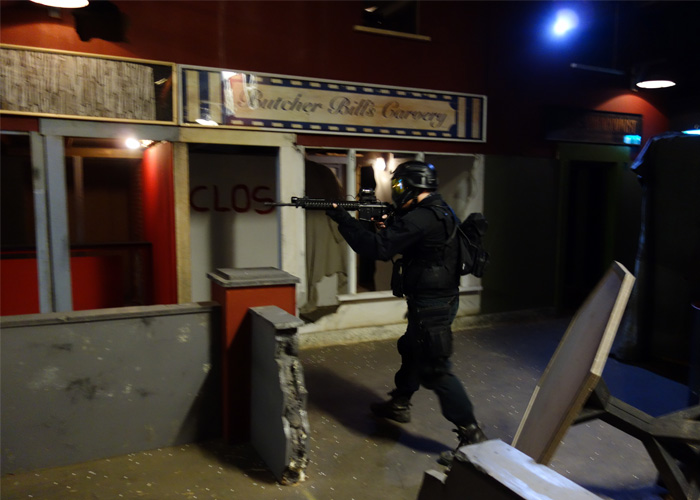 You can only call yourself a true Airsofter if you at least dare to try most styles of Airsoft games and several sites around your country, and at least one, if possible outside your country. And the more I get to know and experience new things, the more I want to try new sites and ways of playing. For instance I'm still to play in a big international game such as the Berget, or a milsim game. But there's a time for everything, and this time it was the time for my first ever indoor CQB experience.
Unfortunately, indoor CQB sites are quite a rarity in London, a city of about 10 million and there's only a handful (if so) of indoor CQB sites.
However, recently, a new CQB site was opened in East London and I had the opportunity to go there and have a shot at the Blitz CQB site ran by Airborne Airsoft.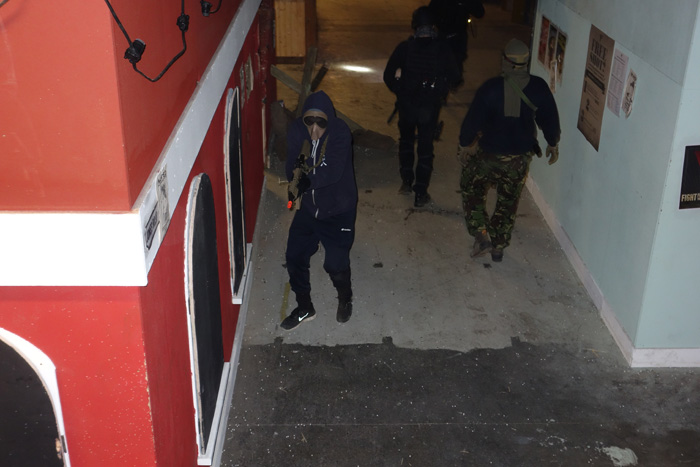 LOCATION
Set in East London, more precisely in Whitechapel, it was quite a chore to get there due to the never ending road work, traffic and traffic lights coming from North London, and anyone who know London traffic knows what I'm talking about.
Fortunately if you're using public transportation, your travelling gets a bit easier as there's an underground station just 5 minutes away from the venue.
Of course I was aiming for the free parking, and not having a transport pass, I opted for travelling by car, which I didn't regret.
When getting there, I did find it a bit hard to understand which was the building and entrance as Blitz CQB is set in a block with several buildings and there are several companies operating there. There were absolutely no signs at the entrance or on the street to point me in the right direction.
The result was that I arrived only a few minutes before the first game and couldn't fine tune properly my Contour cameras, so the video footage I ended up with is very substandard.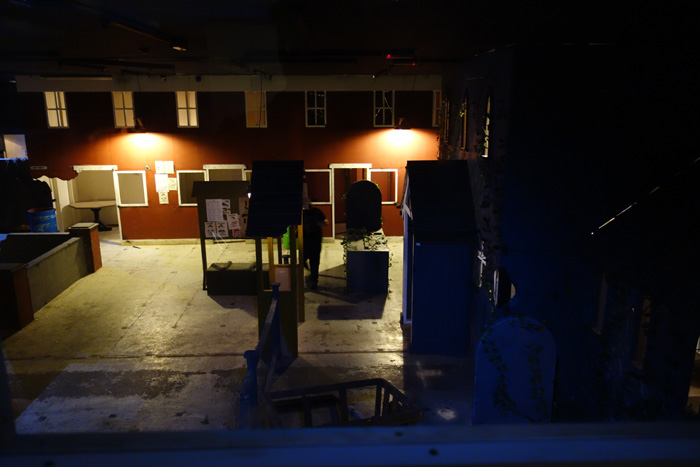 SCENARIO AND ENVIRONMENT
Making you feel you're in a real theatre of operations isn't easy for most sites and many try to emulate this In different ways, but the best way is sometimes not knowing what's coming next.
Even in a site where you've played for the past 12 months you can sometimes see that hardly anything changes. Partly it is good because you get familiar with it and more confident, however it quickly gets boring and you start looking for new places to play.
The key is really to have an ever evolving scenario and environment that fits in with the games. So if the site changes things around often, they can try new games and have a more dynamic environment that you just won't get easily bored.
This is something that from what I saw and heard, happens frequently at Blitz CQB. One of the main reasons as to do with the size of the warehouse which isn't huge.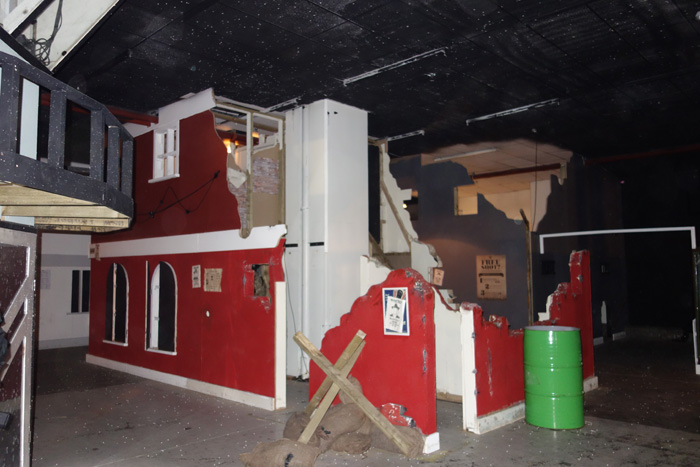 The whole scenario is amazingly put together and is a representation of London's Whitechapel during the 1940's bombings.
It is rich in buildings and houses such as the prison, the bank, a church with a graveyard, a bar, shops and many other structures, most of them with 2 levels!
So it's an amazing experience just to explore and discover every little crack, crevice twist and turn of this amazing place. For instance when you're least expecting you'll find a narrow passage to the next room or building!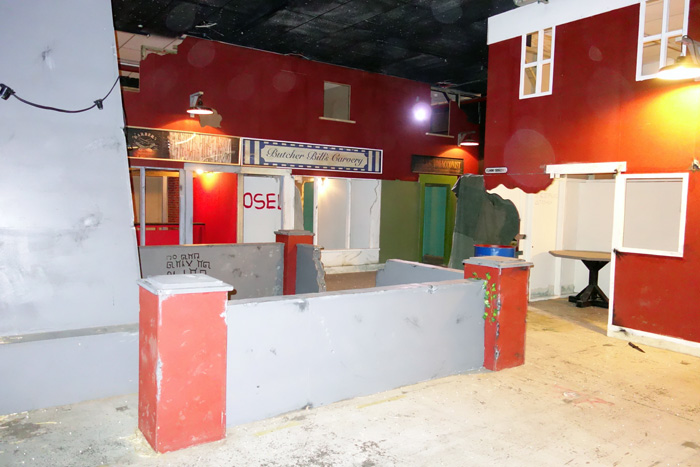 Also you have objects lying around such as tables and barrels that can be moved to offer protection. This is usually forbidden in most sites and I've recently been told of by a Marshal at another venue when I moved a large barrel to give me protection. Just like in life, games should be dynamic and the scenario sure has a large part to play in this, so that the game experience is better.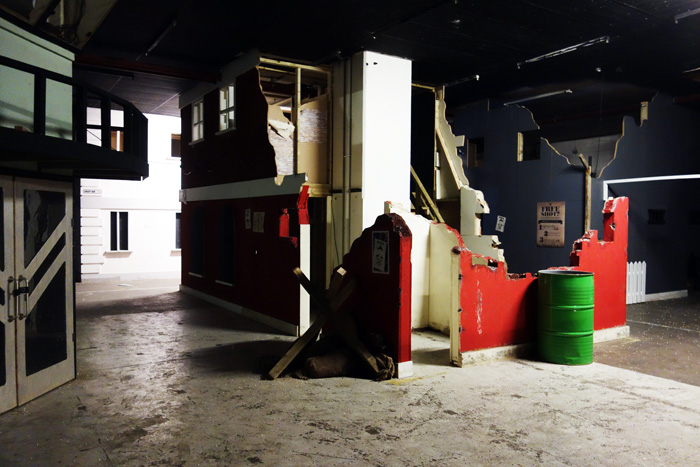 When speaking to the Marshals, they told me that they make their best to change things around every once and again, so that even returning players don't feel at home all the time.
By changing the scenario, the organization can then try different types of games and see which ones give the best results, which takes us to the game types.
GAME TYPES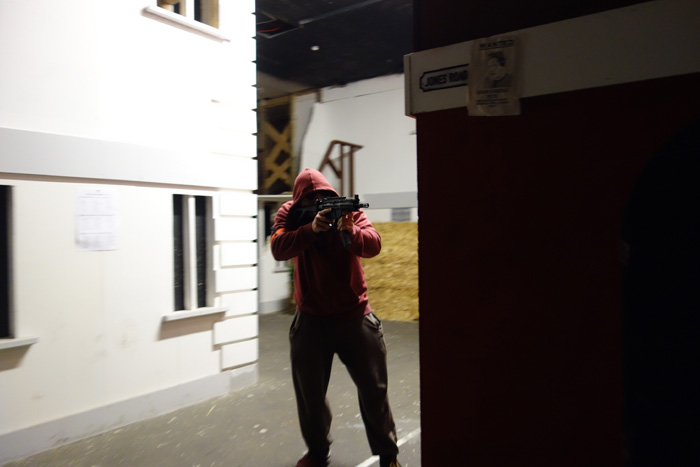 My first game was a bit slow for me as I was still discovering my way around the place and trying to understand where everything was.
I actually asked a player that had played there before what were his thoughts about the site and the answer he gave me was that it was just intense.
And I can only agree with this: if there is a word to define Blitz CQB, it is very intense! From beginning to the end of each game, there's always an intense atmosphere that goes from a well-lit scenario with loads of very close firefights going on, loud shouting an AEGs and GBBs firing to a completely lights out, heavy metal music full on schizophrenic paranoid surrounding.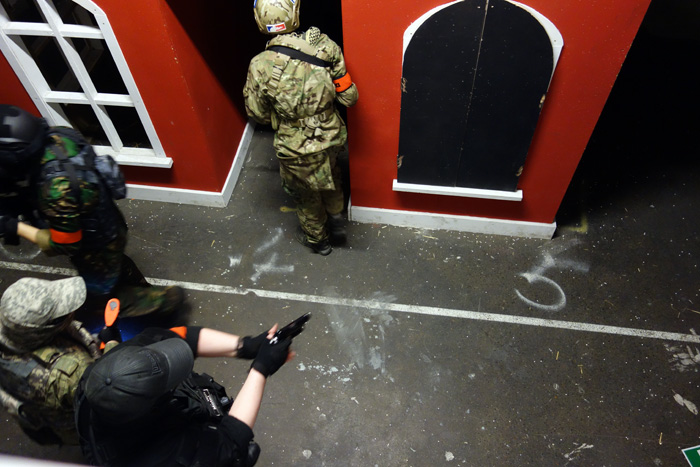 All games are single fire only, which is more than understandable and you'll be thankful for that since you have to increase you pain threshold from those woodland games.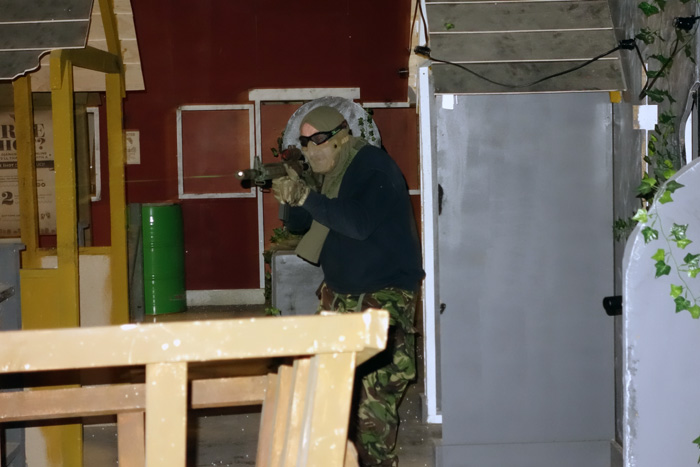 Anyway, the games are very dynamic and they can be over in as little as 5 minutes, such as the one we had to carry the objective all the way to the opponents' base, to almost a full hour when talking about the game where we had absolutely no lights and a soundtrack from hell. During the lights out game it's just amazing how the level of adrenaline is high but everyone is pretty much a lot more careful and less dynamic. Then you see lots of flashlights and tracer rounds flying through the darkness of the warehouse which is very, very cool.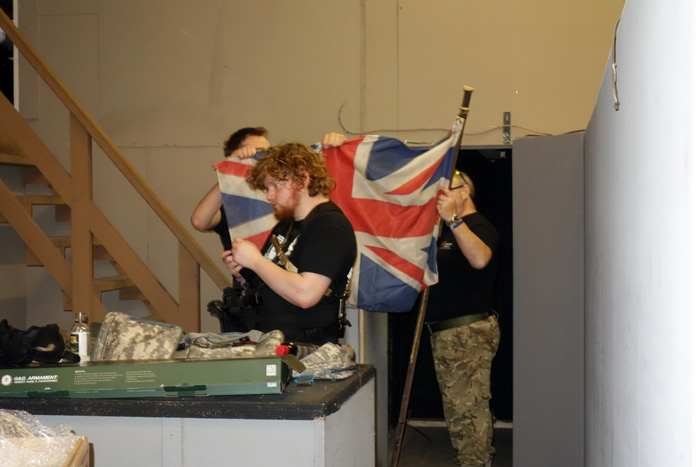 Other game types involved protecting or snatching the VIP, and a flag game. All 4 hours are quite action packed and there's little time to rest as you've got very small breaks to go back to the safe zone and reload/be briefed.
I would have loved to have more than the 4 hours that seemed so short as time flies when you're having fun…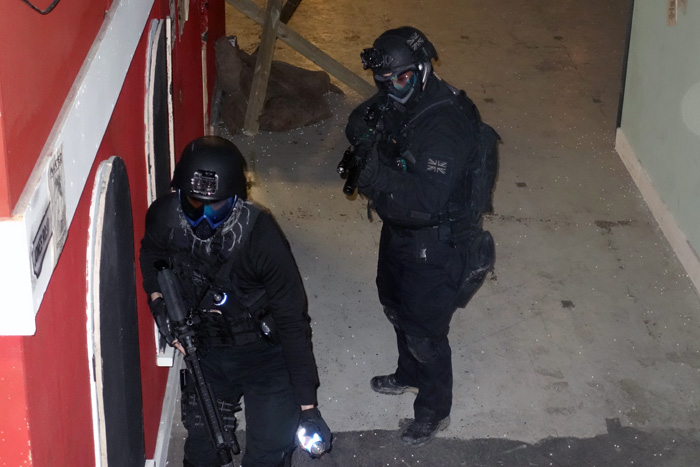 MARSHALLING AND ORGANIZATION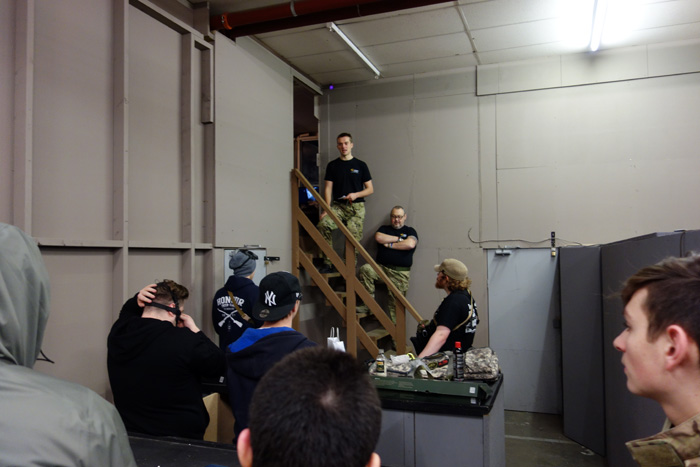 Here is what can make or break a player's first experience, so I will take more time to explain how it all worked there:
Upon arrival I was able to set my gear in one of the available stands, as the safe zone sits outside the main playing area. I had the time to Chrono my AEG just before the game started, and as the briefing unrolled I realized that there were 2 marshals to cover 27 players, which seemed quite short on the ground to me.
But the logical explanation finally came as the site as a Control Room, in which one of the Marshals sit and looks at a screen that shows him real time footage of the game arena, from cameras spread out around the place that cover all possible angles.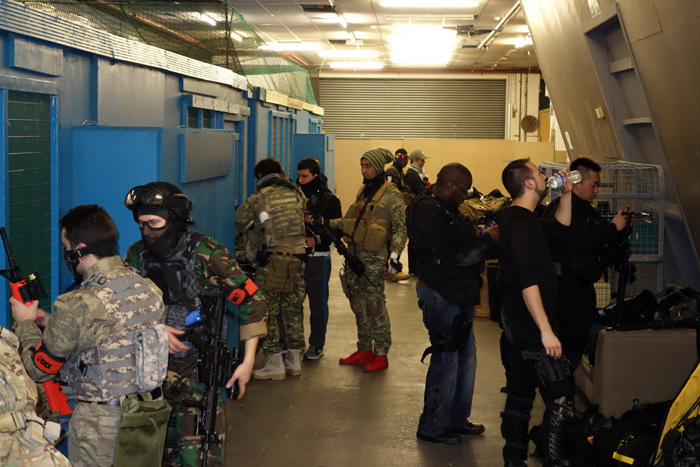 And it's quite easy for them to follow the clashes and firefights by having one Marshal on the ground and the other one having eagle eyes over the game as it unfolds.
But the Marshals don't just limit themselves to watch the games unfold as they can also control the flow and make changes from the control room that can affect the whole game dynamics. This means that they can control things as lights, music, loud speaker and easily see how the teams and game dynamics are working so they can balance things around or make changes almost on the fly.
I definitely enjoyed looking at the control room from where the games are orchestrated and monitored.
Also worth mentioning, is the fact that this was the first site I've been that actually enforces in game Chrono checks. And as a result one gun was deemed as slightly too hot for the site.
It was interesting to see how the two Marshals worked together in communicating by radio and keeping everything flowing and running orderly and without any issues.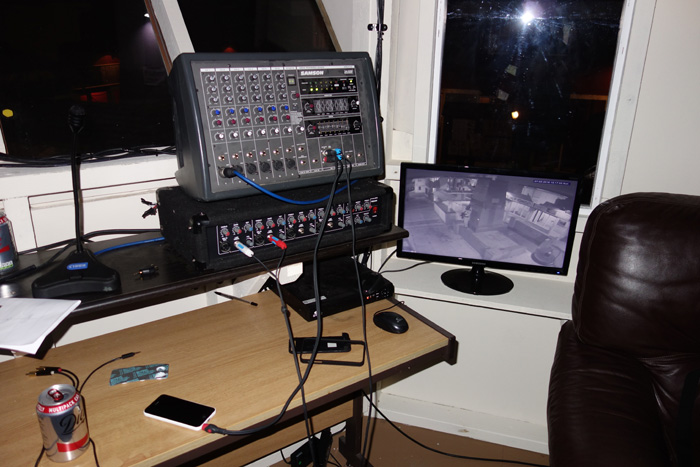 ATTENDANCE AND RECURRENCE
Most players at the site were very friendly and fair play was observed as well as good overall environment. Altogether we were 26 players, on 13 each team, making it a very target rich environment. I did realise that I used up a lot less ammo indoors than outdoors, due to the single fire only games. But I still had a lot of fun and shot at a people and got shot at!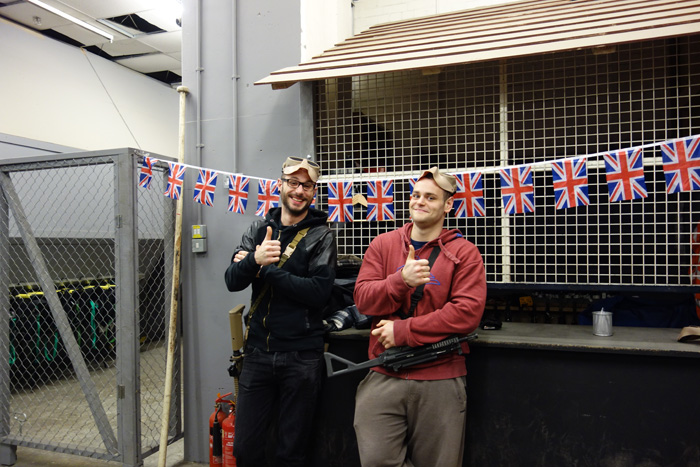 Also, be ready for friendly fire and as it's more than obvious that in close quarters this eventually happens and I felt this in the skin. :)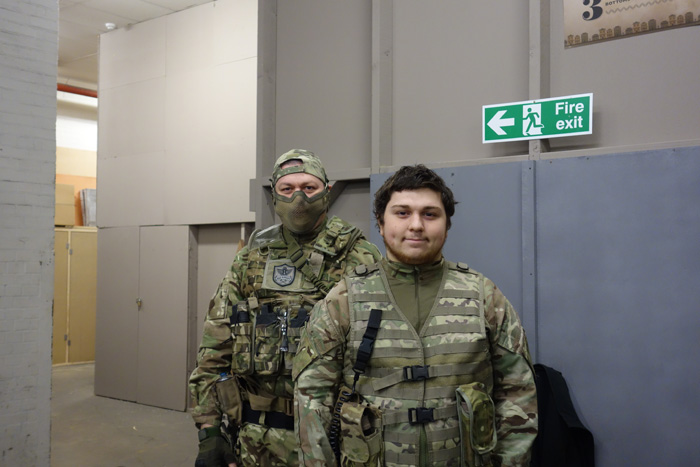 Fortunately every Sunday there's a game there, I just wished they had more days such as Saturdays, Saturday evenings and even during the week some more days, but again its dependent on the numbers.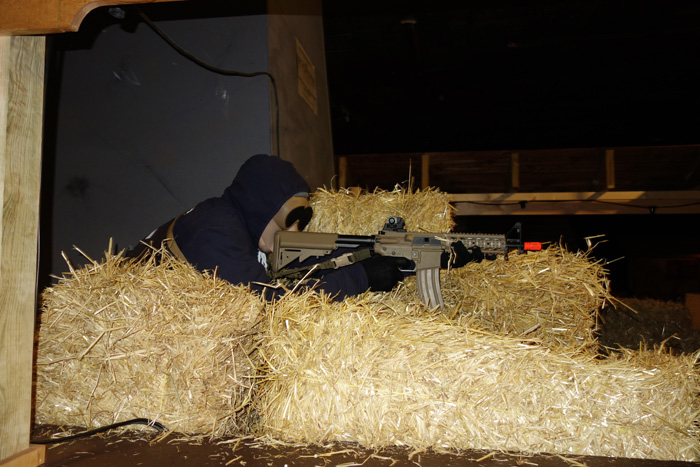 SOME TIPS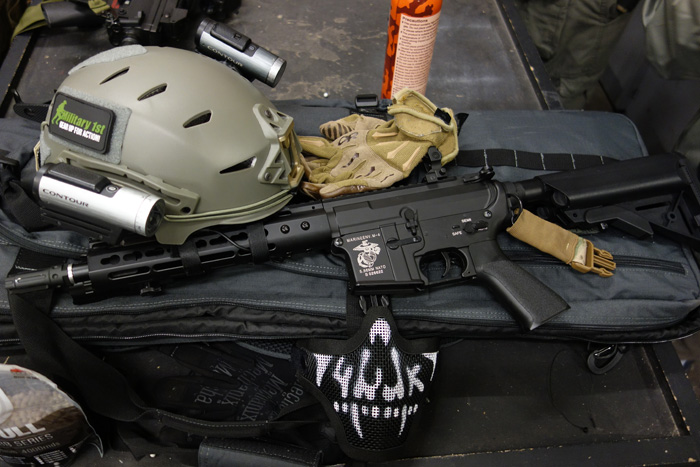 If you want to play at Blitz CQB or pretty much any indoors CQB site I would strongly advise you to get a very good eye protection. In my case I was using the Elite Smith Optics Aegis Arc which are ballistic graded.
Also, if possible, get a good helmet, a face mask such as a half face mesh or a full face mask with ventilation, gloves, and a jacket. You can also use a vest which will help to protect from those closer point blank shots.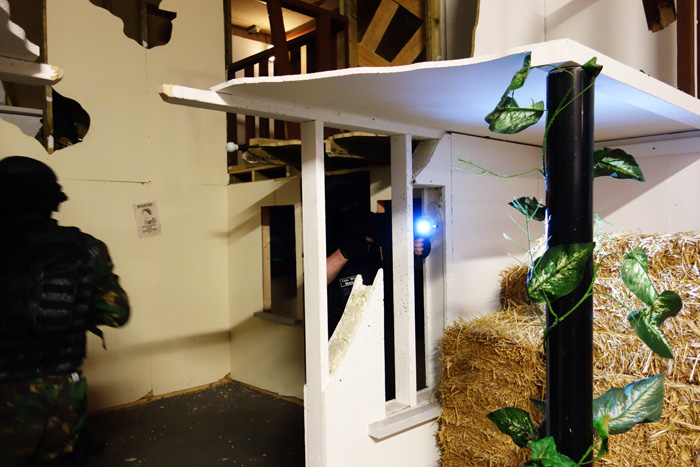 Since the games are either run with very low light or no light, something I would highly recommend is a mounted flashlight with a remote pressure switch that has strobe. I think that the latter is also essential so you can see where you're shooting and you can flash your opponents.
Finally, and this is only optional but, I think its best if you could take a pistol or a handgun.
CONCLUSION
Even though I had to go through the ordeal of London's traffic I would do it again, and will do it again soon as possible as I really enjoyed playing at Blitz CQB.
Price wise it's more than worth the £30, and I would pay more in order to get more time!
Again, intense is the exact word to describe the experience which was very positive. I thoroughly appreciated the effort put into the venue and game modes that I had the opportunity to play.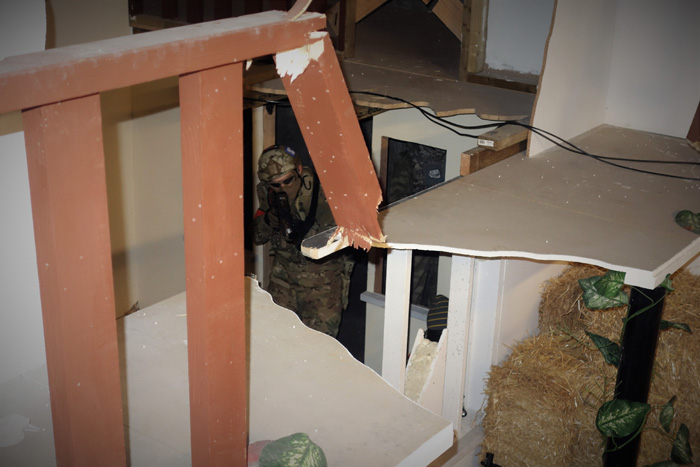 All the players were also quite polite and responsible and the marshalling was up to standard and I was very well and felt welcome and was very well taken care by Steve.
I really enjoyed looking at the control room from where the games are orchestrated and monitored.
All in all a great indoor CQB experience!
For more information visit their website or you can book your place here.