APS ASR-107 Raptor Electric Blowback Rifle
Operator7
29 Aug 2012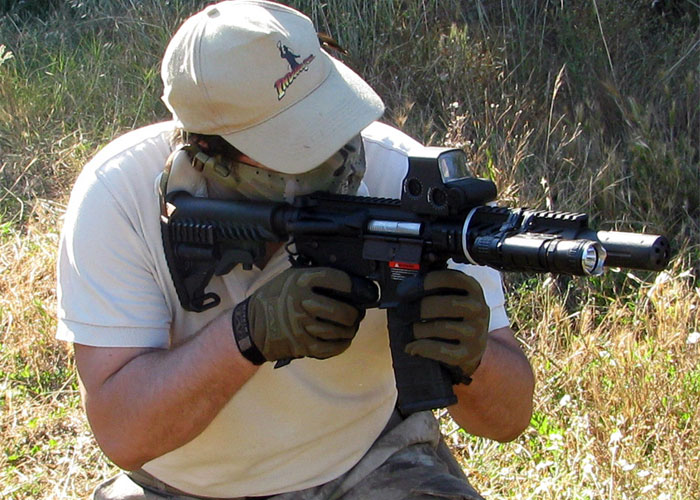 Not only is reviewing an EBB a first for me, but this is also my first contact with the APS brand, which, until a couple of months ago, I didn't realize they existed. APS stands for Accuracy Pneumatics Shooting, and APS is company from Hong Kong which interestingly enough also created the Hades Arrow mortar, which I had already the opportunity to review here at PA.
Established in 2001, APS has just recently introduced its line of Electric Blow Back (EBB) AEGs which the ASR-107 Raptor is included.
This electric blow black rifle is also known as the M4 URX RAPTOR EBB AEG in the US market, and it sells for around 190$ - 170€. It has a full metal receiver and some extra features that make this a very interesting AEG to review.
The review unit was kindly provided by Airsoft International, an airsoft gear, guns and accessories distributor.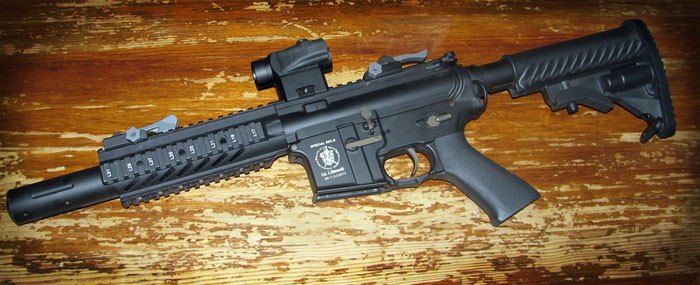 DESIGN AND FURNITURE
One of the things I most like about this EBB is the quite unique furniture that APS added and shows that there was a lot of attention with the design of this gun, which I personally love:
Starting on the metal sights, you'll notice these aren't your traditional M4 metal sights, but yet some very cool and unique flip-up sights that work great. The front sight has two positions and can be adjusted for elevation, whilst the rear sight can be adjusted for windage.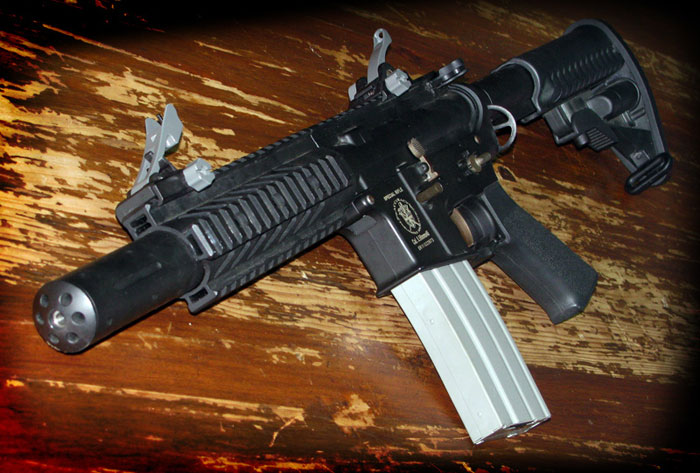 Both sights are in two tone, black and grey, and are very easy to install/detach simply by unscrewing them from the RIS.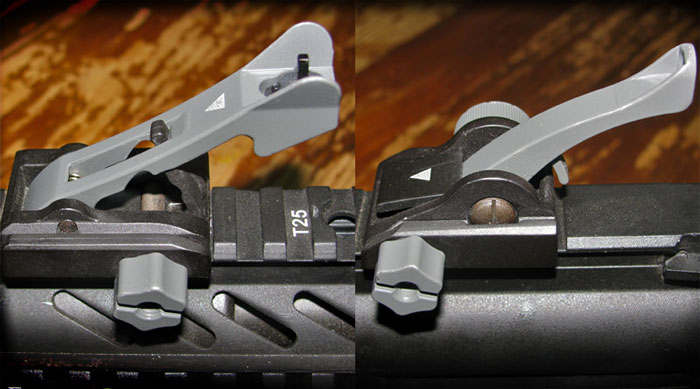 Then if you notice the trigger guard, it's also not a common M4 trigger guard. APS calls it the "Advance Trigger Guard" and it's a very well designed, very finger friendly and glove friendly stylish trigger guard.
The TG pistol grip (which is based on the Tango Down pistol grip) is also very nice, ergonomic and quite comfortable.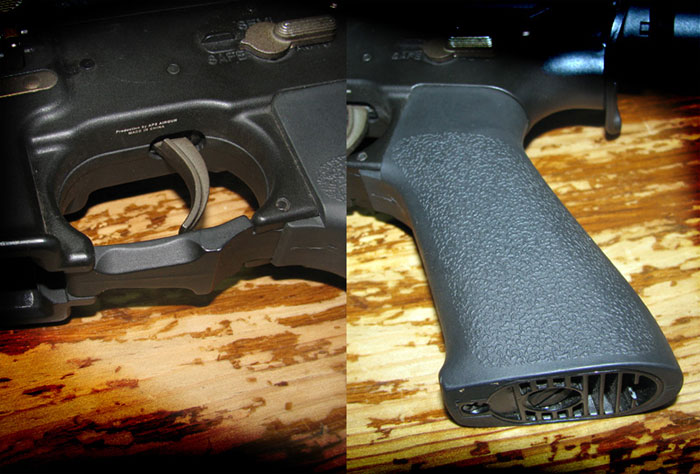 One of the most iconic and well-conceived pieces of this AEG is the Free Float Raptor RIS Handguard which APS says its design is unique. It is certainly very nice and offers lots of space for attachments such as flashlights, grips, bi-pods, PEQs, and much more.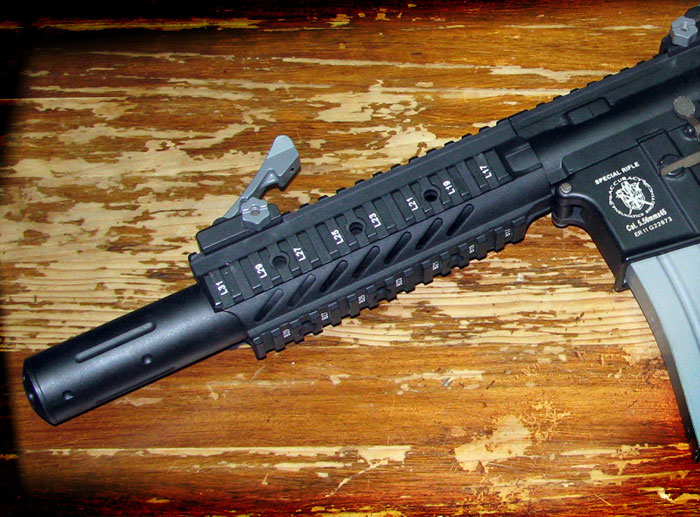 The handguard ends in a very cool fake silencer that hides a 6.05mm inner barrel with 260mm of length.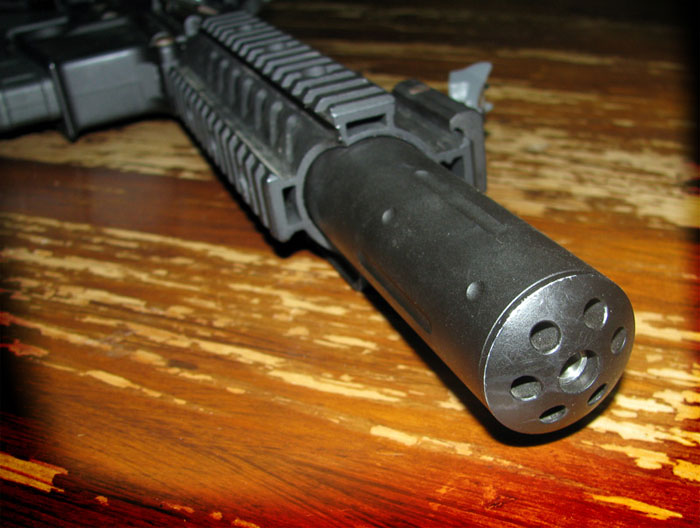 The stock is also very cool. It's a 6-position adjustable stock inspired by the GLR-16 from the real steel world, but without the sling mount points. APS added a small rail for attaching say, a GPS or another accessory.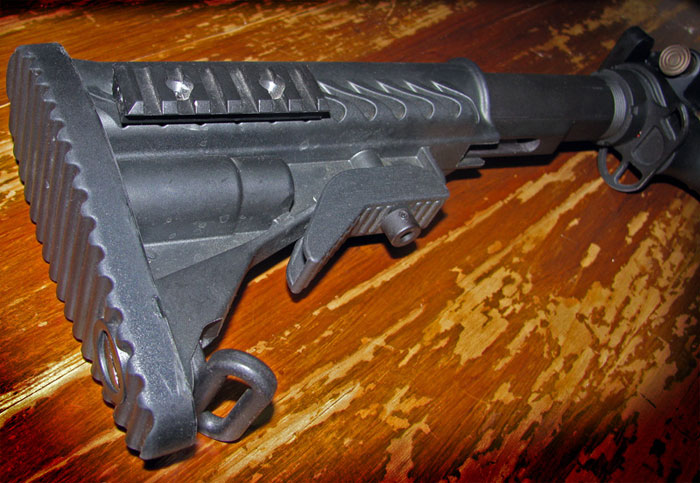 So it seems that APS got it right on the design chapter, offering an original and very cool airsoft rifle.
QUALITY AND CONSTRUCTION
A great deal of this gun is made of metal, more exactly aluminum, and it's very well-crafted, even when compared to other more high-end AEGs. Most components are robust, there's no wobbling on the handguard Rail system, and even the stock feels sturdy.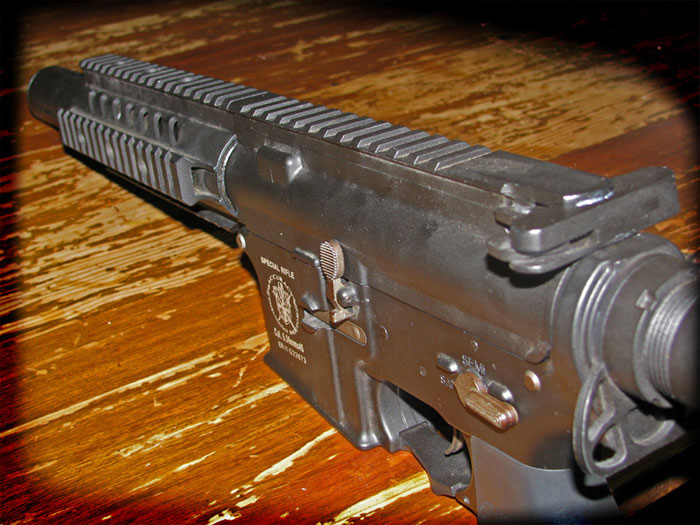 The biggest gripe I have about this gun is the magwell as its dimensions make it hard to find the perfect magazine that either won't wobble, or isn't too hard to insert. The stock APS magazine wobbles all over the place and rattles a lot. So I moved to the Magpul replicas which also had the same problem but less rattle. I then tried a genuine Magpul PTS hicap which only presented some slack on the sides, but it's quite acceptable and doesn't rattle. Finally, I tried some VFC SCAR-L mags which have a very, very tight fit. So I decided to run the Magpul PTS mags with this gun and I could say they work well enough in addressing this issue.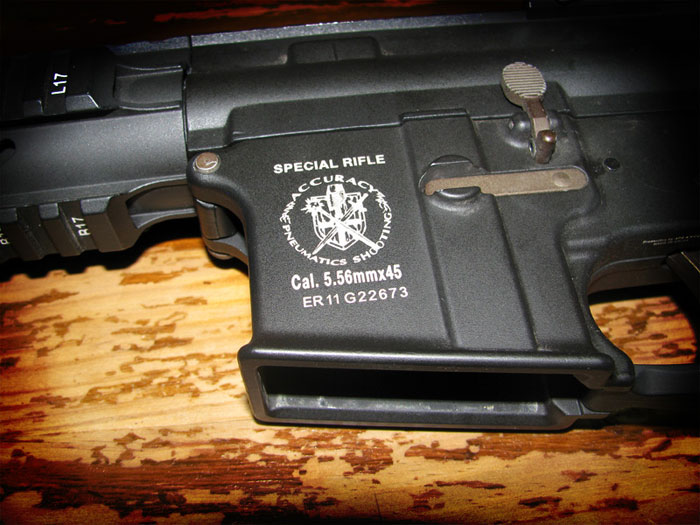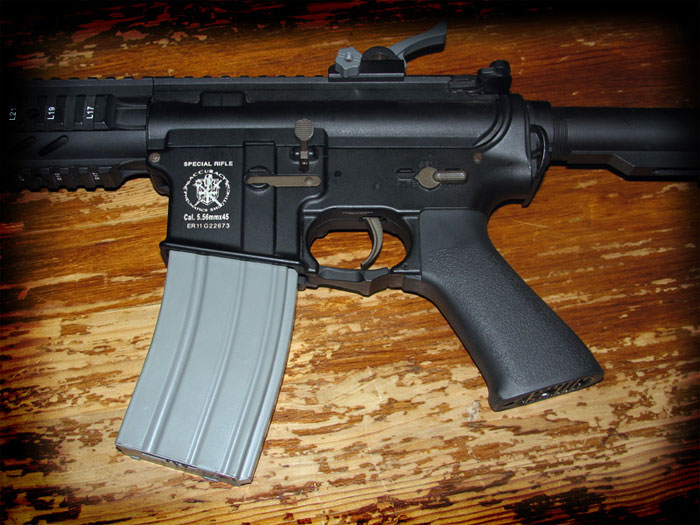 This of course can be easily fixed by attaching something inside the magwell to remove the extra space between the mag and the magwell.
There's also another annoying feature I noticed especially in outdoors games where you need your AEG to have the best range: the hop-up unit every now and then has to be adjusted because it just dials itself back. The reason why this happens should be because it's made of plastic and due to the blowback vibration it doesn't maintain its position. So here I would just recommend replacing the hop-up with a higher quality metal hop-up.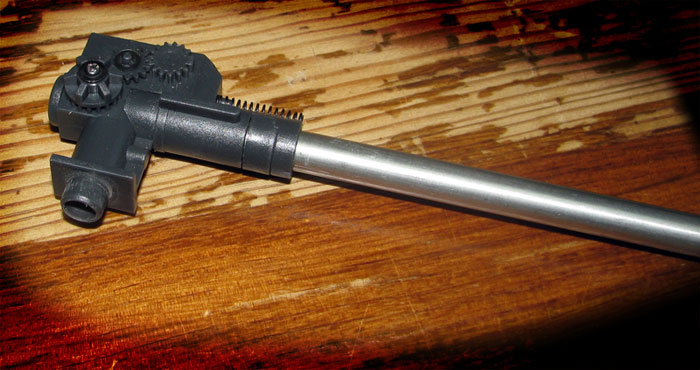 Apart from these two fixable issues, the whole ASR-107 is very well built, and they've included some good quality components.
One thing worth mentioning is the fact that this AEG only takes 7.4 LiPo or 8.4V NiMH, and they need to fit the buffer tube which provides very limited room because the battery will have to coexist with the mosfet which is also on the buffer tube.
TECHNOLOGY AND PERFORMANCE
Now this mid-range AEG comes with some very interesting features that are absent even in many high-range AEGs.
The included MOSFET is one of them. Complete with low resistance silver core wires, it not only extends the motor and gears life, but it also prevents overheating and improves trigger response time. I must say that the trigger is indeed very responsive.
And then there's the EBB, or Electric Blowback system, which adds some realism and fun to this replica. This means that the bolt ornament will cycle backward and forward every time you pull the trigger creating a vibration and a loud sound.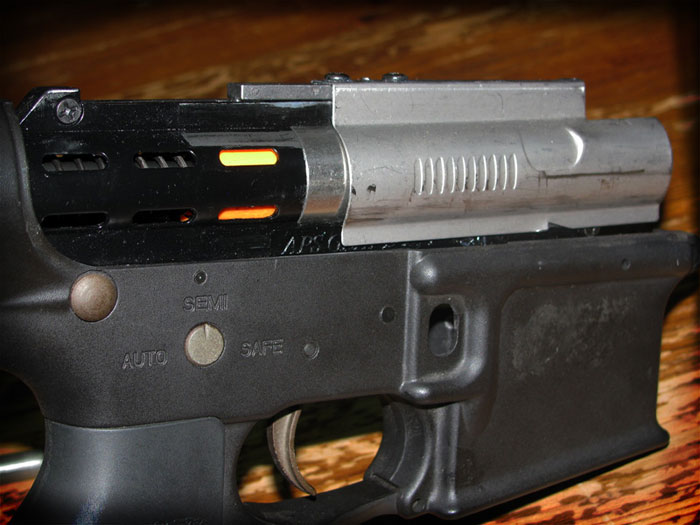 Although the Kinetic feedback isn't very strong, it's surely more fun than traditional AEGs, and the sound it makes is much more audible than the latter.
The way the systems works to provide the electric blow back is by bolt ornament which is linked to the piston and causes some loss in the rate of fire as you can see on the video below, but it's quite acceptable.
One of my greatest doubts was if the extra effort made by the motor to support the added weight of the fake bolt would drain batteries faster. Since none of my current batteries would fit the crowded buffer tube, I went for a Bol 7.4 LiPo 1100mAh 15c which is sleek enough to fit without any problem, and I found out that it has enough juice to easily last more than a whole afternoon in the field, which was a very pleasant surprise.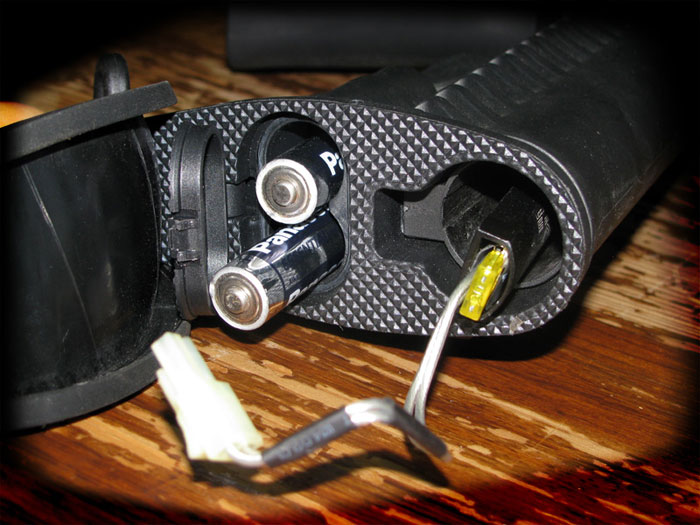 Another cool feature is the fact that when you first start shooting, the dust cover will automatically open, however I would have preferred if APS could have made the bolt carrier ornament plate black.
I haven't opened the gearbox yet since I will do this on another occasion where I will analyze the wear and tear of the internal components and post the results here. But from what ASR announced it's a pretty decent version 2 gearbox with metal gears, an aluminum nozzle, reinforced plastic piston with the first tooth made out of metal.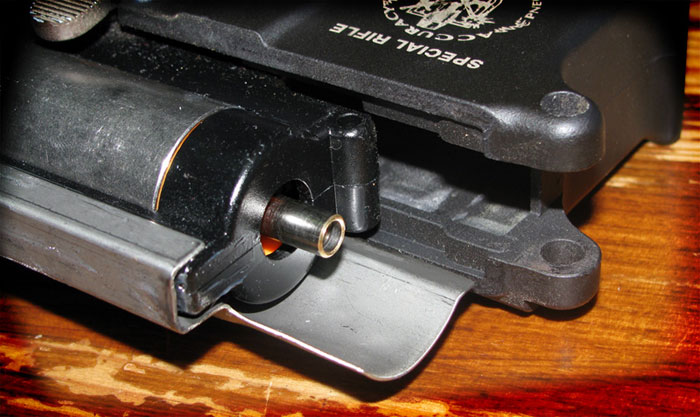 I've been using this AEG for the past two months and it's still working perfectly. As for performance, this is noticeably a CQB rifle, and the FPS confirms this since it's doing about 329 FPS. So it's perfect for indoor games, or sites and events where FPS is limited.
Another thing I mentioned earlier is this rifle has a lower than average ROF, which, due to the EBB system, the ASR-107 is only able to pull 11 rounds per second. This of course can be improved either by disabling the blow back feature or by replacing the stock motor with a high torque motor, but bear in mind that this will put extra stress in the internal components.
CONCLUSION
I have to say that at first glance, I really liked the Raptor for its exterior: aesthetically it's clean, sober and innovative, but it has also been a very nice surprise, since its shortcomings such has the low ROF are largely dissipated by the quality of its internal and external components.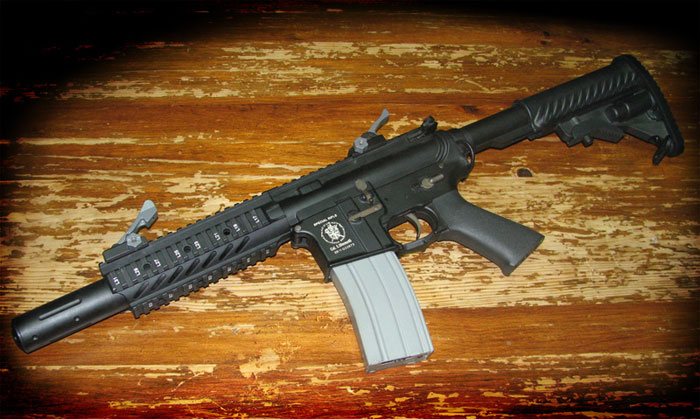 This rifle is great for CQB, not only due to its barrel length but also because of the FPS. So it should be a great gun for those looking specifically for a CQB rifle, or even those who just started playing Airsoft, and want a quality upgradable AEG with some bells and whistles, without breaking the bank.
It's quite noticeable that APS has done a great deal of effort to be noticed in the Airsoft world as an ascending brand with a very interesting offering in terms of Airsoft rifles and the Raptor is proof of this.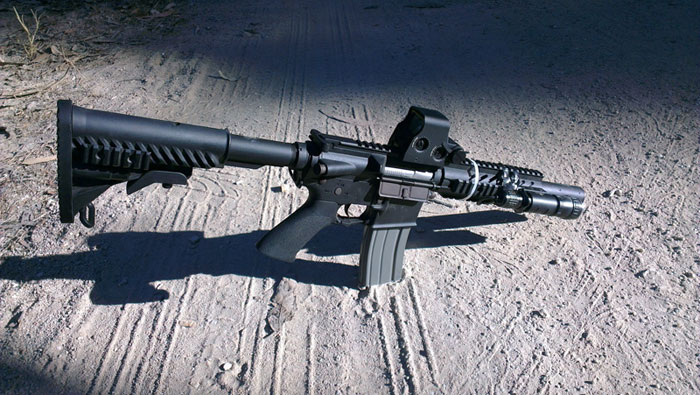 Pros:
External components
Electric Blow Back feature is very cool
Metal receiver
Price
Overall quality
Easily upgradeable
Cons:
Low ROF due to the EBB system
Magazine well dimensions poor in holding magazines tight
Hop-up needs to be replaced