Arc'teryx H150 Rigger's Belt in Multicam
Operator7
12 Jun 2012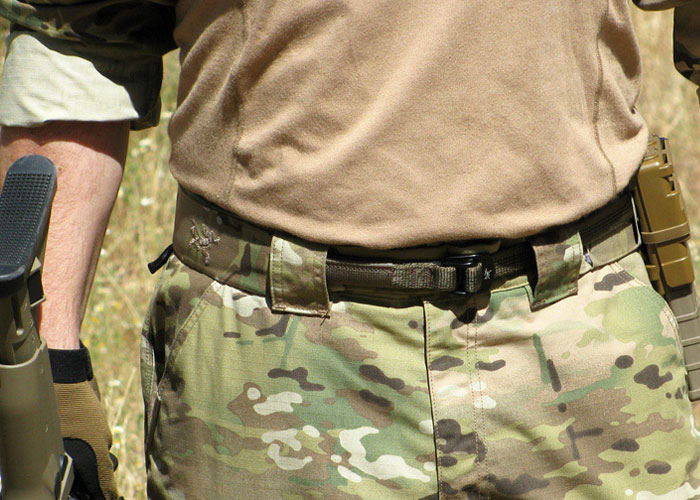 Arc'teryx is a very well-known company in the tactical world. This company from Canada, which started off as a climbing and outdoor gear company, has been successfully developing some of the best tactical gear and apparel available today on the market. Just like the acronym LEAF – Law Enforcement & Armed Forces states, they work especially for this audience and particularly for some Special Ops units out there. So if you are looking for high end, high quality and durable gear this is the brand to look for.
From what I've seen so far, their attention to detail, innovative materials and ideas result in great products. Some might say too good for playing Airsoft, but I'd say it's better to have the best gear and not worry about it than to keep getting bad surprises and wasting money on gear you have to replace every now and then. All you have to do sometimes is do the math and you'll see, like I did, that many times what comes cheap doesn't last long.
Many times, good ideas and products get copied, and in most of the cases you should be very careful with what you buy. One example was the warning the guys from M7 Airsoft have issued about a clone of the Arc'teryx H150 Riggers Belt awhile ago on their Facebook page which they deemed a TMC clone as unsafe for load/weighted safety device.
Other products from Arc'teryx have become standards in the industry and somewere adopted by the USMC like the ILBE or Improved Load Bearing Equipment Backpack.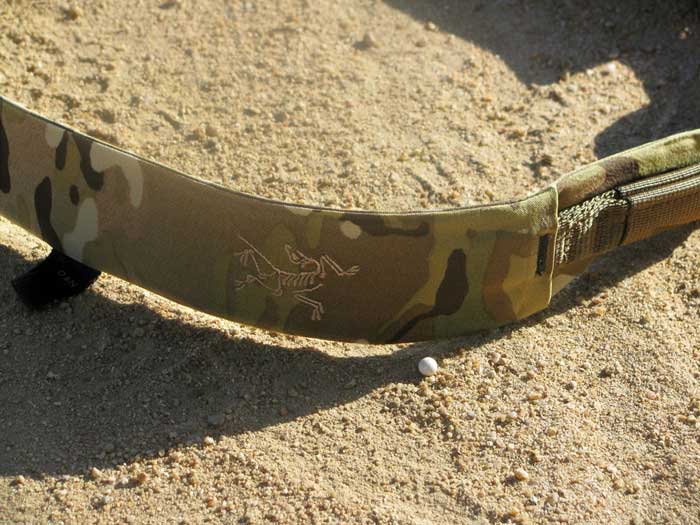 COMFORT AND QUALITY
Comfort and quality often go hand in hand, and the H150 is no exception:
This riggers belt is extremely lightweight and thin, weighing only 5.3oz (150g), you barely notice it's there. But if you need it for climbing or load bearing it provides a great solution for emergency situations where your weight needs to be carried by the belt.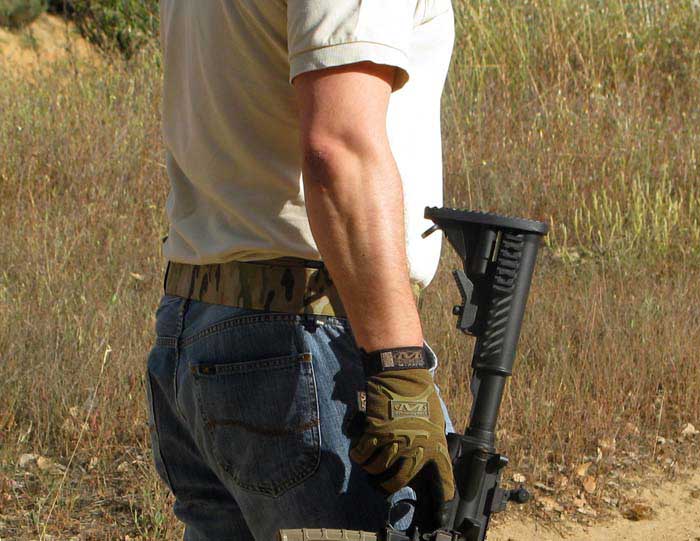 I can tell you I weigh 184.8lbs, around 85kg, and the belt is able to support my weight without any issues, and it doesn't even expand and lose its qualities. When using the belt on a daily basis or on the field I noticed it's very, very comfortable and it even provides support for my back.
The belt is not stiff but at the same time it's very solid as it will not bend or deform itself even if you place several pouches, stacked fastmags and even gun holsters.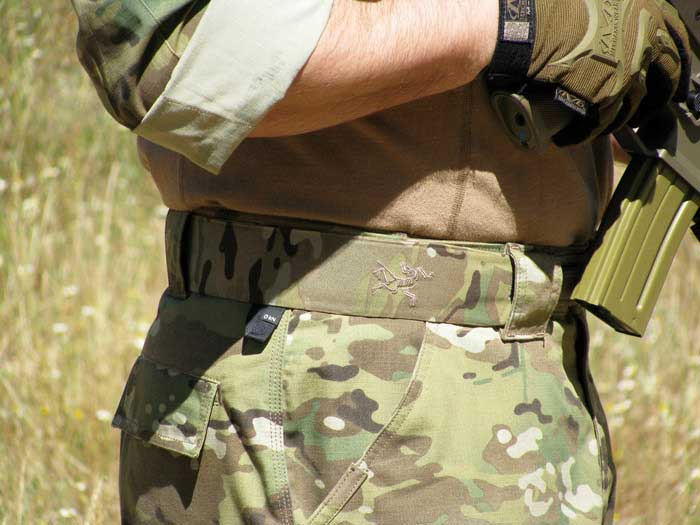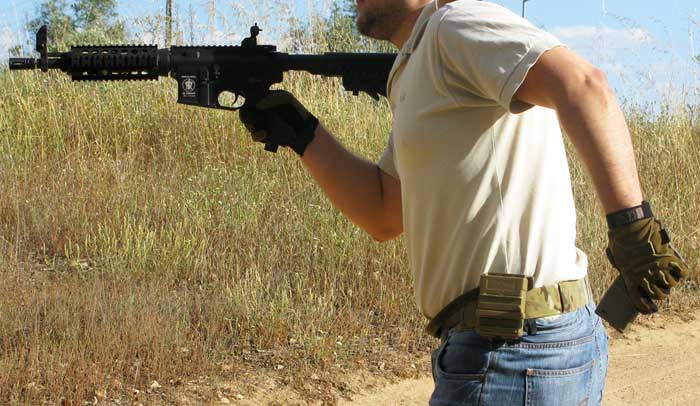 The main reason for this are the materials and technology employed on the manufacturing of this belt: Arc'teryx have used their Warp Strength® Technology (WST) designed to spread the load over the entire belt, hence you don't notice the increased weight so much and it will be evenly split along your waist making it more comfortable to carry lots of stuff in your belt.
This also helps to avoid the belt from sinking on the side where you carry most weight, like some belts do, thus making it more comfortable and avoiding injuries.
On the opposite side, some belts, in order to keep them rigid when bearing pouches loaded with gear, will be incredibly stiff and hard resulting in a very uncomfortable experience.
I now use the belt on every occasion, but I especially like to use it in short duration games where I want to go fast and light carrying only one extra mag and no plate carrier.
MATERIALS AND FEATURES
The buckle is made of7075 T6 anodized aluminum. This type of aluminum is also used to manufacture M16 rifles, and also used in the automotive and aviation industries. The buckle keeps the belt strap locked into place even when you apply weight and sudden pressure to the belt, so this system is very safe and is certified under the EN 358 Standard, as a "belt for travel restraint".
This version came with the Crye Precision Multicam pattern, which integrates extremely well with a Multicam loadout and looks really cool!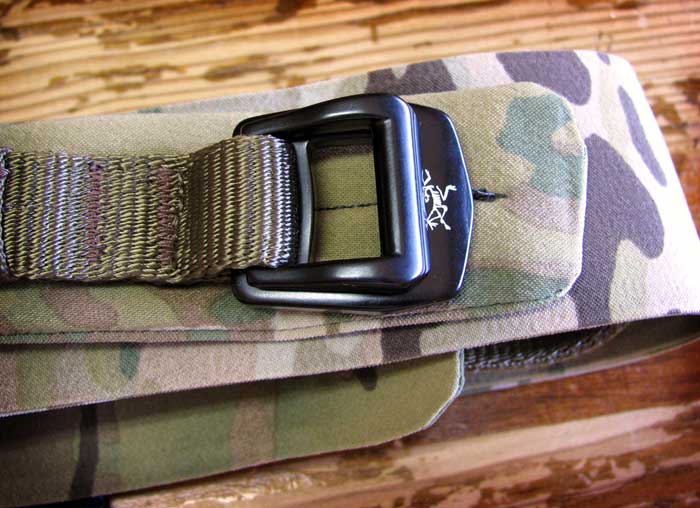 The H150 Riggers Belt can be worn on the hip or on the pants, and thanks to the 2-inch height it fits most pants from military to civilian which is one of the nice features I loved about this belt, since I can use it with a pair of jeans or some combat pants.
At the sides, you'll find a couple of accessory loops that you can use to attach light tactical accessories such as a lanyard, a carabineer or other stuff.
I personally won't be using it for such purposes, but if you're into rappelling and climbing, it also features a loop near the buckle where you can attach a carabineer and rappel down buildings, or you can use it for an emergency helicopter extraction.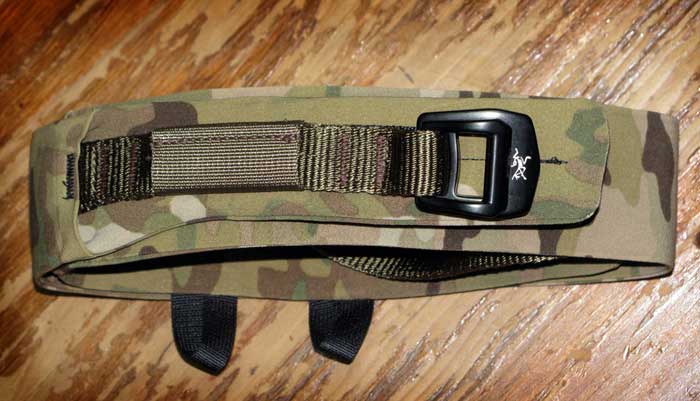 Another proof Arc'Teryx are detail freaks is the great pouch that comes with the belt, allowing you to store and transport it securely and fashionably.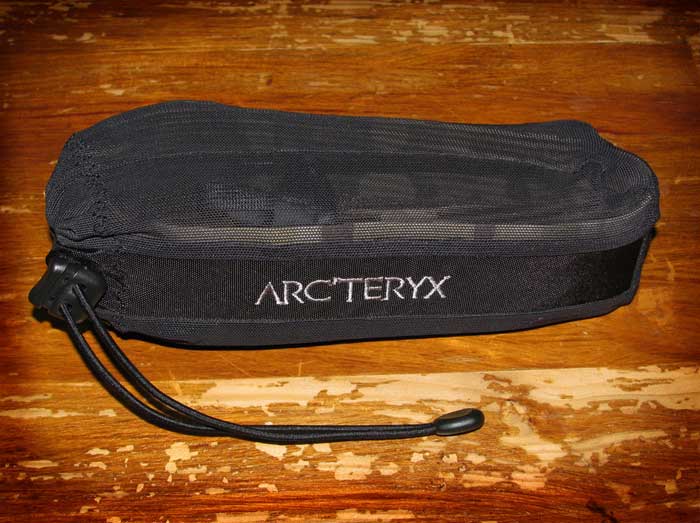 It's also a great platform to attach pouches and holsters. The only thing that gave me some extra work was the belt strap that has an overlapped finish and makes it harder to get holsters through. However once you position these, if you're not a lefty, you leave it there and forget about it.
When it comes to fastmags and the like, plastic attachments you would place in the left side of the belt (especially if you use your left hand to reload) it gives you some extra work to get everything running, but once I do it just rocks!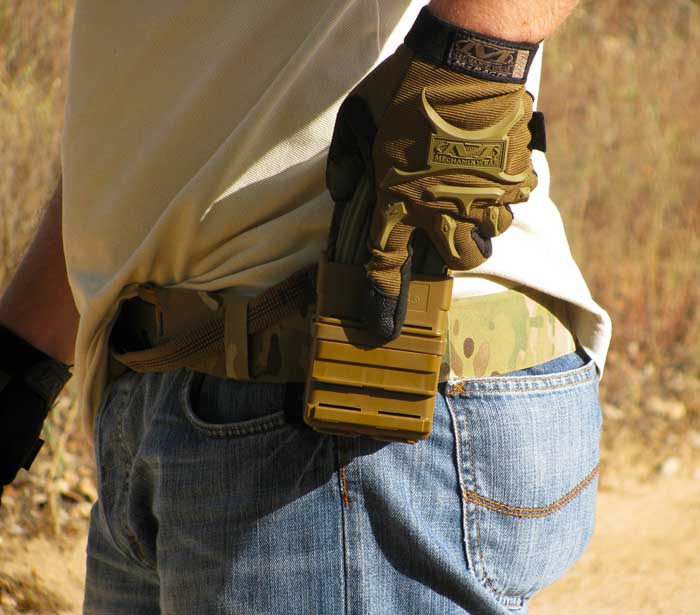 On the other hand, it works fine with nylon pouches and such. So if you are currently using those you'll have no issues.
CONCLUSION
Overall this belt is superb, a very well-crafted piece of gear, with high quality material, and it's a lifetime acquisition to anyone wanting to purchase a riggers belt.
This belt is available from our partners at Leafgear.com and it sells at 89,95€, around 112,69$, and they´ve got some of the best prices in brands such as Arc'teryx and Ops-Core, that I have seen around the web, so you should check them out!
Pros
Lightweight
Extremely comfortable
Provides support
Distributes weight evenly on the waist
Superb build quality and materials
Cons
If used with fastmags on the left side, takes some extra time to setup.