eAiming 2-6 x 28 Illuminated Scope
Moondog
22 Nov 2012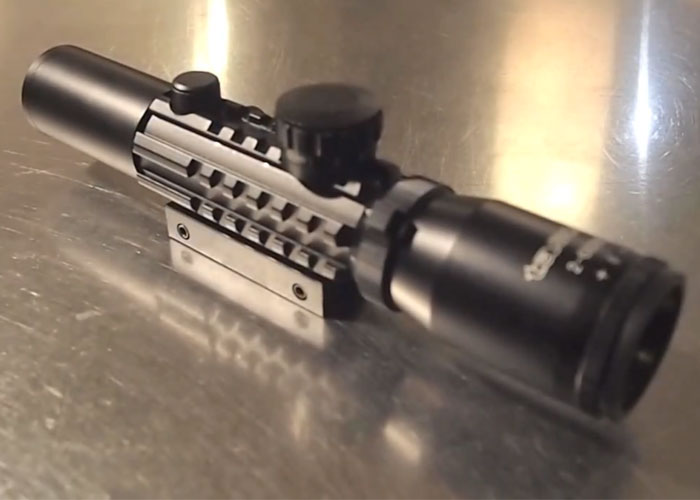 I was interested in attaching this scope because it has rails which give me the option at attach accessories to a traditional bolt-action rifle that doesn't have modern rails. Tiger11HK had a good price on it and I received the scope within 2 weeks of the order. (You can find the product at the Tiger111HK's product page)
PACKAGE
The eAiming illuminated scope comes in a plain black box. No brand name or logo indicated on the exterior. Labels on one end indicate it is a 2-to-6 power 28mm scope. "Riflescope" is printed on one side with key points describing some generic features. Not listed on the box is that the scope has a 5-6" eye relief. A mil-dot, rangefinder reticle and 10 setting battery powered illuminator.
Inside you'll find an instruction manual and a the scope inside bubble-wrap. The instruction manual describes the scopes basic functions. Interestingly, the manual bears the Umarex logo, whilst the scope itself is branded TASCO, indicating that one or both brands is counterfeit or a factory over-run.
Inside the bubble wrap, we find the scope, an allen key for the mount and a lens cleaning cloth.
FEATURES
The scope comes with a pair of see-thru lens caps. The exterior is a matte, black, painted finish. The tube has built-in, picatinny rails on the top and sides, allowing the mounting of taclights and other accessories.
A Tasco logo is stamped on the eyepiece along with a printed power range and lens size. The eyepiece features an adjustable ocular focus for those wearing eyeglasses.
The power ring turns smoothly between 2 and 6 times magnification The illuminator control dial has 5 brightness settings in either green or red light. The reticle has both mildot and bullet drop reference lines. Under two small metal caps are windage and elevation dials which can be adjusted by flathead screwdriver.
CONCLUSION
This is a nice looking budget scope at a reasonable price of around $50. Its low profile and built-in rails allow you to add accessories to more traditional style rifles.
The optics are clear and undistorted. The tube feels solidly built. Durability and reliability for real steel is unknown but probably iffy but for airsoft use it get the job done. While you don't need 6x magnification for airsoft, it'll gives you a nice view of your targets expression when you hit them.
ABOUT THE REVIEWER
Moondog is the founder of Moondog Industries and New York's definitive guide to airsoft: NYCAirsoft.