Helikon-Tex Urban Tactical Gloves
Operator7
07 Sep 2012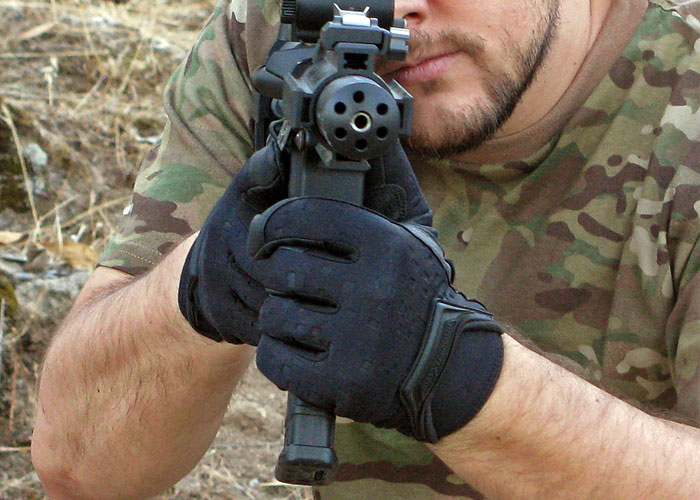 I don't know about you, but tactical gloves are the item on my loadout that I have to renew with more frequency. This is because of the beating they take on the field, gloves are the primary point of contact with your gun and accessories, and with the unforgiving environment around you.
So you'll see your gloves increasingly become scuffed and wear out real quick. So it's not long before holes appear, and in some low quality gloves, the seams start failing. Plus washing doesn't help and after a few months you'll start to see problems arise.
At the same time it's really important you own a pair of gloves that you feel comfortable with, which provide some level of protection without compromising the movements of the hands and especially the fingers.
Because there's such a wide variety of choice of makers and models out there, choosing the perfect pair of gloves for your tactical needs is in itself a challenge.
So let's see how this review of the Helikon-Tex UTL Gloves can help you on your quest.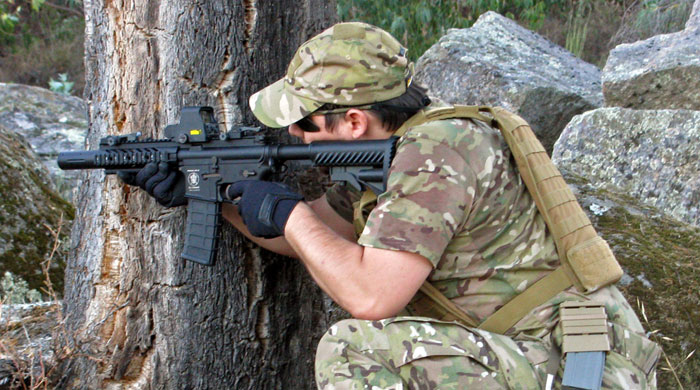 FIT, COMFORT AND MATERIALS
Now you would ask why choose an urban-type glove for Airsoft?
Well, first because they are great for Airsoft in urban scenarios; but also because it's a very thin and lightweight solution.
The very thin layer of neoprene and polyurethane provides great sensitive feedback on your gun controls, and even when interacting with other objects. So instead of being extremely rugged, thanks to thick layers of protective materials, the Helikon-Tex keeps it simple to provide the operator maximum comfort and feedback.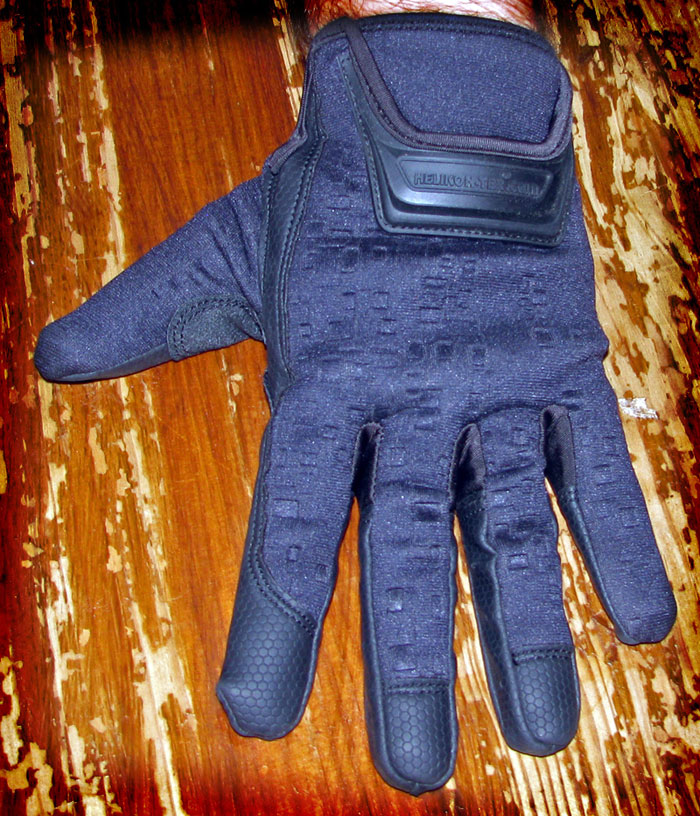 Not being heavy is another benefit, but also putting them on and off quickly is something I value, and it is quite facilitated by the elastic characteristics of these materials which allow me to quickly remove and put on the gloves at any given time.
The neoprene kind of reminds me of my wet suit when I used to body board, since it's a great material to keep you warm, but it also acts as a water barrier. Plus another of neoprene's well-known properties is its resistance to abrasion.
And in case you are worried that it would make your hands sweat a lot, they've added holes on the sides of the fingers, and the gloves are permeable to air. Of course this didn't stop my fingers from sweating a lot, especially in this hot weather. But I did notice that the gloves would accumulate less moisture than other gloves I have made of synthetic fibers. And they weren't so hard to put on again because of the humidity on my hands. Also the Velcro cuffs are really easy to operate.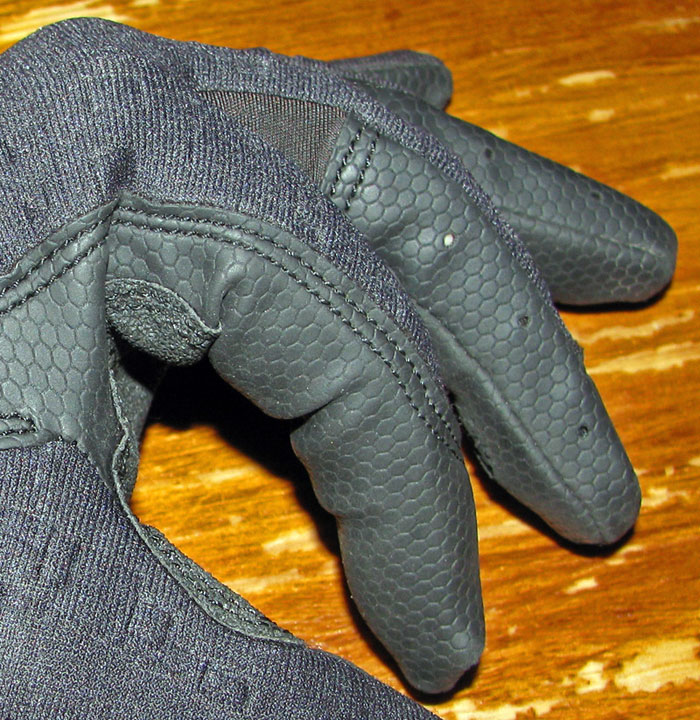 Then there's a very thin polyurethane layer on the palm, which helps the glove to better adhere to objects and prevent them from slipping. This works great for example when pulling out a magazine from my FastMag which requires much less effort thanks to this layer.
And if this wasn't enough, they also added an additional layer of porous material sewn on the palm which really does help you grip your weapon.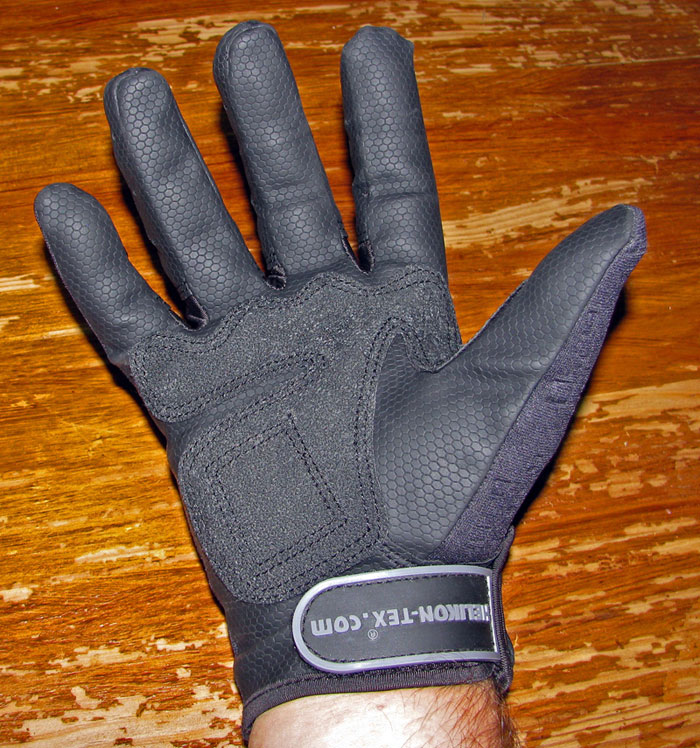 The fit is very good since the gloves adheres to your hand like a second skin, which is great because the glove almost becomes part of your hand, eliminating the awkwardness that some extra layers of protective material tend to create. This means that the fingers will move quite freely, also thanks to the spandex panels in between fingers.
QUALITY, RUGGEDNESS AND PROTECTION
Like I mentioned, the main material that these gloves are made of is neoprene which has some great impact and abrasion-resistant characteristics, and they did add an extra polyurethane layer and the palm protective layer.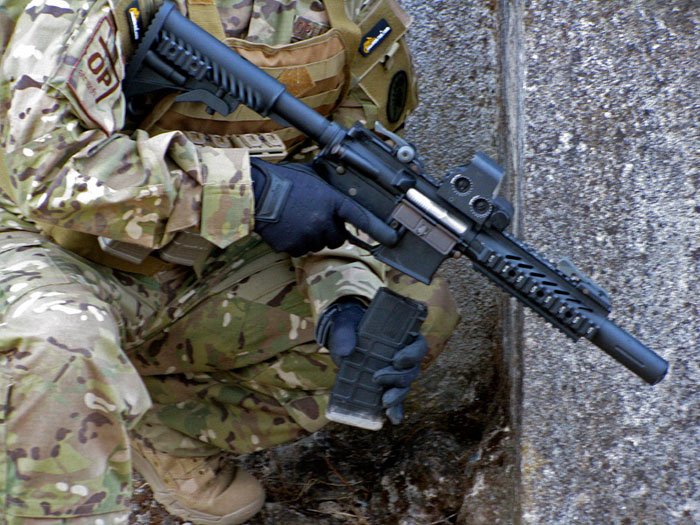 Like I mentioned, the main material that these gloves are made of is neoprene which has some great impact and abrasion-resistant characteristics, and they did add an extra polyurethane layer and the palm protective layer.
So although not being the most rugged and protective gloves you will find, they were built to last and do offer some protection against the elements and Airsoft BBs!
From my experiences on the field, they withstood most of my abuse, being that the only detail I have to mention is the fact that the PVC material didn't like my Hi-cap magazine wheel and it did wear off the PVC. But thankfully, the neoprene beneath is holding great. So do the right thing, keep the gloves away from Hi-caps and only used with real (low) and mid-caps!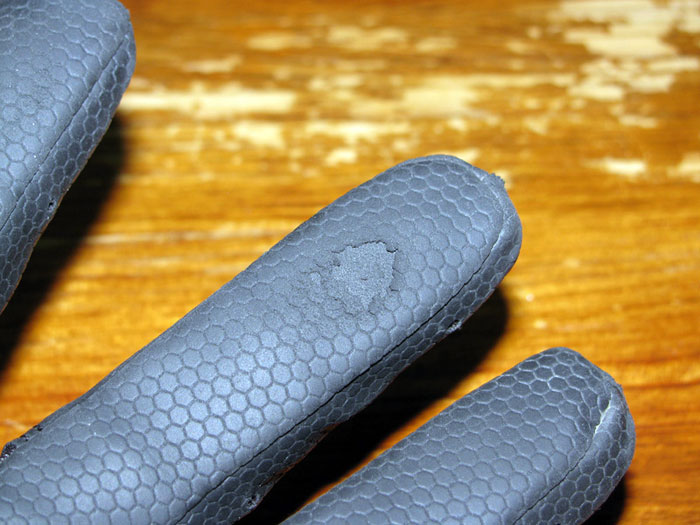 Another thing I also noticed was that I was able to use smartphones and tablets with the gloves on, which is pretty neat, since nowadays you have to buy special gloves to use your phone.
The Velcro on the cuff is really strong and the lining is very sturdy, so I am very satisfied with the gloves build quality.
CONCLUSION
It's important to feel comfortable, and tactical gloves do just that --- which improves your confidence level and it's one less worry on the field or at work.
Overall, these are great quality glove, produced with great materials which will work great on most scenarios where you can do with minimum protection to your hands, which is the case in Airsoft games.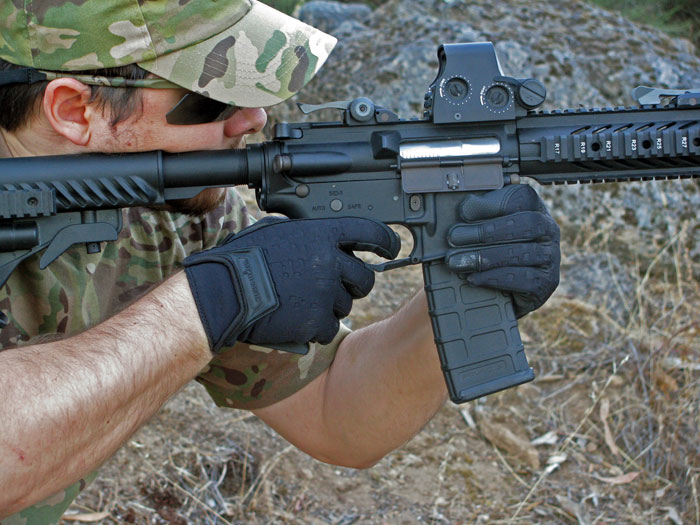 Pros
Very lightweight
Extremely comfortable
Great sensitive feedback
Neoprene acts as a second skin
Non-slip material help gripping
Cons
Protection level and ruggedness