JG M4 A1 Review
NightStalker
17 Sep 2007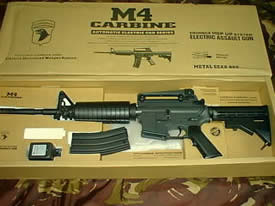 I know you might be wondering by now why am I reviewing this M4 A1 from Jing Gong.
Well, I am not just an AUG lover, but a 5.56mm believer as well . When I started with this hobby I purchased my first ever airsoft AEG base on my favorite looking gun without minding anything else. I bought Marui's G36C when it first came out of the shelves of Airsoft Philippines. No, it didn't last longer than you can upgrade your AUG to 500fps, it was heavy and it was tall, and it didn't have much accessories as the M4 had at that time.
So after two weeks when I sold it, I got myself an M4 and it lasted through the years of my airsoft hobby.
A week before the JG AU-1G came to Manila, I got my JG M4 from Sir Mossad and it reminded me so well of my Marui M4. That description alone gives you a hint that JG's M4 is a definite Marui clone.
Most of my review will be based in comparison with Marui's M4 model and I am encouraging all readers to post their questions, comments and their own reviews as well.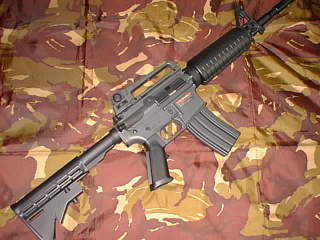 So what's different? Nothing is different between the JG M4A1 and the Marui M4A1, well except for the markings of course. It feels like, it weighs like and it sounds and shoots even much better than Marui.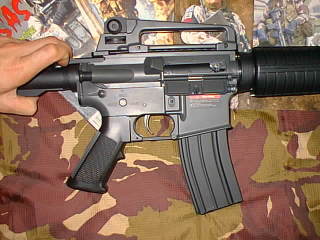 Even the bolt lever opens the ejection port cover and exposes the hop-up system that now works with precision, as compared with other makes or brands. The similarity in construction will never guarantee us a similarity in performance, sometimes a mere difference in millimeters can largely affect performance or accuracy in the hop-up system. So as soon as you get you JG M4A1, check right away inside the hop-up system for faults or tweaks.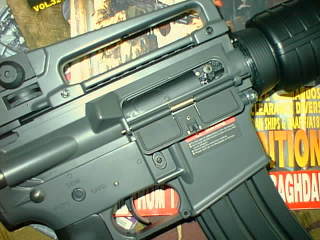 There is a closer look at the hop-up adjust dial... any difference with TM? sometimes I feel like I am carrying a Marui at the gamesite, and that goes to most JG M4A1s I see out there.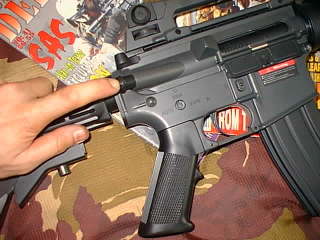 The bolt assist button in the real steel M4 is used to push in an almost jammed bullet that needs a little pushing into the barrel. JG's version is accurately replicated but does not work entirely. I am imagining an M4 AEG with all-working features. For example, the bolt assist unlocks the anti-reverse latch during a hanged cycle when your battery unexpectedly drops voltage.. Hmmm.... what else? Imagine!!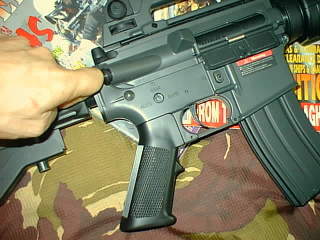 There is the bolt assist button, yes it works with a push of a finger but don't expect an action as a result since it's just a replica.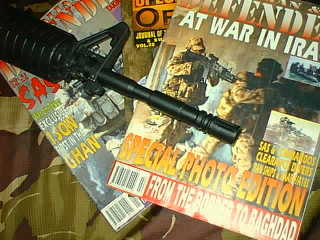 The front sight is sooo exact and an adjustment tool is also included to adjust the height of the front reticle tip, is that what it`s called? The outer barrel is made of metal, yes METAL and I noticed some signs of corrosion inside the outer barrel. Unlike Marui, JG's version makes for a heavier build and feel that adds realism.. Marui's outer barrel finish though has an advantage with its finish, it does look more like a real metal as compared to JG's version which is painted flat black.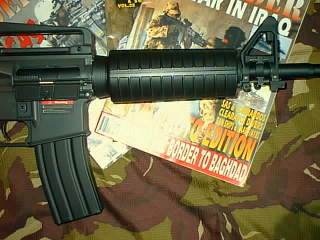 JG's M4A1 has its flash hider designed to be removable by a negative thread pattern and held tight by a 1.5mm set-screw. Readily available aftermarket flash hiders and silencers will fit with no trouble at all. The handguard as shown, has a better finish if I compare it with Marui's. Flatter in finish and a bit gritty, this may seem to add to better grip and handling, I just hope it doesn't become glossy in time like my Marui before.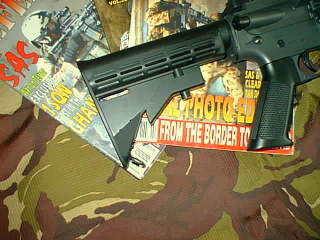 The Tactical LE retractable stock for me is yet to be the second best design after the folding stock design of other real steel guns. According to the manual, the LE Stock has a 6-point position for a more desirable adjustment and feel.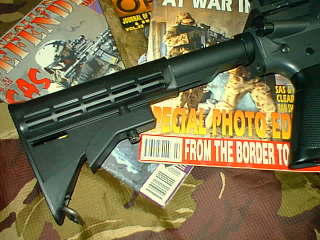 There is the extended stock at the 6th position. JG's stock has a firm grip on the tube and does not easily slide off when you press the lock, I like this better than Marui's smooth operation.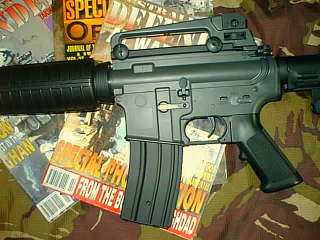 The detachable carry handle is an Award Winning design if I were to give this company a trophy . Sturdy and light, this carry handle can also accomodate the MilSpec top rail mount by a twist of a nut and install the most common red dot or reflex sights available in the market. This is so Marui!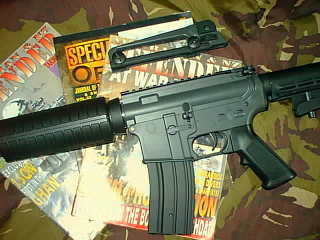 When detached, the "flat top" as everyone calls it, reveals the revolutionary MilSpec rail that accomodates and installs most accessories as per operator requirement. The most frequent equipment we see are the EoTech, Aimpoint and the ACOG. Held by a single screw in the front portion and a clip-slot in the rear end portion, be careful not to apply too much force as you may break the upper receiver that holds the nut the counters the screw.
Chrono Testing
Move over Tokyo Marui! JG's out of the box M4A1 shoots 90fps more!!
Yes it's true! Curious about what everyone claimed who has purchased the AEG ahead of me, I borrowed a team mate's Chronograph and I was overwhelmed, exhilirated, blown out of my seat and smiles up to my ears when I got the results of my chrono testings and here they are.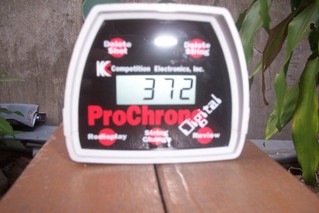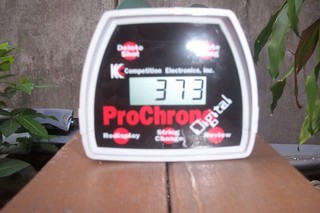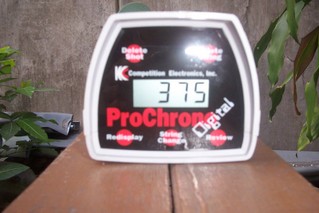 Yes! a whopping 375fps at best!! I chronoed 10 shots and they all varied between 373 to 375fps and now I am upset! Our cqb playsite is limited to 350fps... now I have to downgrade the spring.. lol!
A peek at what's outside and inside the Gearbox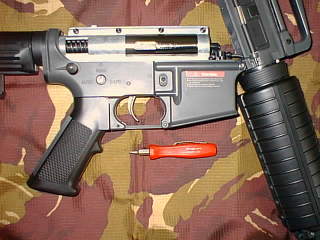 This is the JG M4A1 Type-2 cylinder and below is the JG M733 Commando Tpe-2 cylinder...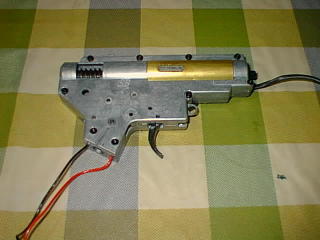 Notice the difference? The 733 has a goldish brass cylinder and the M4A1 above has a grayish cylinder. I am assuming that the M4A1's cylinder is coated or treated hmmm....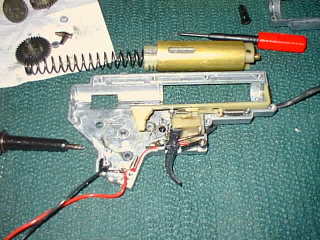 Here are the innards. Plastic 6mm bushings, metal gears which I am assuming will take on an M120 or PDI190 easily. Piston body construction looks sturdy and looks like it can crank a PDI190 but a PDI170 is recommended. Tappet plate looks funny because of the color, but hey they are very strong!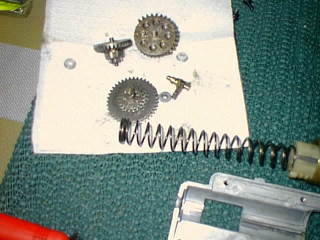 The piston and piston body is held tight by a countersunk M2 screw and an aluminum counter-nut that holds the spring in place, very much alike with most of Marui's versions.
The gears as you can see are made of metal.. I still wonder how strong they are. At the time this photo was taken, I was preparing to install a set of metal bushings, teflon coated type-2 cylinder, ported aluminum piston head with a little oversized o-ring, an air sealed nozzle and a Systema M120. I also replaced the hop-up rubber from Guarder just to be sure. No not the barel yet.
Generally, I can say that the plastic bushings that came originally will last you thru the years if you keep the stock spring.. Nevertheless replace the bushings first to a metal set when upgrading to a stronger spring.
Like I previously mentioned, this is my friend's gearbox.. lol!
More to Follow!!
Stay Tuned!