Vortex Optics VMX-3T Magnifier
Operator7
18 Jul 2013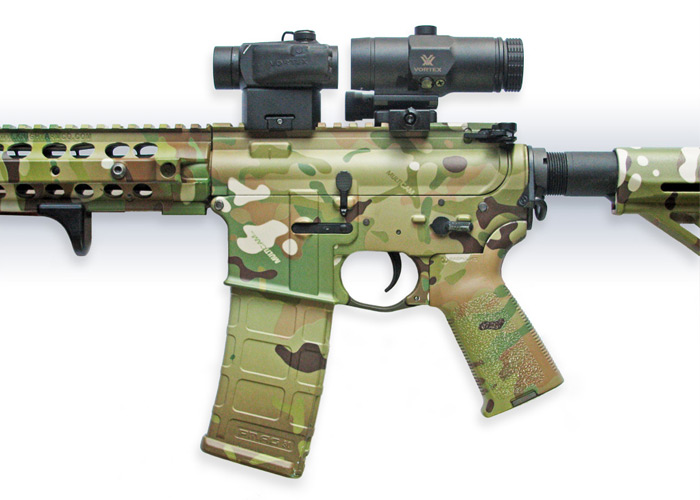 Vortex has come a long way from being a less known (at least to us Airsofters), low cost optics maker for hunting rifles to a rising star in this competitive industry. Even the Stickman now uses their awesome optics in his photos alongside with top of notch AR15s and other real steel dream stuff such as BattleComp compensators, Magpul, SureFire, Noveske, among others.
This review is also sort of a tribute to the Stickman's work, since I opted to bring his style of photography onto Airsoft and used my humble Canon Powershot SX 100IS to try and recreate his shots, utterly failing nonetheless. :)
As for Vortex's products, I had the opportunity to review the Sparc Red Dot last year and have been using it ever since, since it has become one of my favourite optics thanks to its quality, aggressive pricing and features.
And now, thanks to ASGShop.pl I have been lucky enough to use and review the VMX-3T Magnifier which coupled with the Sparc red dot offers an awesome hybrid solution.
OPERATION AND FEATURES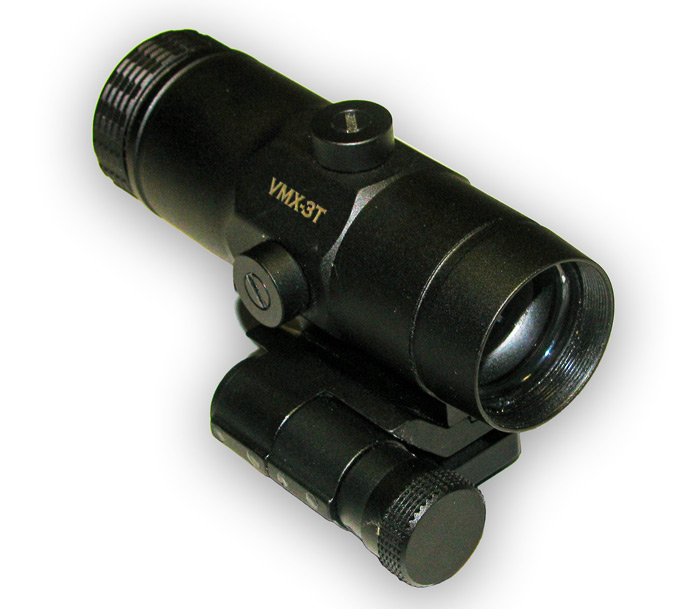 Mounting and using this magnifier couldn't be simpler since all you have to do is to attach it to your rail and if you already have you red dot zeroed in you certainly won't need to adjust the magnifier, although there are a couple of dot aligning screws which will allow you to better adjust the position of the magnifier relative to the dot itself.
This magnifier already comes with a flip mount which is extremely useful to transition between optics. The flip mount is easy and very reliable since it has a very nice locking mechanism that prevents the magnifier from either getting misaligned or flipping inadvertently.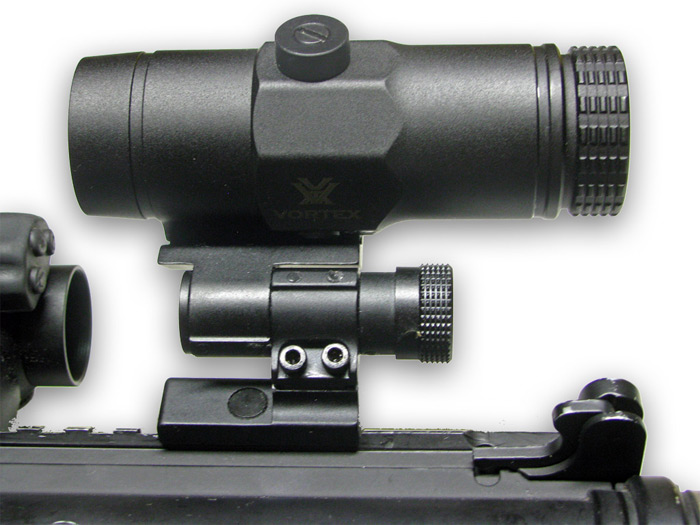 On the left side of the mount there's a round button that once pushed, releases the locking mechanism and allows the user to flip the optic.
The flip works to the left, meaning that the magnifier will be on top of your face once you disengage it and engage your red dot. Unless you are lefty, it really gets in the way since it blocks a lot of the vision since your left eye will be obstructed by the optic which means that one of the nicest features of the red dot will be lost: engaging targets with both eyes open. I honestly don't know why they did it like this, but luckily there's a workaround: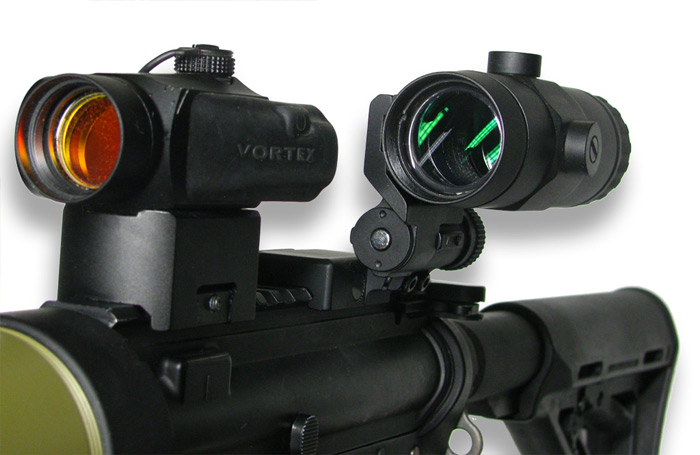 Although there's absolutely no mention on the manual that you can invert the magnifier position on the mount, I had to try this to see if it would improve my experience with the VMX-3T.
And what do you know, it did! And in a very significant way since the whole thing felt more right instantly. The magnifier wasn't in the way anymore, I could use both eyes to rapidly engage targets using the red dot, and since my head was farther from the disengaged optic now, I have a wider field of view.

Now while this solves one issue, it creates another: the release button is now placed on the back of the mount, between the red dot and the magnifier.
Fortunately it's quite offset, so both optics don't get in the way. All I had to do was to teach myself the correct steps to operate the release button without seeing it. Turns out it's very easy and since I don't have to look, this creates a mental map of what I have to do which makes it faster altogether. I strongly advise you to check out the video where I demonstrate to you how I use so you can best understand what's going on:
Also inside the package, you'll get a cleaning cloth, mounting screws and a shim plate, which allows you to position the magnifier 40 millimetres from the base of your rail.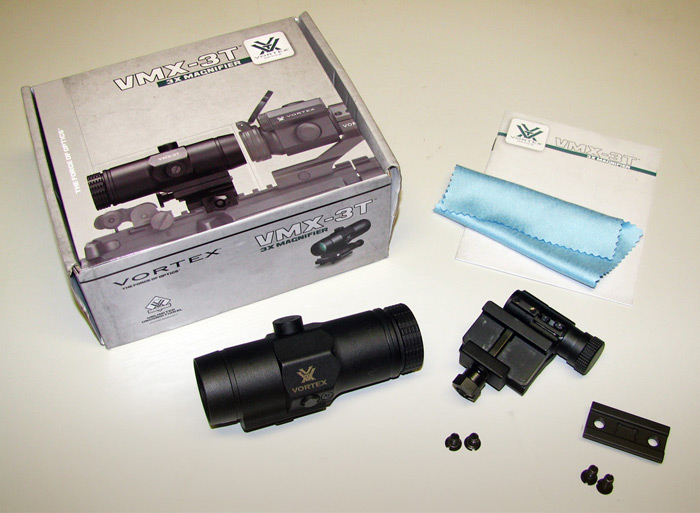 SIZE, WEIGHT AND BUILD QUALITY
The size of this magnifier is in the same line as the EOTech and Aimpoint magnifiers. In terms of length it has the same length as the Aimpoint (4.3 inches) and it's a bit longer than the EOTech G33, which is about 1.2 inches longer.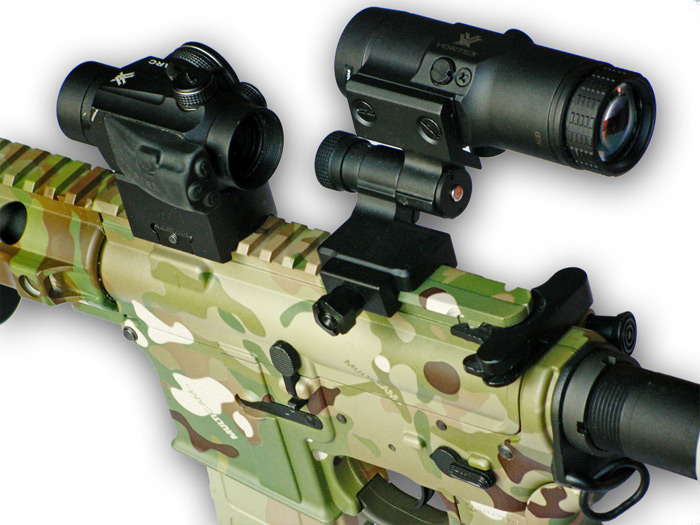 Weight wise, it has the same weight as the EOTech, at 11.9 oz, more 4.8 oz than the EOTech. So it feels really solid and it's not too heavy.
In terms of width it seems to be less bulky than the EOTech and a bit slicker than the Aimpoint, only with the protruding dot alignment screws sticking out of the main body.
Also the whole body has a very nice black matte finish which is very durable hard-coat-anodized machined-aluminium and can take a beating.
For example I have my Vortex Sparc, which has the same build quality, for over a year now and it's in great shape, if you take into account that it has been used a lot over the past year.
Nevertheless you shouldn't worry since Vortex throw in their VIP Warranty which basically means you'll enjoy a lifetime warranty on your magnifier. Oh and did I mean it's unconditional, and unlimited? Now beat that!
MAGNIFICATION AND OPTICS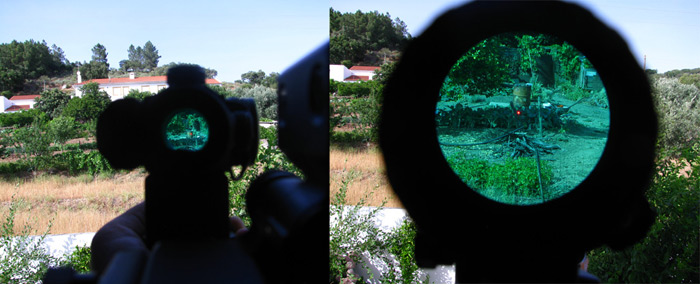 Just like most magnifiers, the VMX-3T has three times magnification which is often important in mid to long range Airsoft games. And since in most games I often engage mid-range targets, this is great for most games I go to. The beauty is that this offers a versatile optics solution that fits most needs and games.
When you are using the 3x magnification this can be used to help you spot enemies, follow the path of your BBs more accurately so it's always a plus to have this type of magnification with you ready to be used in a flip!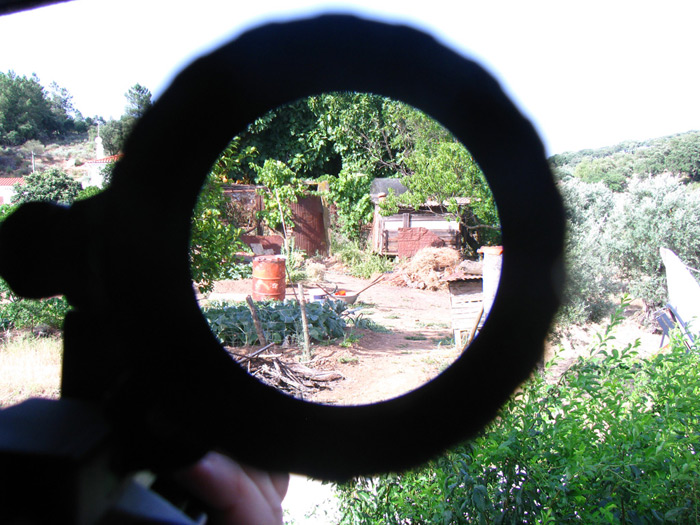 Plus, the lenses are so clear and sharp that is a joy to look through them. And it will always be a joy, whether it's cold or rainy, since they've made the magnifier waterproof by adding O-Rings to seal the barrel and fog-proof by injecting nitrogen gas, which is known for its properties for inhibiting fogging.
The lenses also get several coatings of anti-reflective products which helps making them so crisp and clear.
The VMX-3T also comes with a focus dial which allows to better focus the image.
CONCLUSION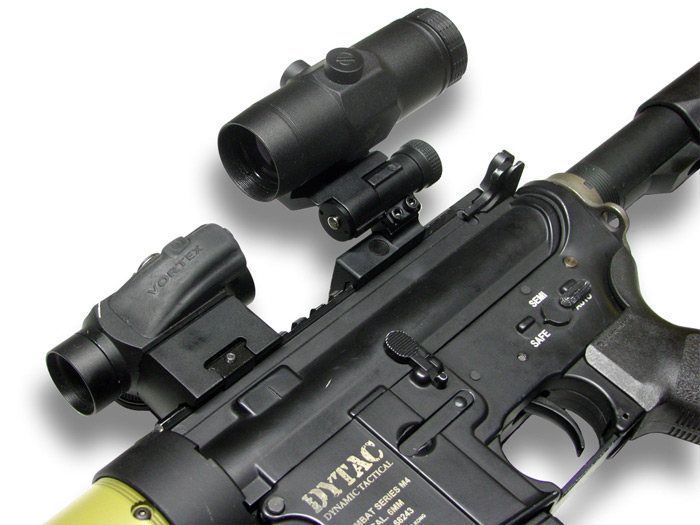 A LaRue or an Aimpoint mount could set you back 200 dollars or more! So the price range of the VMX is incredibly competitive.
Also you probably must have seen the replicas out there, and most will go for 99 dollars or more and you don't know what you are getting until you open up the box and try it. I can tell you I have a teammate that uses an Aimpoint knock-off and those lens are just terrible: poor eye relief, incredibly blurry, absolute trash.
So with all this factored in, plus the lifetime warranty, this magnifier is a pretty good deal!
You can get both the Vortex Sparc red dot and the VMX-3T magnifier from ASGShop.pl, for 224.74€ and 237.25€ respectively.
Pros
Great crisp and clear image
Fast: ready to be used in a flip!
Magnification
Compatible with most read dots
Lightweight and compact
Durable and sturdy
Lifetime warranty
Cons
Mount should be flipped to the right