Rubber Band Warfare Just Got A Heavy Weapon
Logan
19 Dec 2013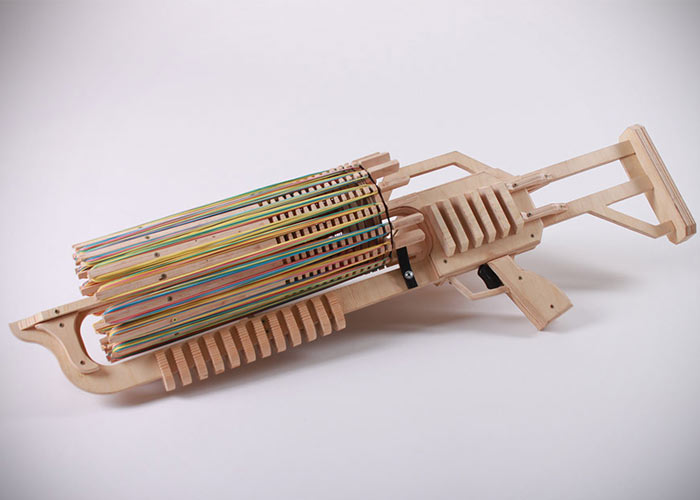 The designer of this project sent an email to us over 5 days ago regarding this project. Due to some scheduling of Feature stories, it gets posted today and it already has achieved its funding objectives before that. This is about the RBMG or the Rubber Band Machine Gun with a unique Fast Charger that is now on Kickstarter waiting for more pledges even if it has already achieved the funding goal.
Just launched last 16 December 2013, the RBMG already achieved its funding goal quickly and went even more than what its designer, Alexander Shpetniy, originally intended. With just a US$5,000 funding goal, in just two days, it has already received US$22,658.00 with 29 days to go as of this writing. Not bad for a Rubber Band gun project that quickly got pledges from almost 200 backers.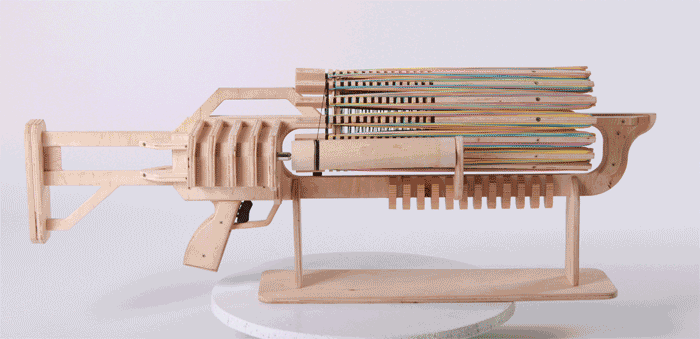 So what is the RBMG? According to Alexander, who is from Ukraine, the "The RBMG is a fully automatic weaponry toy, that is shooting by rubber bands. Its construction is based on the Gatling machine gun principle. The body of gun is made from the oak plywood and cut out on the CNC machine."
The market unique features of the RBMG are a rich set of rubber bands ammo (672 shots per shooting session), and the firing speed of 14 shots per second. But the most amazing feature, which distinguishes the RBMG from its competitors, is the Fast Charging device, which lets player charge 14 rubber bands simultaneously. The construction of the Fast Charger is a brand new original ideaand it never been used in any rubber band weaponry before.
Thanks to the Fast Charger the charging of the machine gun takes minutes."
To prove you how it work, here is the video of the RBMG in action. And I am just surprised that there is still some 3.5" floppy disks in existence:
Convince dthat it'll give you firepower in an office battle? Well, I am and I'll be damned if I'm going against someone with the RBMG with my lowly finger gun in a rubber band battle. Gimme one of those and I'll be an elastic Rambo!
And what's more, there will be three versions of the RBMG as Alexander further explains, "There are 3 versions of the RBMG: Standard version, black colored and burnt wood color. With this RBMG everyone can feel like Rambo, launching a rubber storm, and throwing over a pound of rubber bands into the opponent."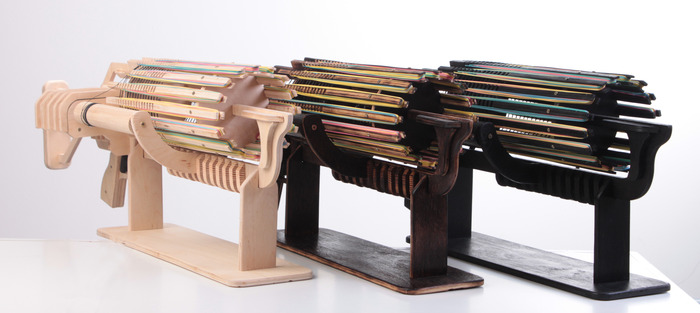 If you're not satisfied with the colors available, get the Standard version and get some Krylon and give it the gun metal or camo pattern you want on it.
It's still not too late to be one of the first to own the RBMG, with the Kickstarter project still days to go, better make your pledge quickly as the various colors, versions and options are being snapped up. The DIY option is still not taken though, and you might want to go through this route if you think you can put the kit together yourself.
Not as awesome as an airsoft gun, but still the RBMG is the best option to bring to the office if you do some cardboard or rubber band warfare. Just make sure your boss approves it.