Surefire Bags SOCOM FMBS Contract, MadBull Airsoft Gets Happy
Logan
04 Oct 2011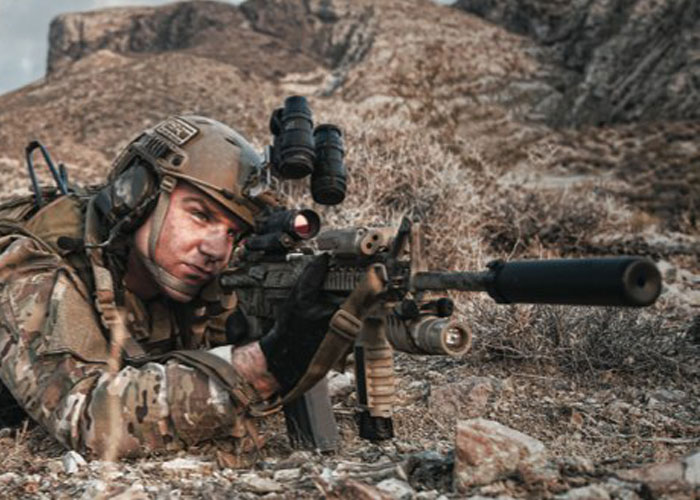 It seems it is a good year for Surefire as they won the contract from the US SOCOM for the Family of Muzzle Brake Suppressors (FMBS) plus their flash hider and adaptors. The contract is a cool US$23.3 million though it wasn't mentioned the exact number of items to be delivered to the US SOCOM. Tier 1 operators will get all the best goodies that Surefire can provide to make them effective in the field.
These suppressors will be used for real world and training operations and mounted on SOCOM M4 CQBRs and MK13 pistols for the NSWC and also seen to be used on the M27, M48, and the M16A4. The USMC is already using FA762SS model for the M405 rifle for snipers. But it's not only Surefire which got the sole contract by winning lots 1 and 2 of the requirements as Advanced Armament Corporation (AAC) won a contract with their AAC249SD to be used for the MK46.
We mentioned that MadBull Airsoft will be happy with this new development at Surefire not because they will also manufacture to help Surefire in meeting its contracts. Since Surefire mock suppressors are already in MadBull Airsoft's product line, the SOCOM contract will help boost sales in the airsoft market. Since many airsoft players are special operations wannabes, having the Surefire-licensed MadBull Mock Suppressors and Barrel Extenders in their arsenal for their SOCOM loadout would make it a part of their shopping list.
No advertisement can beat a SOCOM endorsement of a product among airsoft players. Even the HK416 and MP7 airsoft replicas became sought after when Bin Laden was taken down by the DEVGRU. Now, which one among the mock suppressors are being used? Below is the list of MadBull products based on the Surefire Suppressors and you can check them against those adopted by the US SOCOM in the press release after this.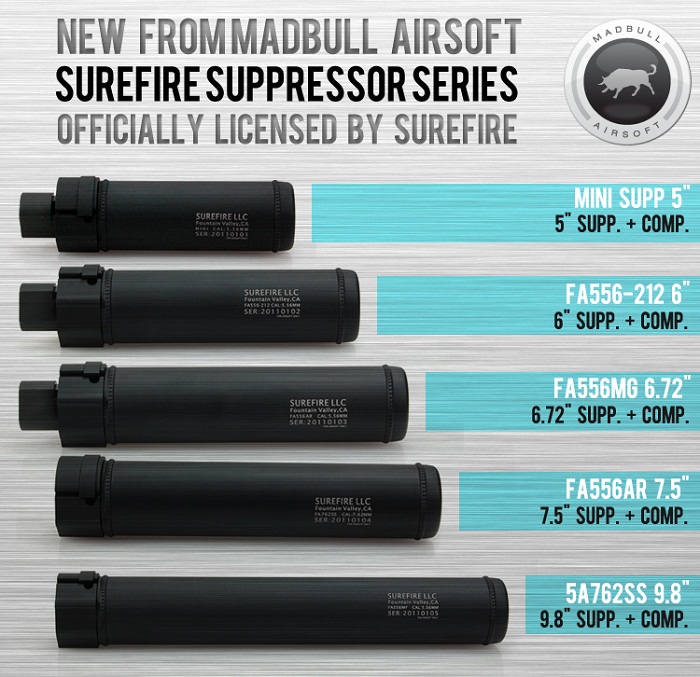 Mountain Valley, CA — SureFire, LLC, manufacturer of high-end illumination tools and tactical products, has been awarded its largest suppressor contract to date. The $23.3 million contract, for an indefinite quantity of sound suppressors, suppressor adapters, blank firing adapters and training adapters, was awarded by officials of the Naval Surface Warfare Center, Crane Division—the primary solicitation center for U.S. Special Operations Command [USSOCOM]—as part of the Family of Muzzle Brake Suppressors (FMBS) contract.
The FMBS solicitation was the most comprehensive modern suppressor evaluation conducted by the U.S. military to date. It focused on criteria that subjected suppressors systems to prolonged testing on a variety of firearms platforms. SureFire suppressors were chosen based on test criteria such as: Reliability, Sound Reduction, Accuracy, Point of Impact Shift, Endurance/Durability, and Operational Suitability. While these requirements reflect the suppression needs for firearms including the MK13 sniper rifle, the United States Marine Corps is already employing SureFire's FA762SS suppressor system on every M40A5 sniper rifle.
"From day one, SureFire's commitment has been to increase the safety and success of the war fighter and peacekeeper by developing products that exceed the standards for performance and quality," said Barry Dueck, Director of SureFire's Suppressor Division. "Our suppressors are no exception. We build these to enhance the operational capabilities of our customers, knowing that their lives often depend on their equipment, and we're very pleased that USSOCOM will now have multiple models available to improve their operational effectiveness."
In 2001, the U.S. Department of Defense used the term "Signature Reduction" as a working concept mandated by the Joint Chiefs of Staff to focus on reducing the environmental sound, flash, and dust signatures produced by a firearm. So when SureFire launched its suppressor division in 2002, they focused on the Total Signature Reduction™ (TSR) of a suppressed firearm. TSR not only addresses the environmental signatures, but other key performance attributes such as point of impact shift (POI) and repeatability, which historically were deprioritized in favor of sound reduction. SureFire became the first manufacturer to address POI shift as a primary concern and did so without degrading attributes like sound reduction and accuracy.
Most suppressors cause a shift in a weapon's POI when attached or detached, requiring the operator to re-zero the weapon every time. With a SureFire Suppressor, the Fast-Attach™ mechanism locks the suppressor onto the firearm in the same position every time, producing a negligible, repeatable POI shift, if any at all. And SureFire Suppressors are as durable as the barrels they're mounted on, making fulltime suppressor use not only preferable but practical.
The SureFire product selected for the FBMS contract is: For the SOCOM M4/CQBR firearm: FH556-215A adapter & FA556-212-DE suppressor For the SOCOM M4/CQBR firearm training and blank firing: BFA-FA556-212 & TA-FA556-212 For the SOCOM MK13 firearm: FH762K05 adapter & FA762K-DE suppressor For the SOCOM MK13 firearm training and blank firing: BFA-FA762K & TA-FA762K
For more information on the Naval Surface Warfare Center, Crane Division, visit www.navsea.navy.mil/nswc/crane/default.aspx. To learn more about SureFire and their family of TSR suppressor systems, visit http://www.surefire.com/suppressors.