Voting Is Now On For the 4th Airsoft Players' Choice Awards!
OptimusPrime
06 Jan 2014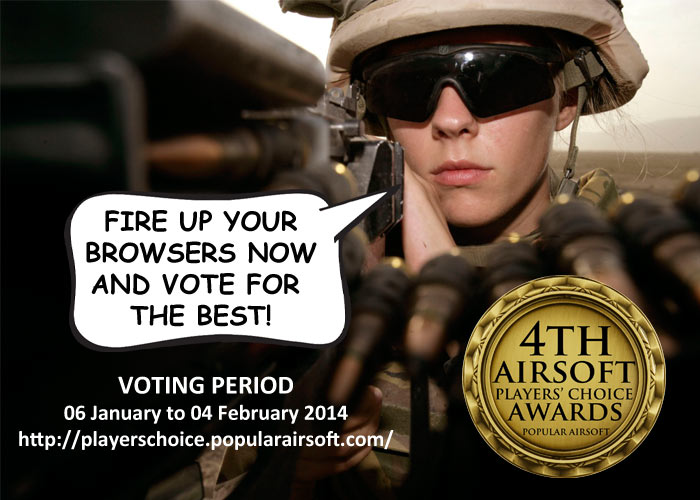 And so it begins, the second and final period of the 4th Airsoft Players' Choice Awards process --- the Voting Period. The Nominations period is the phase where readers of Popular Airsoft submit their nominees to determine the top 5 finalists. The Voting Period is the phase where the winners in the various categories will be selected by the readers.
The voting period starts today, 06 January and ends on the 4th of February 2014 at 2400H PST.
As we have mentioned before, there will be familiar names and unfamiliar names amongst the Finalists as we put into place new categories and have the awards process available in 8 languages. Indeed, the move to have it available beyond the English language has made this the largest Awards process with more nominees submitted (thousands submitted) and we expect the Voting Period to be even larger. The Voting Process is easier to do, just select among the top 5 choices.
CLICK HERE TO IMMEDIATELY GO TO THE VOTING PAGE
And now let's find out who the finalists are:
For the Finalists, we say good luck to them. They can either do nothing and sit tight, or campaign hard to bag the award in the categories they have been nominated for. But for those who are active in getting the vote out usually win in their categories.
As for the raffle prizes, we have already published them previously and we shall be publishing them again next week. Those who have submitted their nominees and voted will have their names entered twice for the raffle draw as promised since without them, the top 5 nominees for the categories would not have been determined.
Let's get the Voting Period going and make the 4th Airsoft Players Choice Awards end in a high note. Vote now!
Also, please do not forget to click on the logos of our sponsors and supporters. Without them, the awards process would not have been possible.
MAIN PRESENTER

GOLD SPONSORS
SPONSORS