Watch The 11th Airsoft Players' Choice Awards Virtual Awarding Ceremony
OptimusPrime
17 Apr 2021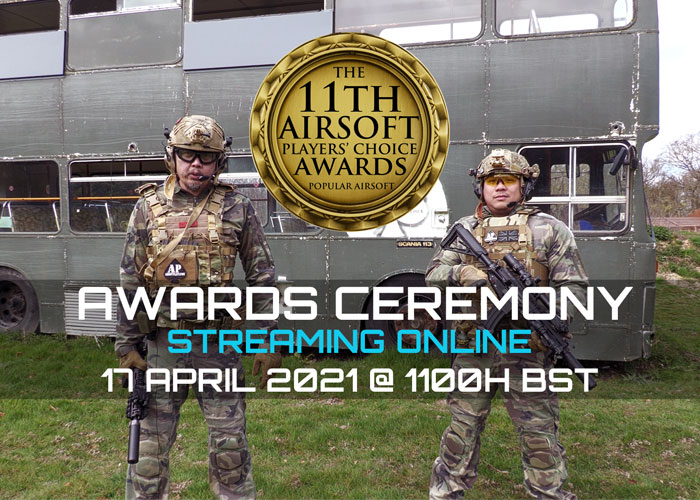 The long wait is over as the winners of the 11th Airsoft Players' Choice Awards will be announced today starting at 1100H BST/GMT+1. We invite our readers and the airsoft community to join Rocky "Azzkikr" and Owen "Master Chief" as they introduce the presenters who in turn will introduce the nominees and announce the winners in the 26 awards categories.
But first, our production is not an "Oscars"-like awards event and instead it hodgepodge collection of videos in collaboration with some members of the airsoft media, community and industry.
Boy! It is hard work as the Covid-19 restrictions made it difficult and coordinating the collaborators from different parts of the world as well as different time zones! Whilst some of the presenters, especially the airsoft YouTubers have better production, others did their best using with whatever they have in their homes, which usually is their camera phones and the available lighting inside their homes and even bedrooms.
Even for Rocky and Owen, given their day jobs as medical workers working undery heavy pressure due to the pandemic, they found it tough to find common time to take do the videos and even do retakes, much less perfect their presentation styles, which they are not really used to as hosts but they gave their best. So let's all give them a big hand.
On with the show. To watch the Awards Ceremony, you have three options:
Click the video below
Go to the Popular Airsoft YouTube channel where you can also chat with other viewers.
We'll be updating this page as the winners are announced.
We are finally revealing the awards presenters and we thank them from the bottom of our hearts for taking time to do the videos. Please do take time to know and click on the links to visit their social media pages.
THE AWARDS PRESENTERS

So better get ready, have something to bite and drink as it's going to be two hours of your weekend to honour those who have done much for our hobby.