We Are Proud To Announce The 6th Airsoft Players' Choice Awards Winners!
OptimusPrime
08 Feb 2016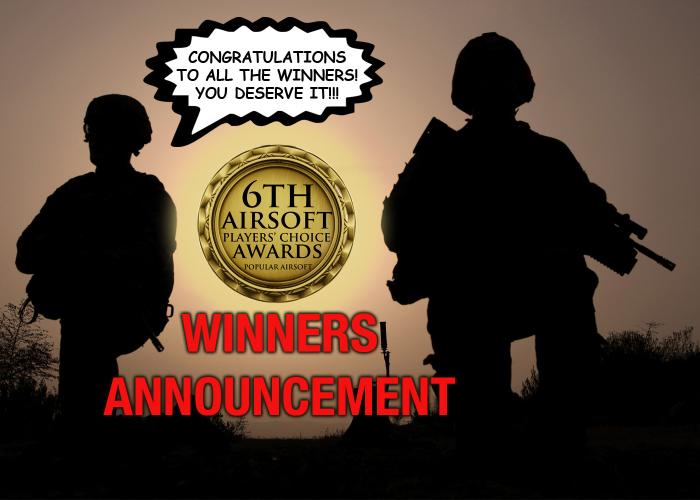 The moment that the finalists of the 6th Airsoft Players Choice Awards and their fans have been waiting for, the announcement of the Awards winners. The awards had some close calls and some new winners in the various categories. But that's how airsoft players and readers of Popular Airsoft, they can be loyal to some and will award those they think deserve to receive the awards.
It has been a long two months to find out who the winners, but that makes it exciting, and the longer period also ensures that a good number of airsoft players from around the world get to nominate and vote for their favourites. As we always say, the more, the merrier.
We would like to thank all the voters, the nominees, finalists, and sponsors of the awards. Without their participation, we would not have reached the 6th year of the awards, considered to be most prestigious online in the airsoft world. It is always an honour to have players, communities, and companies supporting this event so there will be recognition to the effort of those who are helping bring airsoft to where it is right now.
For the awards winners, please do get in touch with us as soon as you can if you will want to have your award shipped to you or you will receive it in person at the Awarding Ceremonies during the Airsoft Meetup at the IWA Outdoor Classics 2016 in Nuremberg, Germany. The Airsoft Meetup will be on the 6th of March 2016.
Congratulations to all the winners!
Best Airsoft Retailer for North America
Best Airsoft Retailer for Europe
Best Airsoft Retailer for Asia
Best Airsoft Magazine (Print or Digital)
Best English Language Airsoft News Website
Best Non-English Language Airsoft News Website
Best Airsoft Blog
Best Online Airsoft Community/Forum
Best Airsoft Video (Posted Online In 2015)
BORDER WAR 7 - Airsoft Sniper Gameplay - Operation Skylance 2015


Best Airsoft Event (with over 500 players)
Best Airsoft Podcast or Video Channel
Best Tactical Gear Manufacturer
Best Eye/Face Protection Manufacturer
Best Airsoft Upgrade/Parts Maker
Best Airsoft Kaboom! Manufacturer (Grenades, Pyros)
Best Airsoft Pistol (regardless of power source)
Best Airsoft Gas Rifle
Best Airsoft Electric Airsoft Gun
Tokyo Marui HK416D DEVGRU Custom
Best Airsoft Gun Manufacturer
Special Airsoft Player's Award
Novritsch (Austria)
Please don't forget to visit the sponsors of the awards who have made it possible to make this more exciting, with their contributions and raffle prizes:
MAIN PRESENTER

GOLD SPONSORS

SPONSORS