Danner TFX Rough-Out GTX A-TACS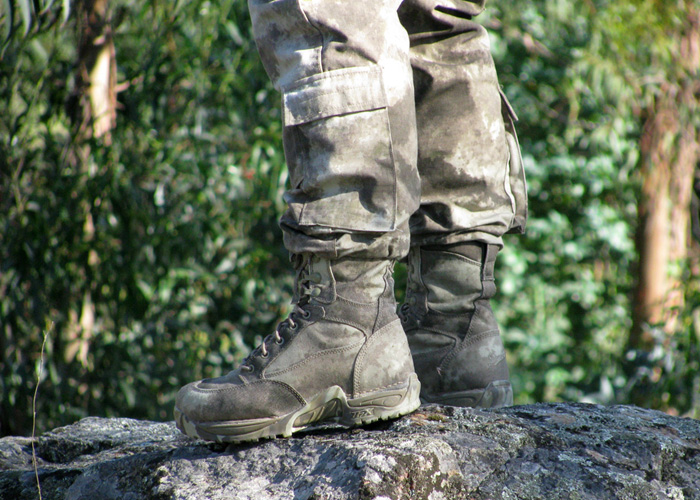 This was THE pair of boots that I wanted to get my hands on. They left a lasting impression on my mind the very first time I saw them at the official A-TACS website and have been on my mind ever since. I also love my NB Abyss boots since they proved like a very nice pair of tactical boots, however there were some aspects where the Danner could outperform them, but I wasn't sure, so I had to try them!
Also this time I wanted a more military fashion boots that would provide higher protection while in the field. Fortunately, the good people from Danner sent me a pair of these boots to answer all my questions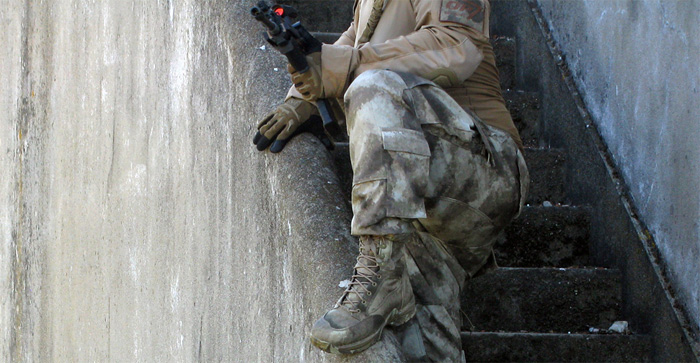 FACT CHECK
The original Desert TFX Rough Out Tan boots was built for the US Army, with tan being the official color. So if you get a pair of these, you'll be getting a combat proven material that walked miles of Afghan desert and mountains and perhaps in many other theatres of war.
There are two versions of this boots: the TFX Rough-Out Hot style that features a breathable mesh lining appropriate for warmer climates, and the ones that were tested here: the TFX Rough-Out GTX and this pair comes with a 100% waterproof GORE-TEX lining and is well thought-out for temperate climates.
DESIGN AND MATERIALS
The primary reason why Danner first created these boots is total operator concealment: especially for snipers and spotters that need that extra edge to be able to pursue their mission without getting noticed.
Regular boots don't blend well with terrain and it seems that with all our efforts to have all of our gear blend in with our surroundings, then why not do the same with our boots which cover an important part of our body?
The materials used in these boots are top notch: not only you get a GORE-TEX lining to achieve a waterproof boots, but the uppers are also made of rough-out leather and breathable 1000D spacer mesh nylon.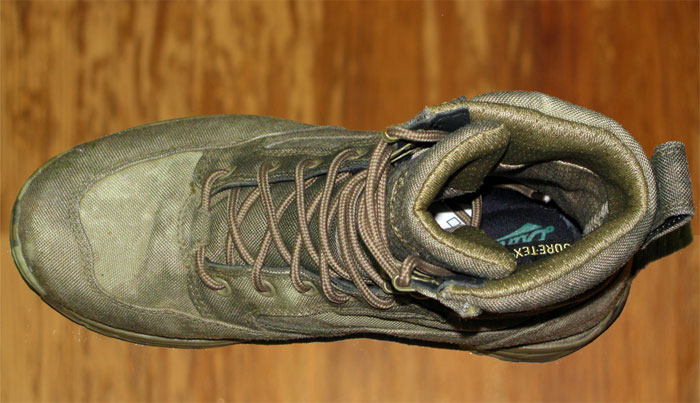 So you not only get some very dry feet, you also get some very fresh feet even in some very hot conditions.
The sole design itself, which is multi-directional, was very well thought-out using very good and lasting materials and of course their TFX (Desert TERRA FORCE X®) platform that I will go over on the comfort section.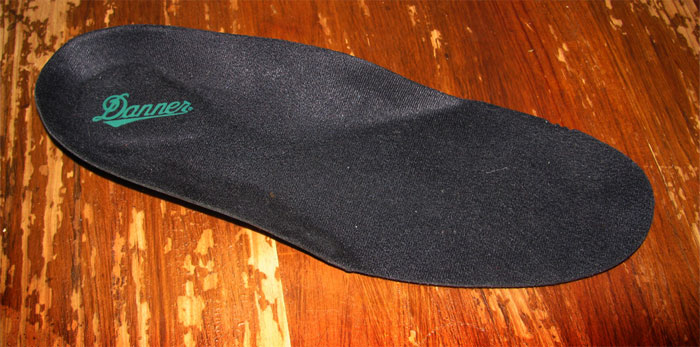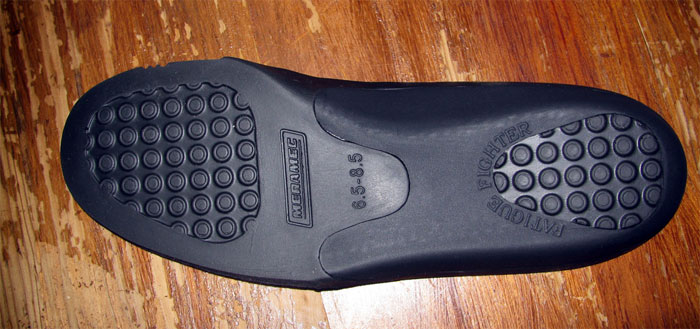 CONCEALMENT
There are many boots out there that do provide some degree of concealment, by having part of the fabric covered with some camouflage. But then the soles are generally forgotten.
In this case Danner didn't forget this detail, so they created a proprietary outsole with the camouflage pattern! This gives you that extra edge while on prone or even when kneeling, since the outsole will be quite visible in these positions.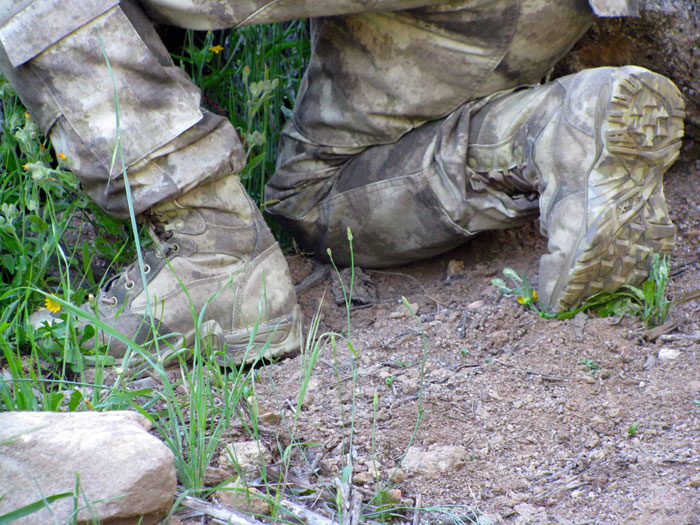 You'll see that most of the boots is covered in perfect A-TACS pattern that integrates well with other A-TACS gear. The only thing not covered in A-TACS are the laces and you will hardly notice the lace system.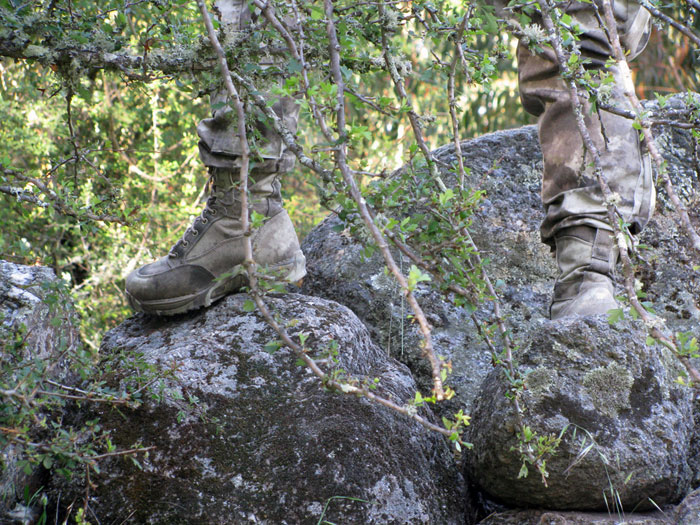 COMFORT AND CONTROL
You would expect that a pair of rugged boots like these would have to make some compromise and give up some comfort. But the fact is it isn't so. Thanks to the TFX system, the sole is very lightweight and provides great control of your movements due to the multi-directional design of the ridges and grooves in the soles.
When climbing and walking on rocks and concrete and other urban settings they offer a lot of traction which makes you gain confidence to run faster and go over obstacles.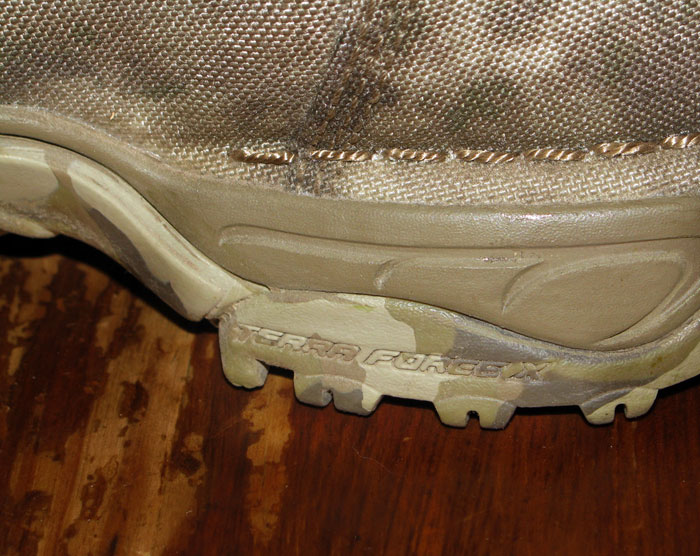 The soles feel solid but are quite flexible and allow your feet to adapt to the terrain easily. The insole offers great cushion and comfort and is thicker on the back of the foot where you will put the most of your weight. And if you watch closely, the elevated edges provide added and very welcome support to the feet making the boots feel very stable.
When jumping you, get a lot of cushion from this insole, which combined with the flexible sole absorbs a great portion of the impact.
The 8-inch profile is one of the things I appreciate the most, since its higher than that on the Abyss II, thus providing a much better ankle support when you are standing up for a great deal of time and even when maneuvering. Your leg and ankle get much more support and you won't get so tired.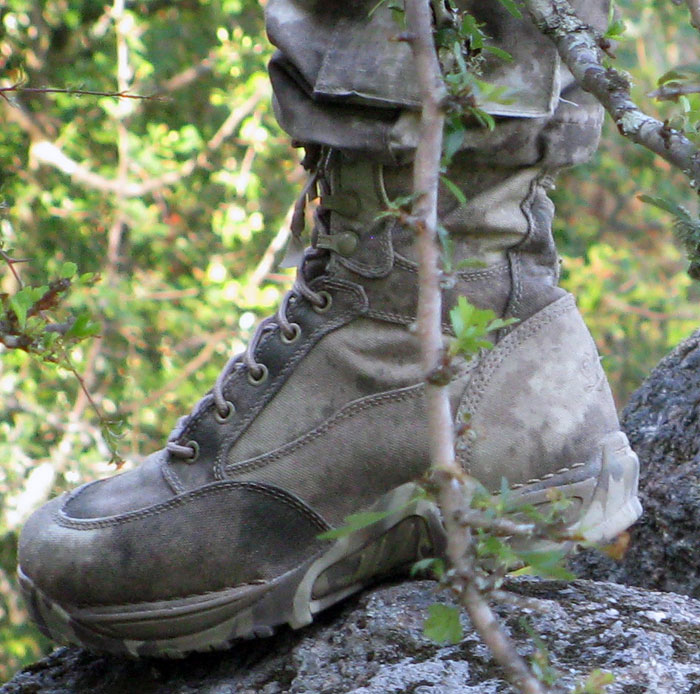 The reduced weight of the boots is also an important factor to consider when speaking of comfort and Danner managed to keep the weight down.
Since it's very hot these days, I was a bit afraid that these boots would overheat my feet and perhaps the other versions would have been a better choice. But after wearing these for a full day in very hot weather conditions I noticed that they were very breathable. So this turns up to be a balanced choice for me since they're great for summer and winter thanks to the GORE-TEX, my feet will remain dry!
There is however a good tip I might provide if you want to get a pair of these boots: in case you are like me, who have a rather large instep, you might have to get a wider fit EE size. In my case I usually wear a size 7, but in this case I needed to go to the 7EE so that my feet would fit comfortably on the boots.
So if possible, always try on the boots first, if not, Danner will offer a Free Return Shipping.
DURABILITY
Just like I mentioned earlier I noticed immediately that these boots are much more rugged and durable than the Abyss II boots that use a synthetic fabric which even though it's durable and flexible, it is no match to the 1000 Denier nylon of the Danner TFX. The double stitching provides elasticity and gives the boots a very good finish pulling the 1000D Nylon together in an extremely tight way.
The laces are very good in quality and the speed lace system works like a charm, so that when you undo the above laces it's much faster than traditional lace holes making the boots faster and easier to wear.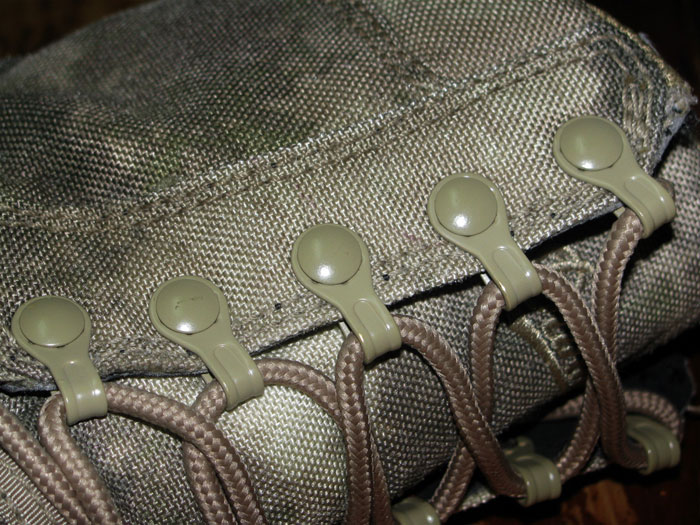 CONCLUSION
These are indeed a great addition to my A-TACS loadout project, since not only are they great looking, but they also provide me with the stability and ruggedness I need when out on the field. A big plus is definitely the A-TACS pattern and the complete concealment it offers that no other boots out there has, but surprisingly what I'm most happy about is the unmatched comfort they offer.
With a retail price of 190$, around 151€, you can get a pair of these directly from Danner if you are in the U.S. and from The Grange in the UK if you are based in Europe.
Final score: 10 out of 10
---
---
LATEST NEWS
............................................

............................................

............................................

............................................

............................................

............................................
LATEST REVIEWS
............................................

............................................

............................................

............................................

............................................

............................................