The Hurricane XPS3 Holo Sight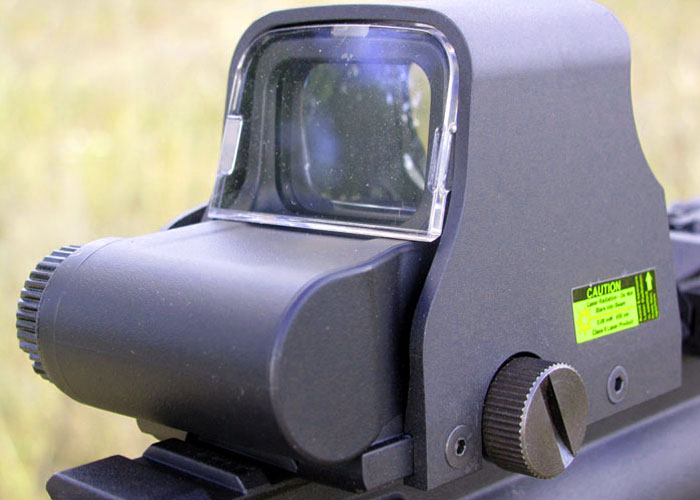 Until recently, I have had my share of EOTech clones. I had bought four only to find out they are as useful as a mirror or as a second pair of shades for looking directly into the sun. This was how I felt about them. However sometimes out there there's an exception to the rule, and when Dimitri from Emperion challenged me to test and review the Hurricane XPS3 Holosight, I was far from being convinced that this wasn't just another poor quality EOtech replica.
I must say I had already heard about the makers of the Hurricane XPS3, Thunder Sports, and seen their holo sights on the web. But it only seemed to me like another low quality EOTech clone, only pricier. I couldn't see what could be the improvement from the others I already owned.
Once I received the package and looked through the lenses, I was in for a surprise…
LENSES
As you might have already experienced, low quality clones have terrible lenses that are too dark to see in mid lit environments, and even in well-lit ones. :)
However, the Hurricane's lenses are clear and transparent. I could see clearly through them without any weird coloring or shading.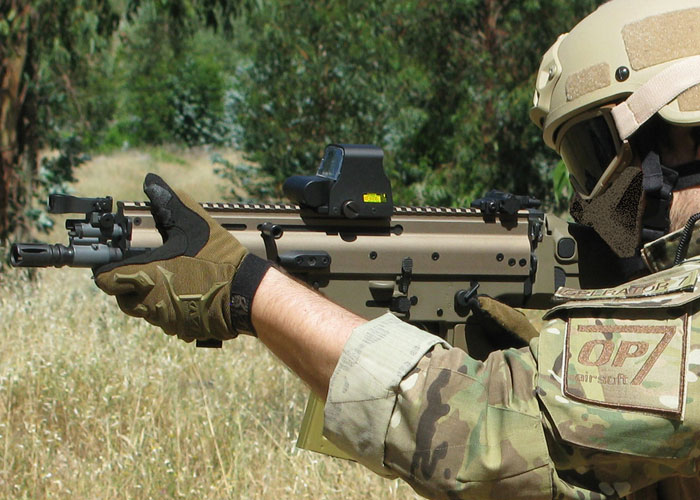 Another big issue with clones is how reflective they are, since they just have a piece of plastic or cheap untreated glass, they can literally serve as mirrors for when you are out on the field and even indoors for that matter. The Hurricane however is much better than those clones, thanks to the tempered UV lenses.There's still some reflection, but it doesn't reflect my face like a mirror and allows me to see my target and the reticle even on brighter days.
RETICLE
Another point I think is where many others (clones) fail is the brightness intensity of the reticle that usually is too dim for outdoors.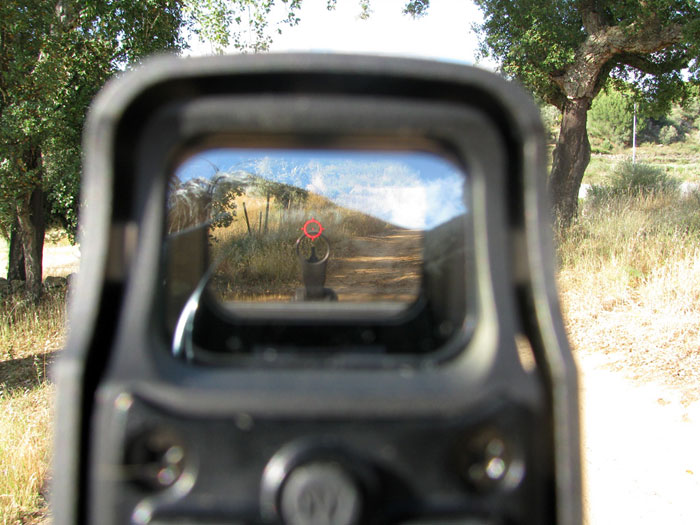 The Hurricane has 20 levels of brightness and the reticle has two colors: red and green. I prefer the red color because it's brighter and stands out better than the green one when looking at a target in the middle of vegetation. From the fifth position you can use it comfortably outdoors since it's very, very bright. It even has a feature that senses the environment light and automatically chooses the best brightness for the reticle. This works pretty well, and in my experiences of going from indoors to outdoors, it can be quite good and adjust quickly. Also this feature will help conserve energy and you don't need to worry anymore about setting the brightness level.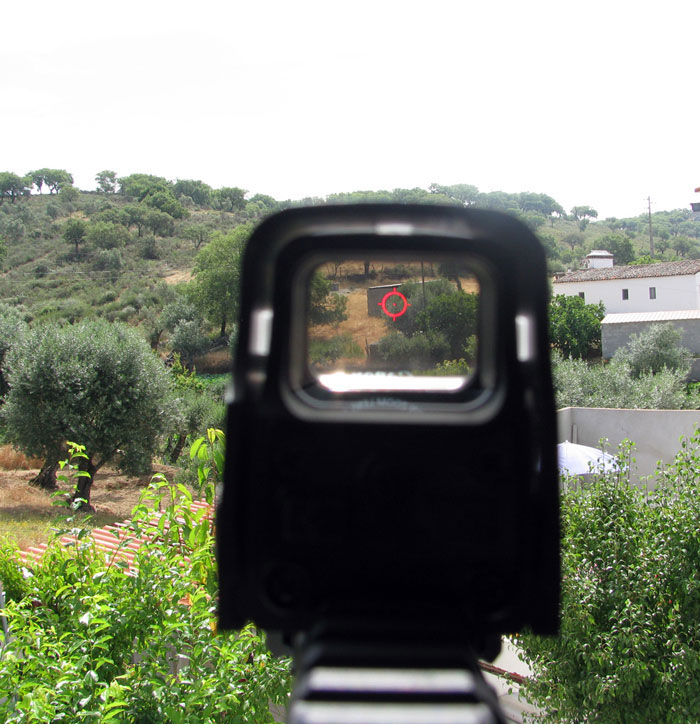 As for parallax, as you can see on the video I made, the Hurricane presents some parallax but with less than two inches of error, and the bigger the distance you are from target, the less you'll notice the parallax.
This reticle in particular not only is very bright but it's also very defined and crisp, so I liked it a lot.
BUILD QUALITY AND DESIGN
The XPS3 is not as bulky as the EOTech 551clones I've had, so it's quite compact and light. The only point I could say the clones were ok, was in the build. They all had some degree of quality and protection, but this one is much better in terms of finishing, being the whole casing made out of metalI found it to be very sturdy and tough enough for some abuse in the field.
Being a replica of the EOTech XPS3, it is remarkably similar and it uses, like the real one, a single CR123A battery and features an O-ring, tethered cap which is quite convenient and easy to replace. According to Thunder Sports, the Hurricane is moisture resistant, so you shouldn't worry about occasional rain, but avoid dipping it in water.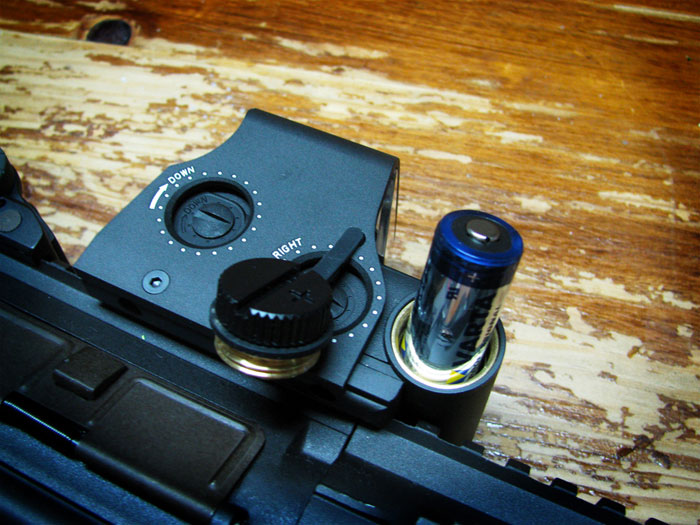 I've also liked the mount screw which is wide enough to unscrew it with gloves and holds the sight very well in place.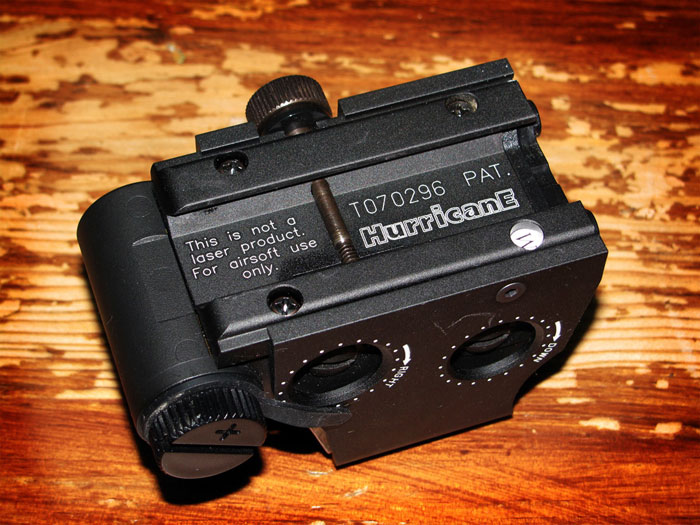 The buttons are soft and easy to use and the rubber appears to be quite resistant, but only time will tell. The reticle adjustment screws are also quite sturdy but easy to dial up or down using a coin or a screwdriver.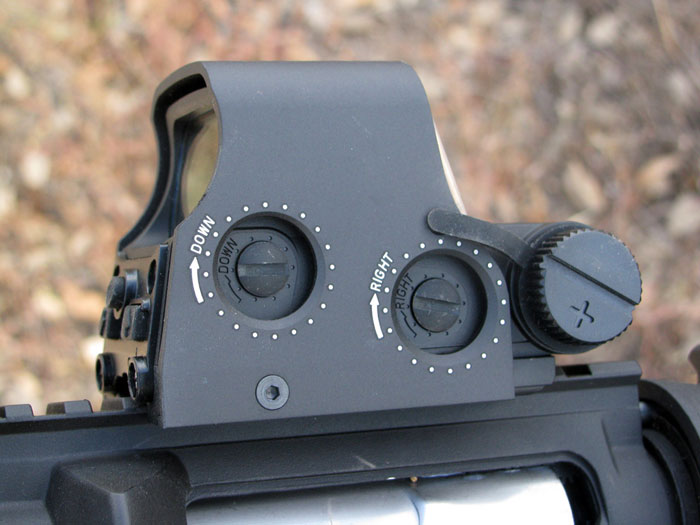 OPERATION
Turning on the sight couldn't be simpler, just push the increase or decrease brightness buttons and you'll see the reticle.
However, like I've mentioned earlier, the decrease brightness button will activate the auto mode that will try to adjust the reticle brightness to the light in the environment it's in and will give you 10 levels of adjustment. Whilst if you turn it on with the increase brightness button you'll get all 20 brightness levels. So I guess it's a matter of choosing what you prefer. In case you want to turn it on and forget, just go for auto, like I do!
To switch between the red and green reticle press the NV button, just like in most clones.
The reticle adjustment screwsare reversed: when you turn "->Down"it will go up, and vice-versa and when you dial them up or down you clearly see the reticle moving so you're able to zero it in.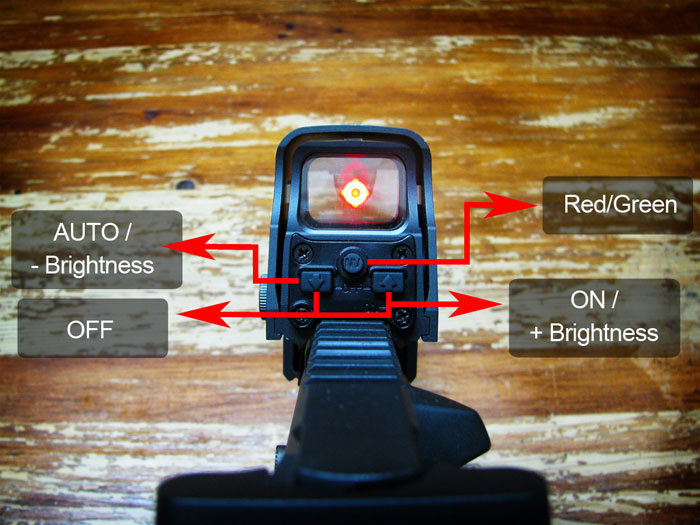 To turn it off all you need to do is press both increase and decrease brightness buttons at the same time.
In case you forget to turn off the sight, the Hurricane has an auto shutdown feature that turns off automatically after two hours. This can be good if you are playing short duration games, but it's perhaps too short for longer games.
To prevent the battery from dying on you, the XPS3 has a feature that makes the reticle blink so you know it's time to change battery.
ACCESSORIES
Now one of the details I liked in the Hurricane is the fact that they've included a lens cover to be used on the front of the sight so it protects it from bb's that might scratch or even damage the lens, and it doesn't reduce the sight's performance.
Apart from that you'll get a cleaning cloth and that's about it.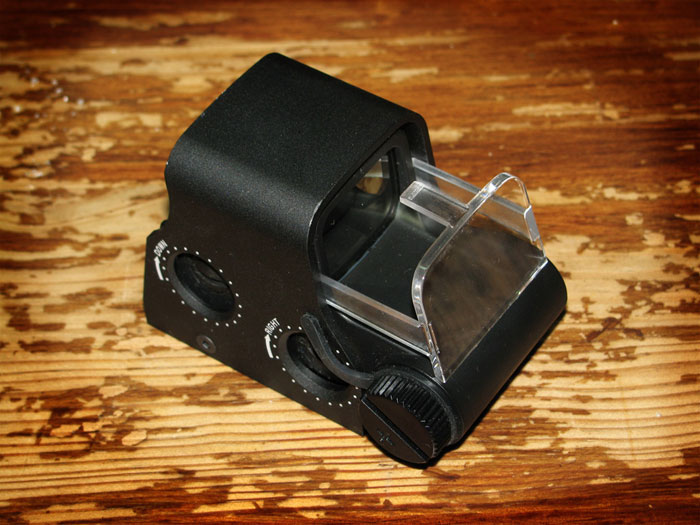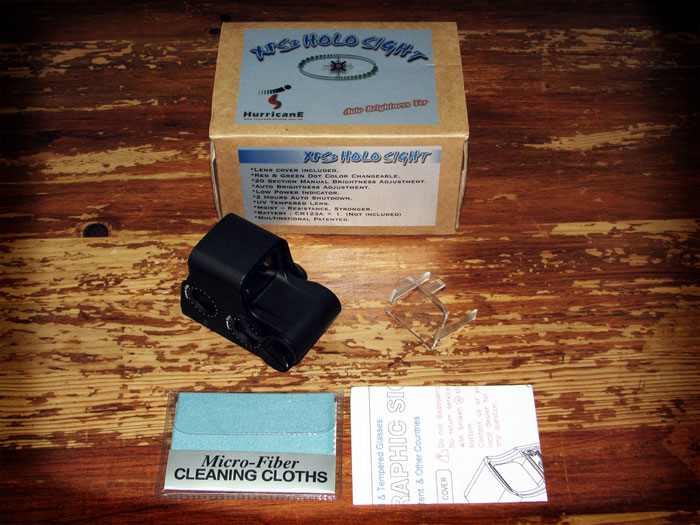 CONCLUSION
I liked the sturdy construction. The overall quality of the sight is pretty good, and the size makes it very well balanced for most SMGs, PDWs and CQB Airsoft guns.
This is probably the best EOTech clone you can buy on the market today. And believe me, I've seen and tried quite a few.
It's not perfect, but I can say that this is the first ever Eotech clone I'll be keeping and taking to the field because it was able to convince me where others failed.
For 150€, around 190$ and 120£ at Emperion, you'll be getting the closest thing to an EOTech for Airsoft for a fraction of the price of the real one and you won't be getting ripped off by a cheap knock off that has no use whatsoever.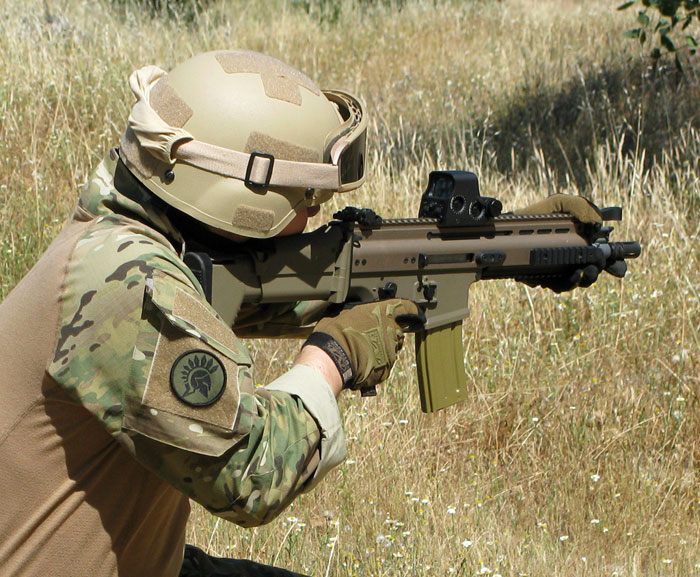 Pros
Build quality
Crisp and bright defined reticle
Auto mode
Compact in size
Lens protection included
Nice transparent lenses
Cons
Some parallax
Some lens reflection
---
---
LATEST NEWS
............................................

............................................

............................................

............................................

............................................

............................................
LATEST REVIEWS
............................................

............................................

............................................

............................................

............................................

............................................