EMG Releases Fully Licensed Strike Industries Tactical Competition AEG Series
Logan
20 May 2022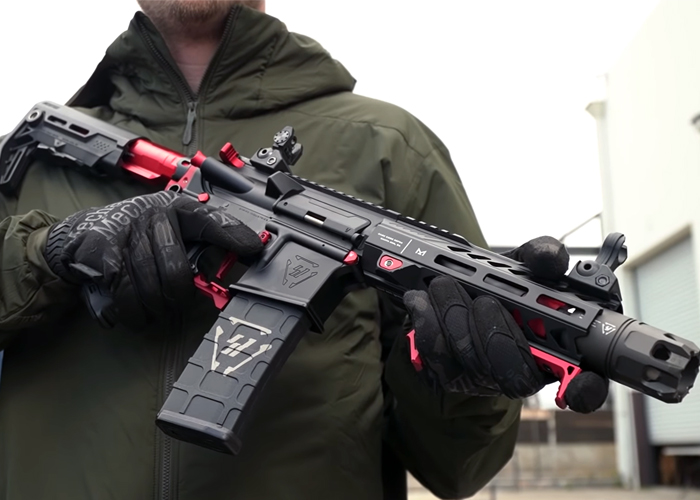 Strike Industries is well-known in the real steel sector for the various firearms accessories it produces which some can also be fitted on airsoft guns. While the real steel sector gets first access to Strike Industries accessories it does not accsess to one thing that the airsoft sector has --- a complete rifle series.
The company has licensed its designs to Evike Manufacturing Group (EMG) which in turn partnered with G&P Industrial Co. Limited (G&P), a very much well known airsoft manufacturer based in Hong Kong to produce complete AEGs. The result is the EMG-Strike Industries Licensed Tactical Competition AEG Series that are really nice to look at first glance.
The series has CQB, PDW, SBR, and Carbine versions and these have all the following features:
Aluminum alloy construction
High quality engraved trademarks
G&P ver2 metal gearbox w/ pre-installed GATE ASTER Programmable MOSFET
Strike Industries Strike Rail M-LOK handguard w/ QD sling mounting slots
Fully upgraded Strike Industries enhanced castle nut, end plate, and buffer tube
Lightweight Mod1 adjustable stock provides comfort without unnecessary bulk
Unique "Strike" ambidextrous selector switch aids in rapid manipulation without adjusting grip
"Fang" trigger guard helps guide magazine changes
Comfortable Strike Industries pistol grip with an improved grip angle for a more natural firing position
---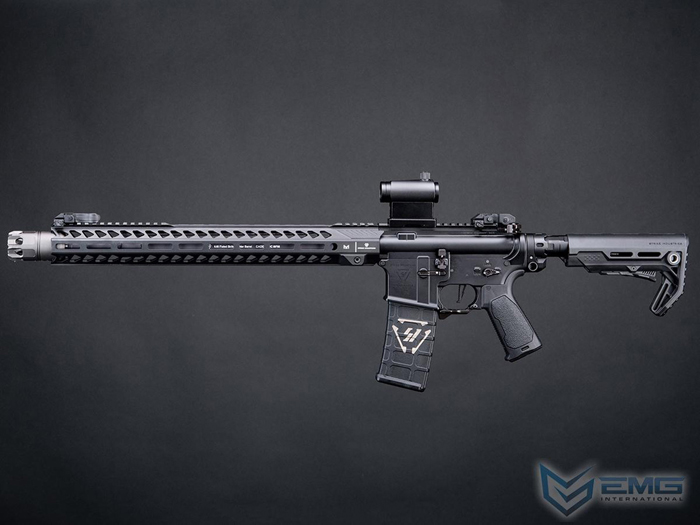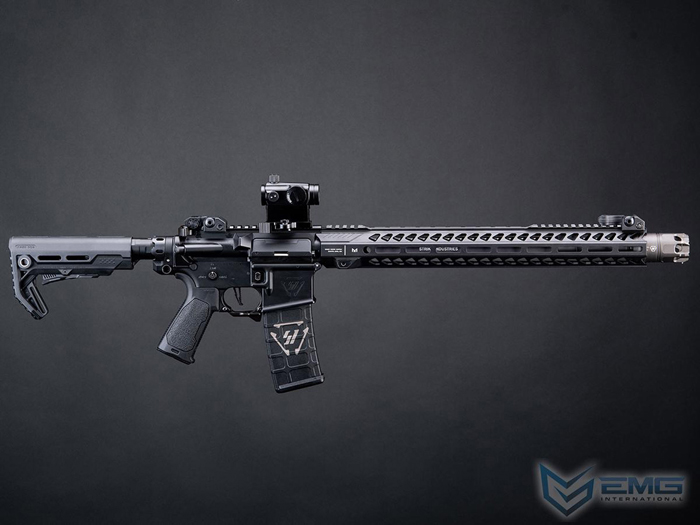 EMG Strike Industries Tactical Competition Carbine AEG
---
Airsoft players have options of having 350fps or 400fps for the PDW versions, which they need to check with their CQB game sites their energy/velocity limits before getting one. The CQB, PDW and SBR versions are available in Black, Blue, and Red editions whilst the Carbine versions in Black.
---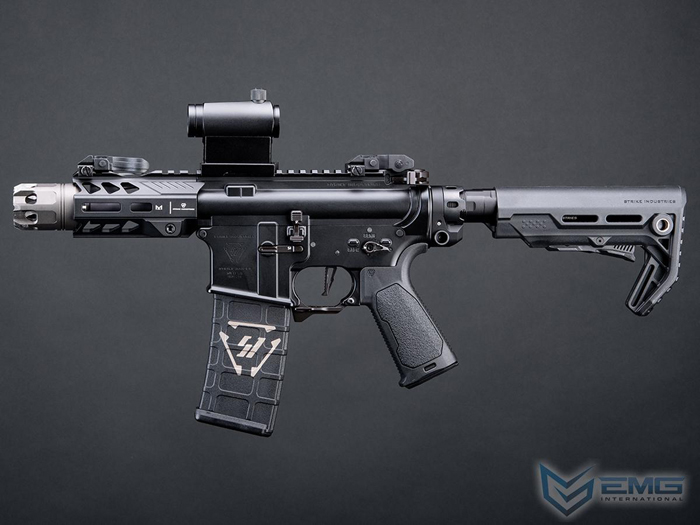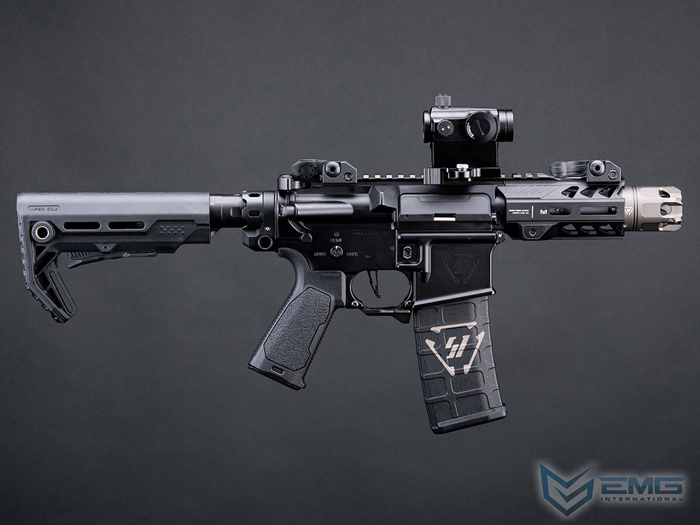 EMG Strike Industries Tactical Competition CQB AEG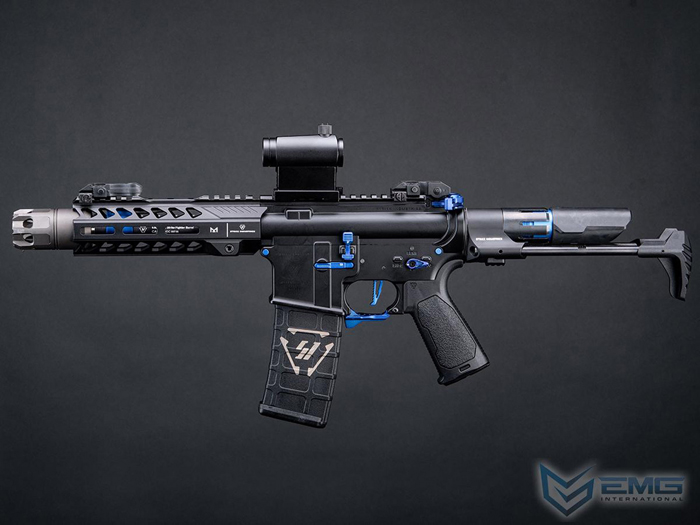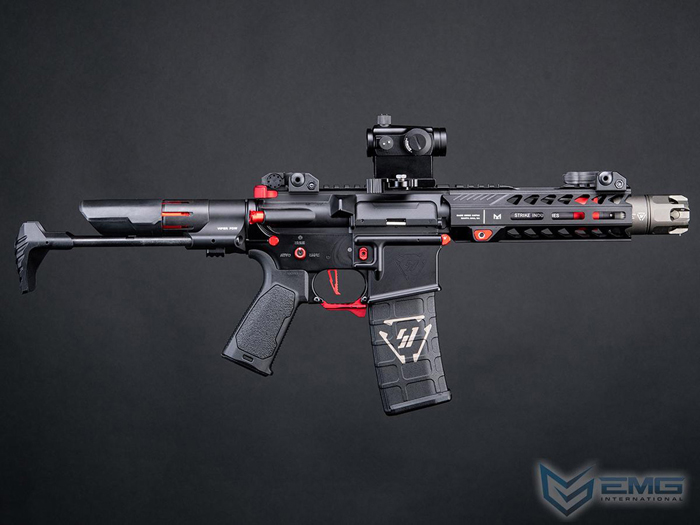 EMG Strike Industries Tactical Competition PDW AEG
---
With the Gate Electronics ASTER MOSFET, the EMG-Strike Industries Licensed Tactical Competition AEG are programmable and it replaces trigger contacts with computerized controller with optical sensors, that includes a proximity trigger sensor that offers even 250 sensitivity settings. It gives fast trigger response and lots of other functions. Its smart fuse protects the battery, motor and the controller, even in case of reverse battery connection. The airsoft player can choose how to configure ASTER either via trigger or through USB-Link /Blu-Link* connected to the GCS App and its firmware is upgradable to ADVANCED or EXPERT.
---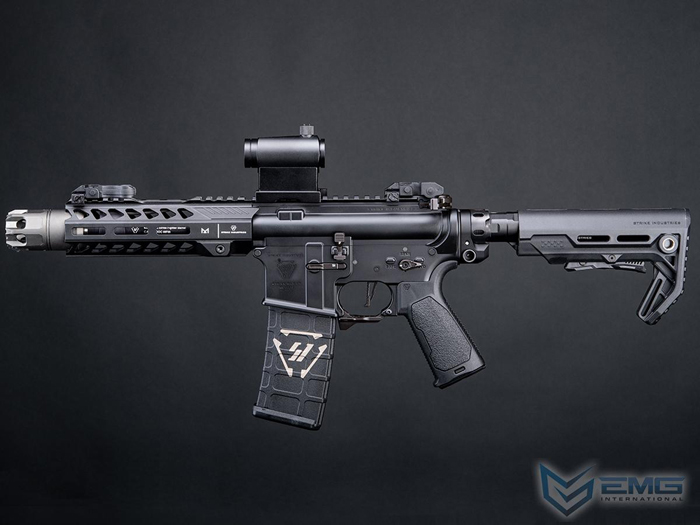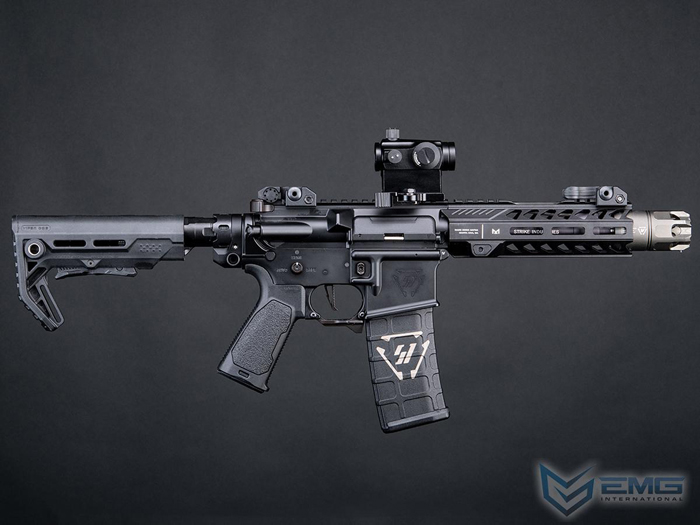 EMG Strike Industries Tactical Competition SBR AEG
---
The AEGs come with 130-BB round polymer magazine and can use M4 AEG magazines that are Tokyo Marui compatible. As for the muzzle thread, it is 14mm CCW for those intending to attach tracer units or mock suppressors. As for power source, they can take 7.4v AEG batteries with 11.1v Lipoly battery recommended. The battery is installed inside the buffer tube and connected to a DEANS connector.
All the AEGs in the series are now available at Evike.com with the CQB at at US$369 to US$379 (with the PDW Stock); the PDW at US$389; the SBR US$3750; and the Carbine version also at US$375. Evike Matt gives more information about the EMG-Strike Industries Licensed Tactical Competition AEG series in the video below: