Vortex Gets Selected To Build Fire Control Prototype For U.S. Army's NGSW
Logan
25 Apr 2020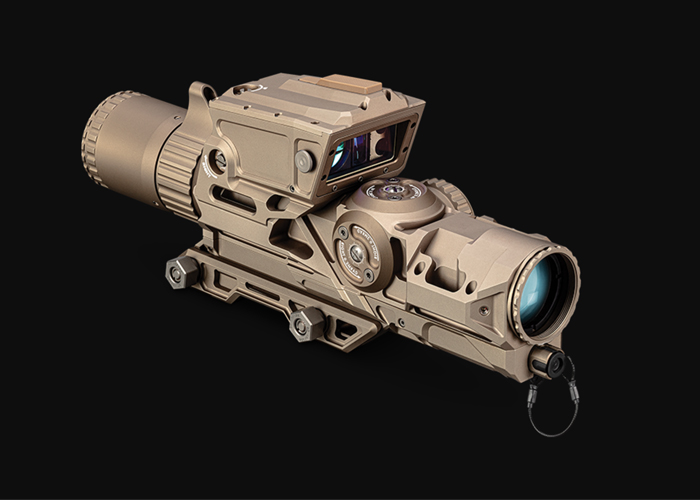 Even with the ongoing pandemic, nothing is keeping back the U.S. Army's ongoing program to develop the Next Generation Squad Weapon (NGSW) which will replace the M4 and M249 as well as the 5.56mm round with the aim of being able to defeat the body armor of near peer enemies. Just recently, it has issued an Other Transaction Authority (OTA) award to Wisconsin-based Vortex Optics to develop the NGSW-FC (NGSW-Fire Control) prototype for Soldier TouchPoint (STP) evaluations.
The NGSW-FC is envisioned by the U.S. Army as equipped with a laser range finder that has a 1,000 meter range and a ballistic computer which will calculate the bullet's path to target. Such a combination will make the future U.S. combat personnel to be more lethal than with today's weapons platforms.
The optic that is the subject of the OTA is Vortex's 1-8×30 Active Reticle Fire Control. Vortex Optics say that it is the system is built around a revolutionary technology based on many years of internal research and development. Also, it is designed along development efforts with the U.S. Army's PM-Soldier Weapons group. The system is a variable-power, first focal plane rifle scope. The Active Reticle is overlaid digital display that augments the scope that is said to increase hit percentage and decrease time to engage.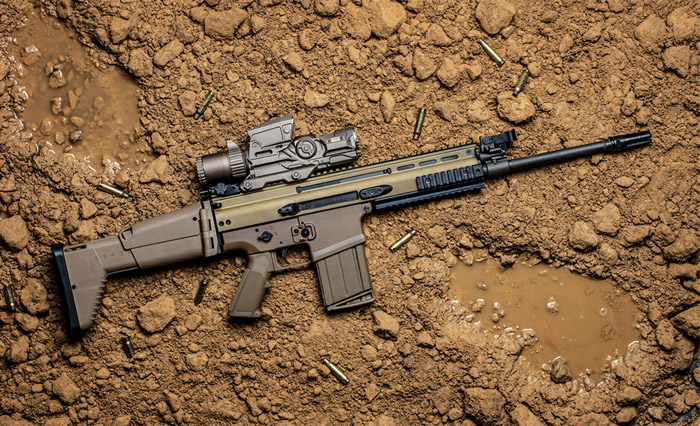 The Vortex NGSW-FC mounted on the FNH SCAR-H rifle which is not part of the NGSW program
At present, the U.S. Army is currently testing NGSW prototypes from General Dynamics Ordnance and Tactical Systems Inc., Textron Systems and Sig Sauer Inc. for the final phase of the NGSW effort which will take 27 months. Whichever gets selected, an initial 3,983 units will be ordered, which is seen to increase 85,986 to replace what is being used b the combat units.
Full press release from Vortex Optics on the NGSW-FC OTA Award below:
Vortex Awarded OTA for Army's Next Gen Squad Weapon Fire Control Prototype Program

VORTEX OPTICS AWARDED OTA FOR THE US ARMY'S COMPETITIVELY SOLICITED NEXT GENERATION SQUAD WEAPON FIRE CONTROL (NGSW-FC) PROTOTYPE PROGRAM

BARNEVELD, Wis. For the last 18 years, innovation has meant everything to Vortex Optics. It's meant our emergence as a leader in the sport optics industry. It's allowed us to provide our customers the tools they need to pursue and protect what matters most in their lives.

But starting today, our dedication to innovation means something even more.

We're honored to announce that the US Army – PM Soldier Lethality awarded Vortex® an agreement to deliver the Next Generation Squad Weapon-Fire Control (NGSW-FC) Production Ready Prototypes for Soldier TouchPoint (STP) evaluations.

As a direct-view optic, the 1-8×30 Active Reticle™ Fire Control provides everything you'd expect from a variable-power, first focal plane riflescope. When augmented with an overlaid digital display, however, it provides features unheard of in a traditional small arms fire control.

"As a veteran-owned, non-traditional defense contractor, it's very important to us that we listen to warfighters," said Sam Hamilton, Chief Technical Officer at Vortex Optics. "When we learned of the soldier's need for increased lethality out of their squad weapons—combined with the Small Arms Ammunition Configuration (SAAC) study, which proved that advancements in electro-optical fire control had the greatest potential to increase soldier's lethality—we knew there was an important capability gap we could fill."

The Vortex Optics 1-8×30 Active Reticle™ Fire Control is built around a revolutionary technology based on many years of internal research and development, along with multiple cooperative development efforts with the Army's PM-Soldier Weapons group. The end result is Active Reticle™, which has been proven to increase hit percentage and decrease time to engage during US Army Soldier touchpoints over the last two years.

Even in the case of a battery power loss, soldiers are left with an uncompromised 1-8x, direct-view optic and glass-etched reticle exceeding current capability.

Hamilton said, "By combining a unity power 1-8x direct view optic utilizing a first focal plane, etched reticle, a 1km capable laser rangefinder, state of the art on-board ballistic engine, atmospheric sensor suite, and programmable active matrix micro-display overlaid onto the first focal plane, Active Reticle™ delivers a true multi-mission fire control enabling everything from CQB to designated marksmanship at the extents of the NGSW's effective range."

For the soldier in the field, that means the freedom to devote their entire focus downrange. Hamilton said, "End-users will no longer need to leave their field of view to consult separate rangefinders or ballistic calculators, slowing them down and compromising their situational awareness."