5.11, Amazon Prime Video & Higher Ground Air Drop Gift Packages To Veterans
Logan
01 May 2021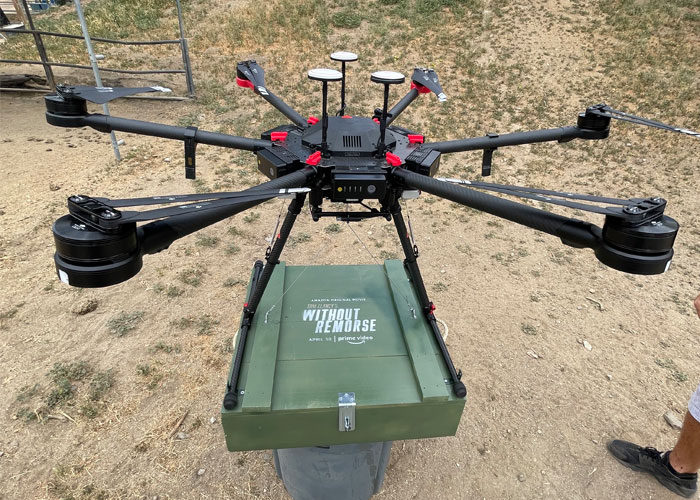 With the premiere of "Tom Clancy's Without Remorse" On Amazon Prime Video yesterday, 5.11 has teamed up again with world's biggest online retailer and Higher Ground for the celebration of the Military Appreciation Month. This time they air dropped gift packages to three deserving veterans in the Los Angeles area.
According to 5.11, the veterans were selected by Higher Ground foundation, and they received packages worth US$400 from 5.11 which were delivered by the delivery drones of Amazon. The air drop operation was called "Operation: Without Remorse Drone Drop" which is part of the promotion of the adaptation for the screen of the novel of Tom Clancy which is about the origins of John Clark a former Navy SEAL who then worked for the CIA and then became the Director of Rainbow Six. "Without Remorse" is the first Tom Clancy novel about another character apart from the Jack Ryan in the Ryanvesrse of Tom Clancy novels.
Amazon Prime Air is the planned drone delivery service that Amazon has been testing. First revealed in 2013, the company received an FAA Part 135 air carrier certificate in August 2020 which brings the company closer to start doing drone deliveries commercially. Its first test delivery was conducted in Cambridge, England in 2016. Amazon Prime Air promises to delivery packages in 30 minutes using drones and is expected to be conducting commercial operations this year.
Press release from 5.11 on "Operation: Without Remorse Drone Drop" below:
---
5.11, Amazon Prime Video and Higher Ground Come Together to Air Drop Gift Packages to Military Veterans

COLLABORATION CELEBRATES NATIONAL MILITARY APPRECIATION MONTH AND TOM CLANCY'S WITHOUT REMORSE FILM RELEASE

5.11, Inc., the global innovator of purpose-built apparel, footwear, and gear, today announced that the company, along with Amazon Prime Video and Higher Ground, celebrated National Military Appreciation Month and the April 30 release of the film Tom Clancy's Without Remorse in exciting fashion earlier this week by using drones to air drop gift packages to three deserving Los Angeles-based military veterans. A video recapping the drops can be viewed here.

The packages, valued at nearly $400, contained pieces of 5.11's latest and most innovative gear including a RUSH24 2.0 Pack, TacTec Plate Carrier, EDC L2 Flashlight, and more.

Recipients for the gift packages were selected by Higher Ground, a non-profit organization that provides adaptive recreational programs for individuals with disabilities as well as programs specific to Veterans.

"As a brand, we value the sacrifices and service our military personnel provide our nation and we are eager to find opportunities to show gratitude toward those servicemen and women," said 5.11's CMO, Debra Radcliff. "This fun and unique project was particularly exciting and a great way to kickoff National Military Appreciation Month."

Celebrated annually during the month of May, National Military Appreciation Month is a time to honor current and former members of the U.S. Armed Forces.

"Our team is honored to have 5.11 and Amazon Prime Video recognize some of our most deserving Southern California-based Veterans ahead of National Military Appreciation Month," said Adam Rund, Veteran Program Engagement Specialist, Higher Ground Los Angeles, and Veteran, USMC. "Our organization aims to work with our Veterans through therapeutic recreation to ease the transition from a life of service to Veteran life. We are grateful for companies like these two who can create memorable experiences for, and recognition of, our Veterans."

Amazon Prime Video's Tom Clancy's Without Remorse is an action film adaptation of the Clancy novel of the same name. It's the explosive origin story of action hero John Clark, an elite Navy SEAL played by Michael B. Jordan, who uncovers an international conspiracy while seeking justice for the murder of his pregnant wife.

5.11 and Amazon Prime Video have also joined forces to offer fans and customers an online sweepstakes for a chance to win a custom 5.11 prize package valued at more than $2,500. To enter the sweepstakes, or to learn more, visit www.511tactical.com/withoutremorse now through Sunday, May 9. No purchase necessary, multiple entries possible, must be 18 years or older and a U.S. resident to enter. 
---