The Airsoft Meetup 2021 & 11th Airsoft Players' Choice Awarding Are Going Virtual
OptimusPrime
08 Feb 2021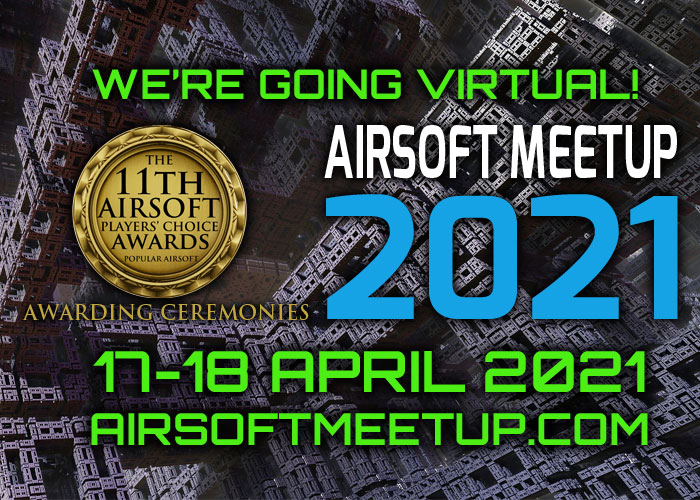 With the IWA Outdoor Classics being cancelled for the second time due to the Covid-19 Pandemic, the airsoft industry and community might be experiencing withdrawal symptoms not being able to meet each other one roof. The IWA Outdoor Classics is the trade event that has the largest number of exhibitors from the airsoft industry and the biggest airsoft industry and community gathering under the Airsoft Meetup.
For this year, we are going for the virtual Airsoft Meetup 2021 as we celebrate its 10th year of being the place where the who's who in the airsoft industry and community meet and greet. To be held on the 17th to 18th of April 2021, everyone's invited. Yes, everyone can attend this event and all they need is a smartphone or computer with an internet connection.
On the 17th of April, it will be the 11th Airsoft Players' Choice Awards Ceremonies and for this event, we will have virtual presenters announcing the winners in the 26 awards categories. This means that we will not announce the winners early on, which we usually do a week after the Voting period ends. For the finalists, the suspense of knowing if they won or not just got longer. The awarding ceremonies can watched via the 11th Airsoft Players' Choice Official website and Popular Airsoft website.
For the actual Airsoft Meetup, which will be day-long affair, will be on the 18th of April. There will be livestream of discussions of issues facing the airsoft community and industry. There will be industry product presentations and announcements also, so there will be an "Airsoft Virtual Fair".
The lineup of speakers and industry presenters has not been finalized yet. Interested airsoft companies that want to be part of the Virtual Fair can contact us or NLAirsoft for details so we can send instructions on the requirements for the virtual presentations. For the community discussions, NLAirsoft will send invitations to potential participants who are usually the industry insiders and community leaders.
Perhaps this will be a one-off affair as once the Pandemic is declared to be over, things will normalize and there will be an IWA Outdoor Classics 2022. For now, let's do what we can do our internet connections and all come together for this one big virtual event for airsofters worldwide.
You can book your slots now for the Airsoft Meetup 2021 to confirm your attendence. No need to book you slots for the 11th Airsoft Players' Choice Awards Ceremonies.