An April Fools' Prank That Became A Product In Demand
Gungho Cowboy
01 May 2012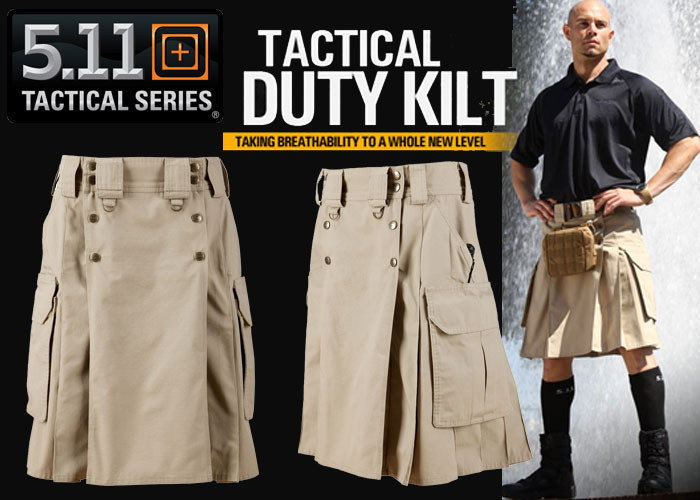 It's already a month after April Fool's Day (1st of April) and we all had our share of good and bad jokes. But of all the pranks that have gotten attention, only 5.11 is still laughing towards the bank. Their Tactical Duty Kilt (TDK), meant to be only an April Fool's joke, became a product in demand, and we have to say, we want our hands on the kilt.
This is a limited edition release by 5.11 and you better order yours as soon as you can and it comes at a good price of US$59.99 which will be shipped for free with orders US$100.00 or more and available for U.S. customers only and perhaps UK customers later in the year, depending on the demand.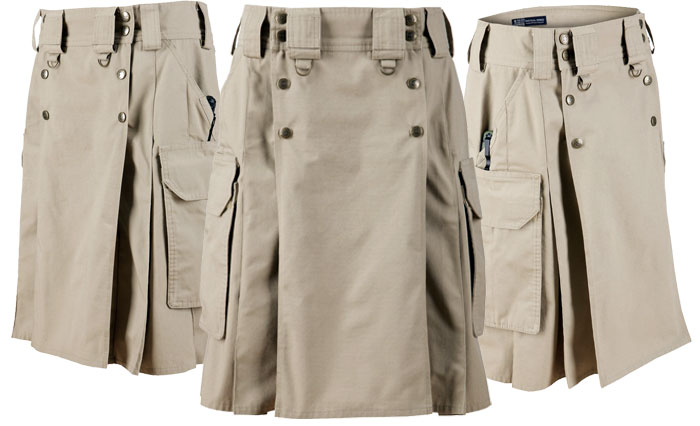 You may laugh at it, but it does have practical uses, the most important thing is being comfortable at the legs and perhaps a little bit higher if you don't intend to wear your underwear and just have your balls jangling with the air swirling happily inside the kilt. Just like the TDU trousers, the cargo pants are positioned at the same height, and the the side cargo pockets can hold 2 AR/M4 magazines or 3 pistol magazines.
Still with the TDU design, it is treated with Teflon for stain and soil resistance and the belt looks can take in the 1-3/4" operator belt. The front belt loop can accommodate a badge holder, but if you're a Scot, a sporran.
We find it a cool tactical clothing that we may just wear this an events whenever possible. We're just looking for some kneepads that are comfortable to wear with exposed knees so that we can go full skirmish with it.
As to how the Tactical Duty Came about, here's the story posted by the 5.11 at their Facebook page as written by their CEO last April 3:
It's time to explain ourselves about the 5.11 Tactical Duty Kilt (TDK) announced April 1st, 2012. There's a story behind this one and an outcome we just weren't expecting.
About a month ago our lead designer, Cory Nykoluk, came to me with the idea to have some fun on April 1st with a 5.11 Tactical Duty Kilt. "We've had a number of requests for kilts, so why not make one?" Cory had enlisted creative services director Matt Frederick and director of ecommerce Brian Rogers. I gave the project a green light with the commander's guidance to make the "TDK" a true 5.11 product supported by a proper launch. Operational security was strict as only about 6 people inside 5.11 knew about this project. In fact, the only reference in meetings and e-mails was to "Project Caber."
Our close friend Kyle Lamb, President of Viking Tactics, was briefed and signed on immediately. It turned out he was about to attend a Dropkick Murphys concert. Perfect timing as band member, Scruffy Wallace, is a kiltsman who plays bagpipes and the tin whistle in a VTAC T-shirt. The final piece needed was an athlete/first responder to demonstrate the mobility of the TDK. Matt Frederick called Roman, a veteran duty sheriff and Parkour athlete and we were rolling.
Last week, when we reviewed the video footage of Roman leaping walls in the TDK - it was clear - we had achieved the goal of making a Kilt true to the 5.11 brand. There was a collective "uh-oh, we only have one kilt in inventory!" On Saturday, March 31st, I called 5.11 Tactical founder, Dan Costa, to tip him off. His response: "Be ready, you're going to sell some kilts!"
Indeed, the Tactical Duty Kilt launch was a success, so it seems the April Fool's Day joke is on us! Due to your positive response, we are pleased to announce that the Tactical Duty Kilt will become available for pre-orders soon from http://www.511tactical.com/Tactical-Duty-Kilt.html. We don't plan to make the TDK an "in-line" product, so this is a limited time, web only offer. If you haven't already signed up for notifications on when this product becomes available for purchase, please do so now by visiting http://www.511tactical.com/Tactical-Duty-Kilt.html and give us your name and e-mail address in the form located on the right-hand side of the page. We plan on sending out 1 more email to those that have given us their information to confirm size and color and other important ordering details.
5.11 Tactical Duty Kilts will be available in Black, Khaki, and OD Green (MultiCam will be offered at a slightly higher price) in even waist sizes 30- 40 for a very limited time - don't miss out. Remember we only have one in inventory today, so we'll need some time to make them for you!
Thanks for your friendship, sense of humor and support of 5.11 Tactical. I'm signing off to place my Tactical Duty Kilt order!
Tom Davin
CEO, 5.11 Tactical