The FN SCAR 17S In 6.5 Creedmoor Gets A Limited Release In The U.S.A.
Gungho Cowboy
18 Sep 2023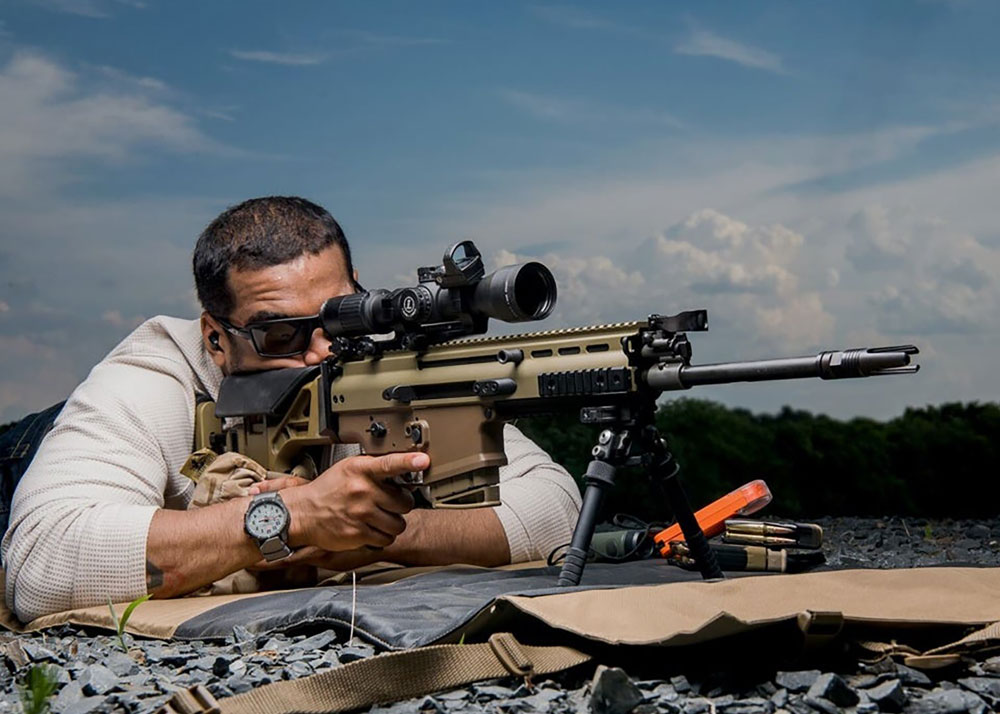 FN America, LLC has recently announced the launch of a limited production of the FN SCAR 17S Designated Marksman Rifle, or DMR, chambered in 6.5 Creedmoor. This is a mid-range designated marksman configuration that introduces the 6.5CM calibre to the SCAR 17S platform for the first time. The result is a multi-purpose rifle that has been enhanced to take full advantage of the inherent accuracy and multi-role capability of the SCAR platform.
The FN SCAR 17S DMR 6.5CM is an upgrade from the standard carbine configuration. It features additions such as the SSR Rear Stock and Geissele SuperSCAR two-stage trigger. These upgrades, when combined with match-grade ammunition and optics, enable greater precision for long range target engagements.
---


---
The 16.25-inch 6.5 Creedmoor barrel is cold hammer-forged and chrome-lined for extreme durability and enduring accuracy. The barrel features a 1:8-in twist, standard carbine profile and muzzle device. With a lighter weight barrel, the DMR handles swiftly and transitions to targets quickly, just like the SCAR 17S heavy carbine chambered in 7.62×51 NATO.
"The SCAR is the most tested rifle platform that FN has ever developed. It was designed to be lightweight, rugged, accurate and modular to give the user a rifle platform that could be configured to their needs," said Chris Cole, Vice President of Sales for FN America, LLC. "This new and limited-time build demonstrates the modularity of the SCAR design by combining features of the SCAR 17S heavy carbine and the SCAR 20S precision rifle to create a one-of-a-kind, mid-range designated marksman rifle."
The monolithic aluminium receiver features MIL-STD-1913 Picatinny rails to mount optics and accessories, as well as the SCAR-signature flip-up front and rear adjustable iron sights. The receiver is equipped with dual, non-reciprocating charging handles located on both sides of the rifle that are user-configurable for position and remain locked forward during fire.
---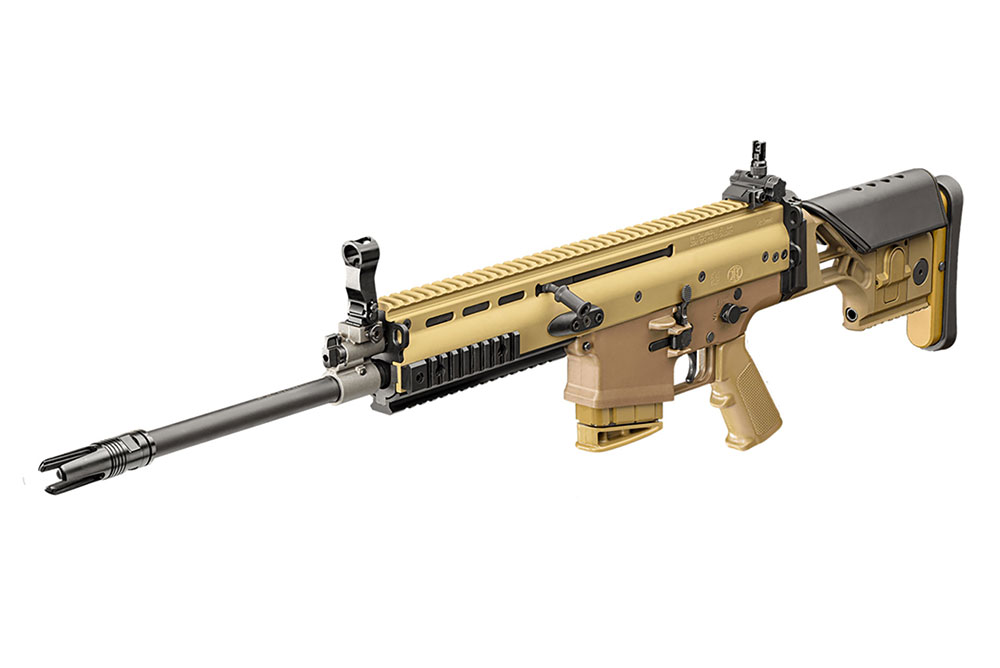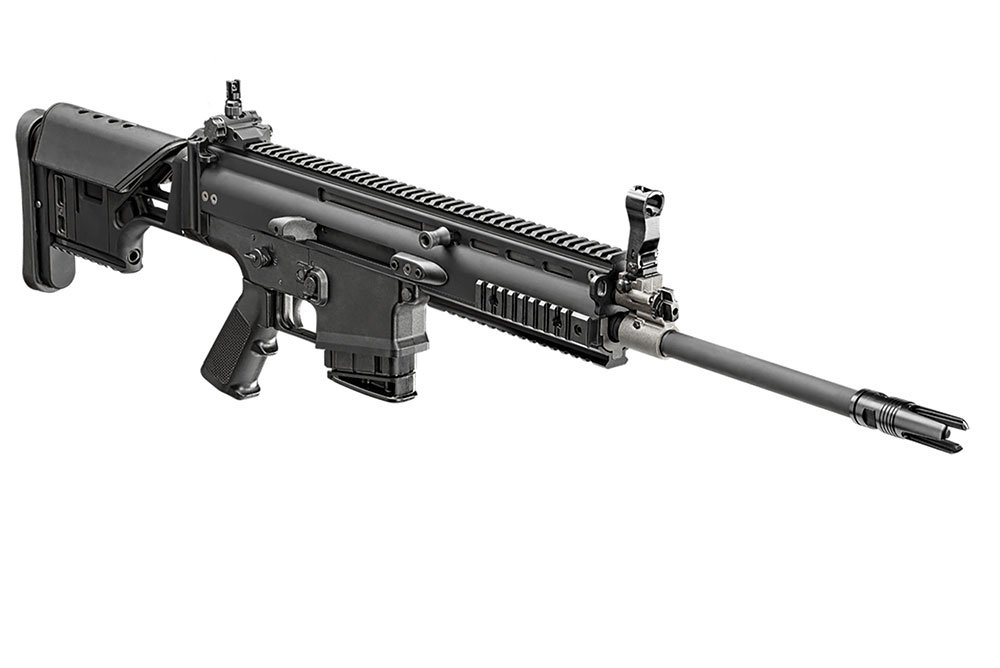 ---
Specifications of the FN SCAR 17S DMR 6.5CM include a calibre of 6.5 Creedmoor, capacity of 10- or 20-rds; Ships with (1) 10-round SCAR-H Magazine, weight of 9.5 pounds, length of 36.8-38.6 inches, barrel length of 16.25 inches; Cold Hammer-forged, Chrome-lined; 1:8 twist, operation: Short Stroke Gas Piston; Non-reciprocating Charging Handles, finish: Black or Flat Dark Earth (FDE), sights: MIL-STD-1913 Picatinny Rail; Flip-up Iron Sights.
---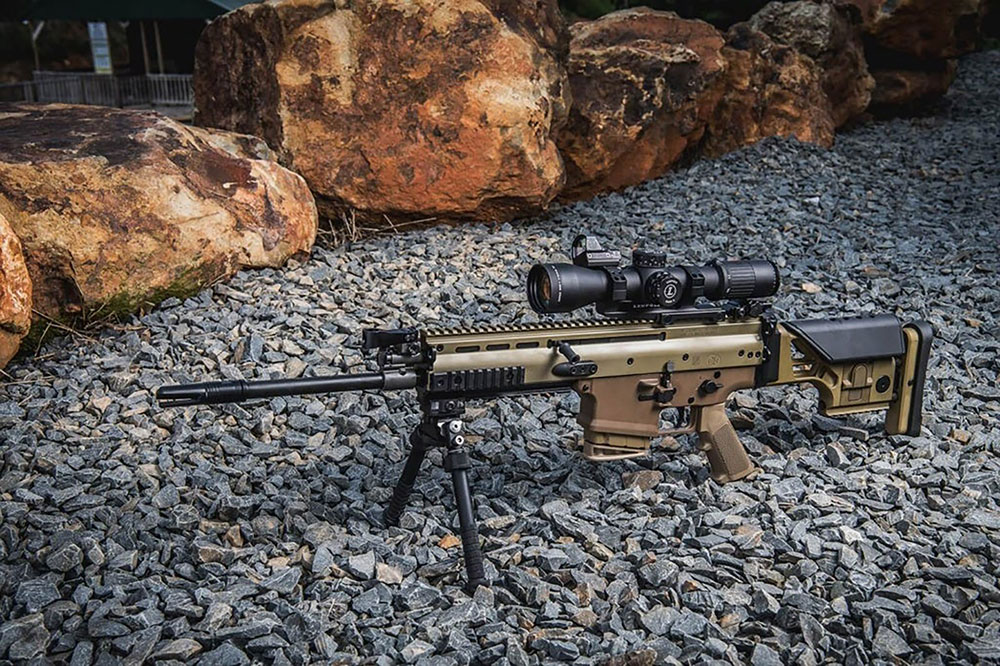 ---
The legendary FN SCAR series takes root in its battle-proven lineage, adapted from USSOCOM's newest battle rifle since the M4 entered service in the 1990s. The benchmark of reliability and versatility with its four variants, the FN SCAR 15P, SCAR 16S, SCAR 17S and SCAR 20S are capable of consistent accuracy from their cold hammer-forged and chrome-lined barrels and one-piece forged aluminium receiver.
These rifles have low-flash gas regulator and fast-handling characteristics uncommon in similar rifle platforms. The limited edition FN SCAR 17S DMR 6.5CM is available for US$4,629.00.