Heckler & Koch Puts On Display The Upcoming HK421 7.62mm Machine Gun At DSEI 2023
Logan
16 Sep 2023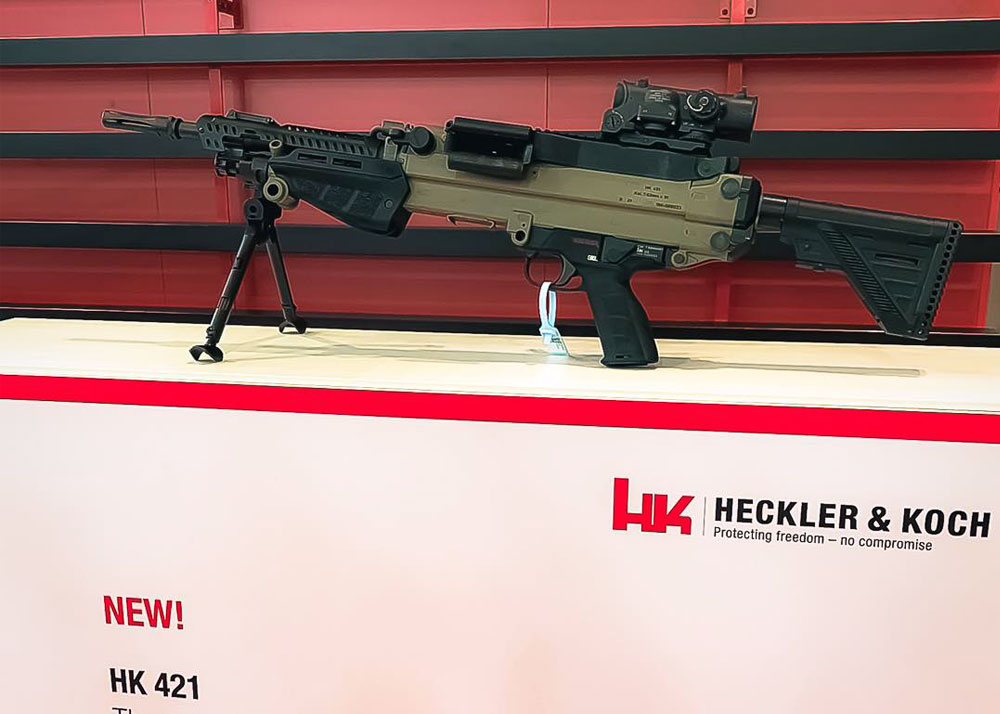 Heckler & Koch (H&K), a renowned German arms manufacturer, recently unveiled its latest innovation, the HK421, at the DSEI 2023 exhibition in London. This event, which took place from September 12-15, 2023, is a significant gathering of over 2,800 defence and security suppliers from around the world. The HK421 is a compact and lightweight machine gun that has been eagerly anticipated by the global defence community.
The HK421 is a modern evolution of the MG5, a machine gun that was developed as a successor to the MG3 used by the German military. The MG5 is acclaimed for its versatile modular construction and its many pioneering technical and ergonomic innovations. The HK421 builds upon these features while introducing its own set of advancements. Notably, it is approximately 2.7 kg lighter than the standard infantry model of the MG5A2, which is fitted with a 460 mm-long barrel.
---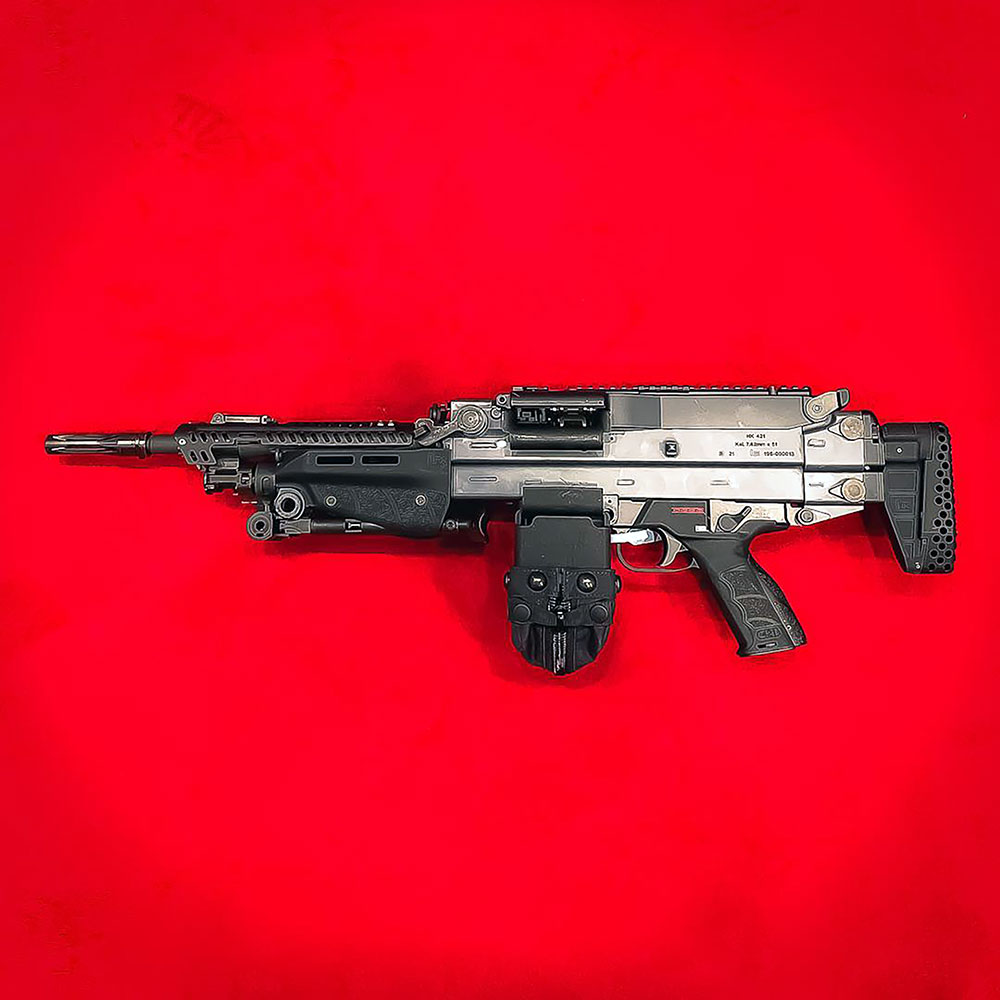 ---
The new machine gun is available in two barrel options: 13" (8.3 kg) and 16.5" (8.5 kg). In addition to these options, Heckler & Koch has also displayed a Sniper Grey version alongside the FDE (Flat Dark Earth) version of the HK421. When equipped with its longest available barrel of 421mm, the HK421 can extend to a maximum length of 995mm, while it can contract to a minimum length of 810mm.
The HK421 is a gas-operated firearm that uses a rotating bolt to chamber and fire rounds. The gas is tapped from the barrel and routed through a gas piston, which then drives the bolt back to cycle the action. The bolt rotates as it moves rearward, extracting the spent cartridge and loading a new one from the magazine. It offers multiple options for shoulder stocks, including those used in the HK416 or a telescopic variant. The weapon's weight is slightly above 8kg, making it significantly lighter than the infantry version of the MG5.
---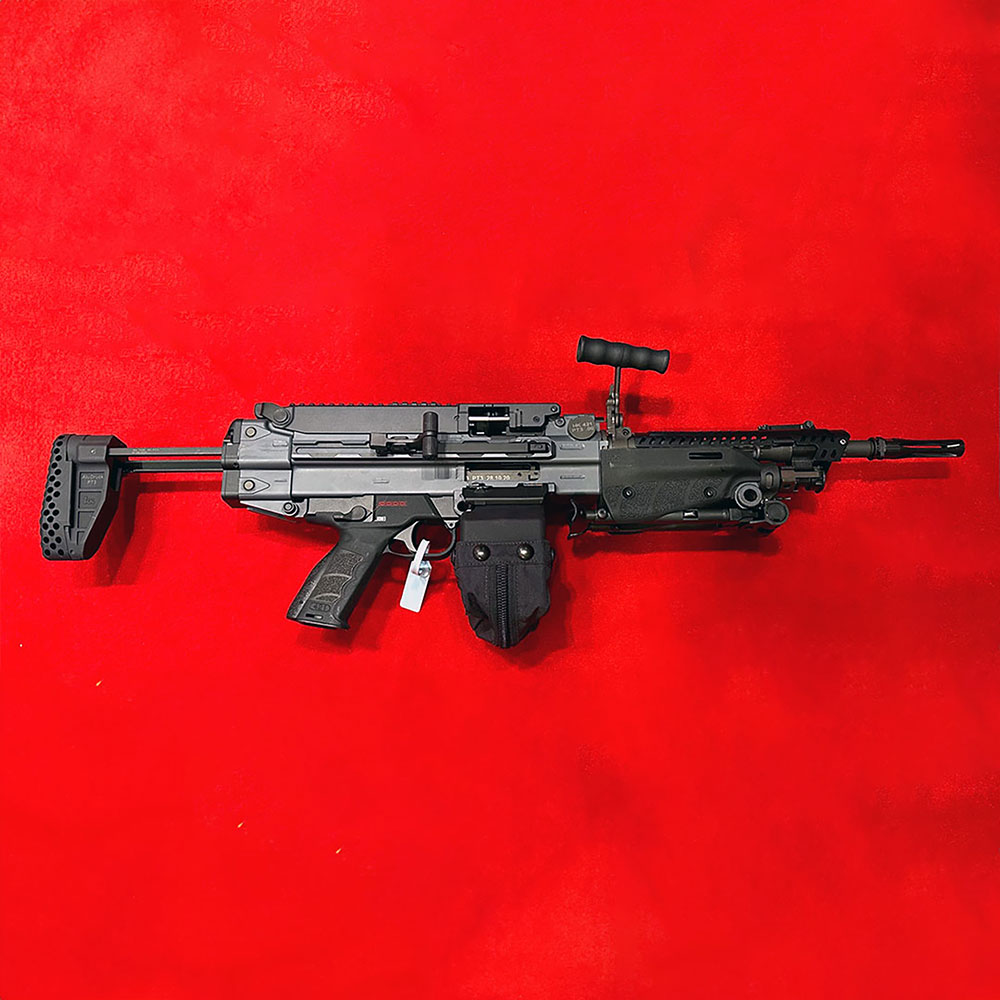 ---
The HK421 is a belt-fed machine gun featuring a 3-position gas block for normal operations, sustained fire, and suppressed fire modes. It can be set to 'safe' in any loaded state and has been seen with several types of buttstocks, including a collapsible MP7 stock. The Picatinny rail is covered by the handguard module, but it can be accessed by removing the module. Key design features of the MG5 series are retained in the HK421, including the long-stroke gas piston system, quick-change barrel, feed mechanism, and feed tray cover with a loaded belt indicator.