The MP-155 Ultima Got Some Features That Airsoft Manufacturers Might Want To Take a Look At
Logan
19 Feb 2021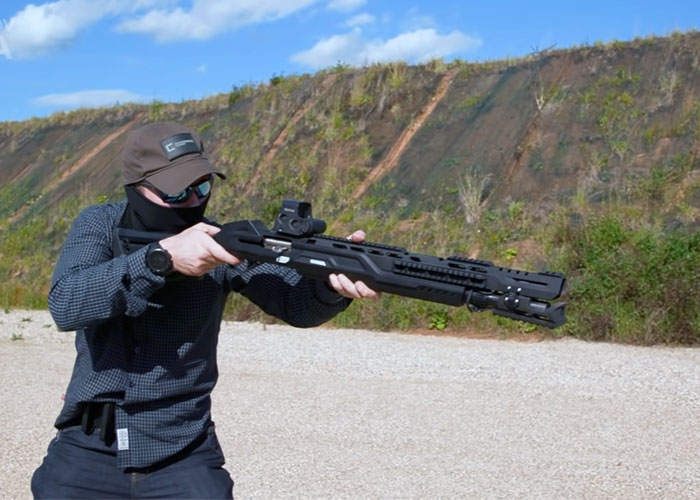 Kalashnikov Concern really do great firearms under different brands and have been refining them to make them relevant in their present markets. One recent development is the "hipsterization" of the Baikal MP-155 hunting shotgun to make it appealing to young people who are gadget obsessed.
The result is the MP-155 Ultima Smart Shotgun which they revealed in September 2020 and it got some features that we would love to see in airsoft guns that airsofters are engaged in social media and gadgets.
But first a look at the Baikal MP-155 shotgun itself. It is a robust and affordable Russian hunting shotgun that is derived from MP-153 which is a semi-auto shotgun that was developed in the 1990s. The MP-155 is chambered in 12 gauge and 20 gauge and has gone through different iterations: the magazine fed MP-155K; the 27/76mm Lancaster MP-155 Lankastyer; the improved MP-155 Profi; and now the MP-155 Ultima.
The MP-155 Ultima design makes it a truly 21st Century shotgun, as Kalashnikov Concern say is inspired by video games and indeed, it reminds you of a DOOM gun. The chassis is made of T7075 alloy with parts of made of polymer. The stock is detachable, allowing one to configure the MP-155 Ultima into the "pistol grip" version as there is already an integrated pistol grip.
But the real come on of this shotgun is that is a "smart" shotgun as it comes with an on-board computer which reminds of us a project made by an airsofter who built a shot counter for the FN-2000 AEG. The MP-155 Ultima on-board computer has memory that stores videos from full HD cameras that can be mounted on the shotgun and connected via USB-C cable. The videos can be transferred to devices wirelessly and we wonder if they also made an app for mobile devices. It can also teach new users how with the ammo counter, compass, and timer. We wonder if there are more features that can be added if the computer is also programmable. There is no mention if the videos can be immediately shared on social media which can be done via a smartphone app.
The "smart" features seem simple enough for airsoft manufacturers looking on how to add features to new airsoft designs might want to take inspiration from. Many airsofters are gadget-obsessed and are heavily into social media that the ability to directly share video captured or streamed from the mounted cameras to social media platforms such as YouTube and Facebook; a timer for speed shooting; and an ammo counter can be something that airsoft manufacturers can incorporate into new airsoft gun designs. They can also include easy programming of integrated MOSFETs such as shot bursts and shooting modes.
Now, will somebody also make an shell-ejecting airsoft shotgun version of the MP-155 Ultima? We need more variety in airsoft shotguns as we are mainly stuck with M870s and a sprinkling of Mossbergs, Franchis and Fabarms.