A&K M60 Mk43 Pre Order
OptimusPrime
23 May 2009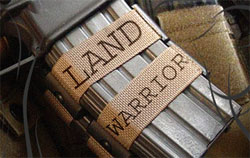 No pricing yet, but you can ask Landwarrior Airsoft as they expect this to arrive on the 2nd week of June... "A&K have made another value for money support weapon, this time developing a M60 Mk43. This lookis like a copy of the VFC, but with thier tried and tested M249 gearbox whacked inside. This comes with a rheostat to adjust the rate of fire. Full metal construction with ABS Stock, hand guard, cheek piece, pistol grip and carry handle. Product may differ from picture.
Stats:

Power: 350+ fps
Full metal construction
Full auto and safety
6.2 Kg
Quick change spring"