South Australia Police Declare Gel Blasters As Regulated Imitation Firearms
Logan
09 Oct 2020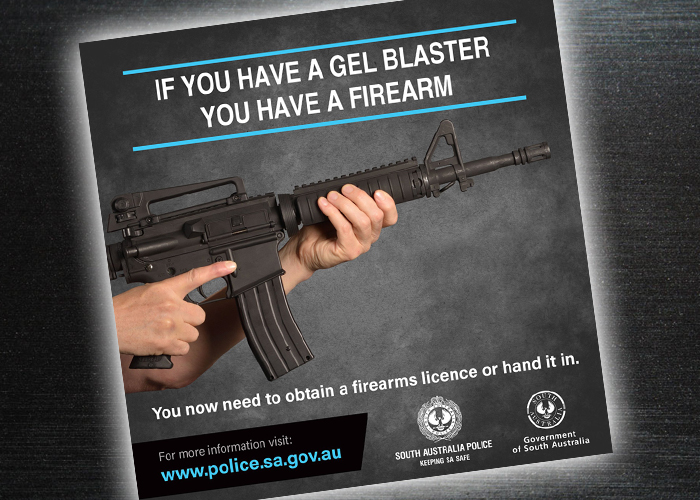 This is a big setback for gel blasters and not a good development for the legalisation of airsoft in Australia. As of yesterday anyone in South Australia cannot own a Gel Blaster without a firearms license. The Officer in Charge of SAPOL's Firearms Branch, Superintendent Stephen Howard, announced that on October 8, gel blasters will be classed as imitation firearms.
Howard said the declaration was made as based on investigations by South Australia Police (SAPOL) who have deemed gel blasters to be firearms as defined in the Firearms Act:
"The firing mechanism in a gel blaster compresses air to fire a projectile and therefore meets the threshold test to be defined as a firearm," he said.

"A gel blaster can easily be mistaken for a real firearm, with potential to cause concern in the community and trigger a police response that could involve the use of police firearms, or other tactical options."
So what happens now for owners of gel blasters and those who are in the business of gel blasters? Here are the implications:
It is an offence to possess a gel blaster without a license.
It is an offence to possess an unregistered gel blaster.
The sale and possession of gel blasters becomes regulated.
They will be subject to licensing and control.
If a person or business does not wish to become licensed then it will become illegal for them to sell or possess a gel blaster.
There have been reported cases of public shooting with gel blasters according to ABC News resulting into injuries as well as causing alarm when they displayed publicly since like airsoft, they resemble real firearms until closer look. An amnesty is in effect and for those who do not intend to get a firearms license, they have until April 2021 to surrender their gel blasters at the nearest police station.
The Shooters Union in South Australia has lobbied against the regulation of the gel blasters. State president Peter Heggie told 7News that police should concentrate on educating the public and that these are toys. As for the threatening people with gel blasters, there are already existing laws that deal with such incidents.
According to SAPOL, there is an estimated 62,000 gel blasters in circulation in South Australia.