The Springfield 1911 Emissary 4.5" Handgun Gets A 9mm Version
Gungho Cowboy
19 May 2022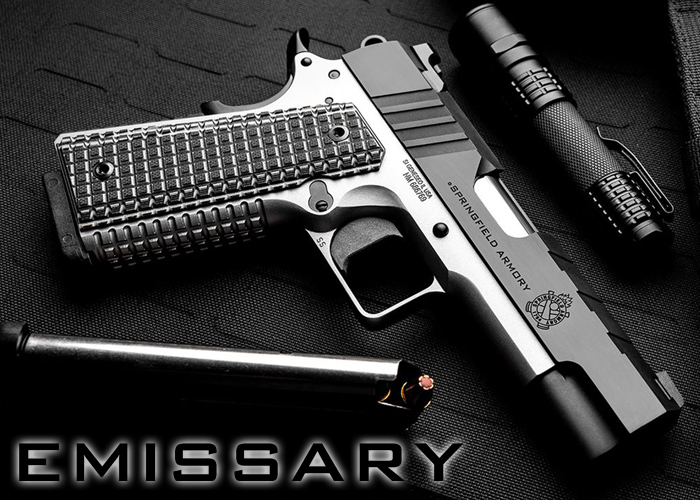 Many of us 1911 fans are delighted with the releases by Springfield Armory of 1911 handguns. Their Emissary Line which beautiful two-tone finish, with a blued carbon steel slide and a stainless-steel frame with squared trigger guard. Available lengths are 8.5", 5" and 4.5", with the 8.5" and 5" having their 9mm versions.
Now the 4.5" length gets its own 9mm version as announced by Springfield Armory on the 11th of May 2022.
---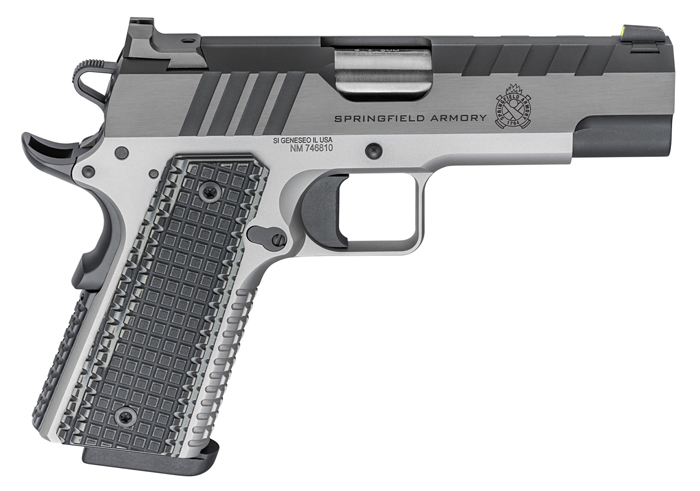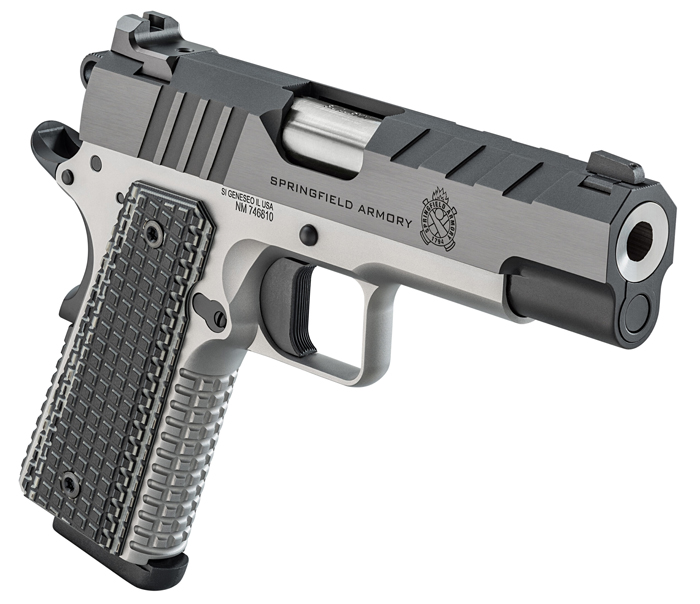 ---
Whilst a good number of shooters love the power of 1911 pistol with the .45ACP round, many would appreciate the ability to control a 9mm 1911 pistol with less recoil and more accuracy at placing shots on the target. Like the previous Emissary releases the Emissary 4.5" 9mm has a slide that has the custom milled "Tri-Top" design, forward lightening grooves and 40 LPI flat top serration. With the serrations, glare is reduced at the top area of the slide, allowing for better target acquisition using the U-Dot sights that are made up of a tritium/luminescent front sight and paired with a Tactical Rack U-Dot rear sight.
---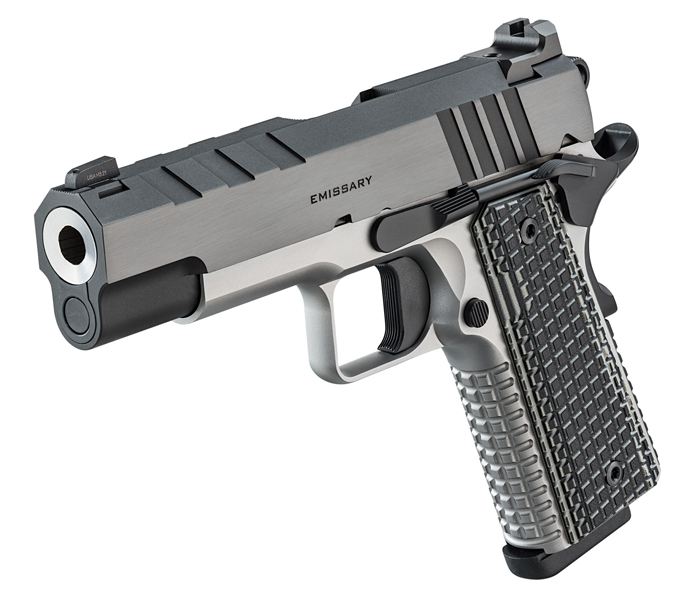 ---
You'll notice that the squared trigger guard is not a traditional 1911 trigger guard and it is big enough to allow proper handling with gloved hands. As for handling, the pistol grips got the VZ thin-line G10 grips which feature a checkered pattern.
Just like the rest of the Emissary line the Emissary 4.5" 9mm handgun as an MSRP of US$1,349.00 and comes with two 9-round stainless steel magazines with base pads. Interested shooters can check with authorized retailers to find availability.
---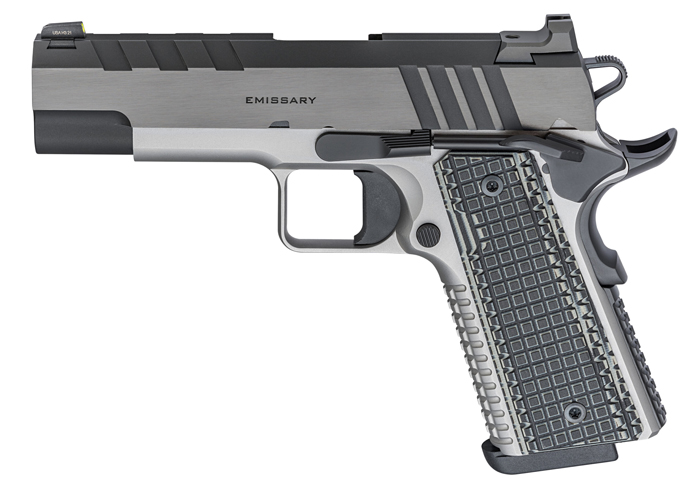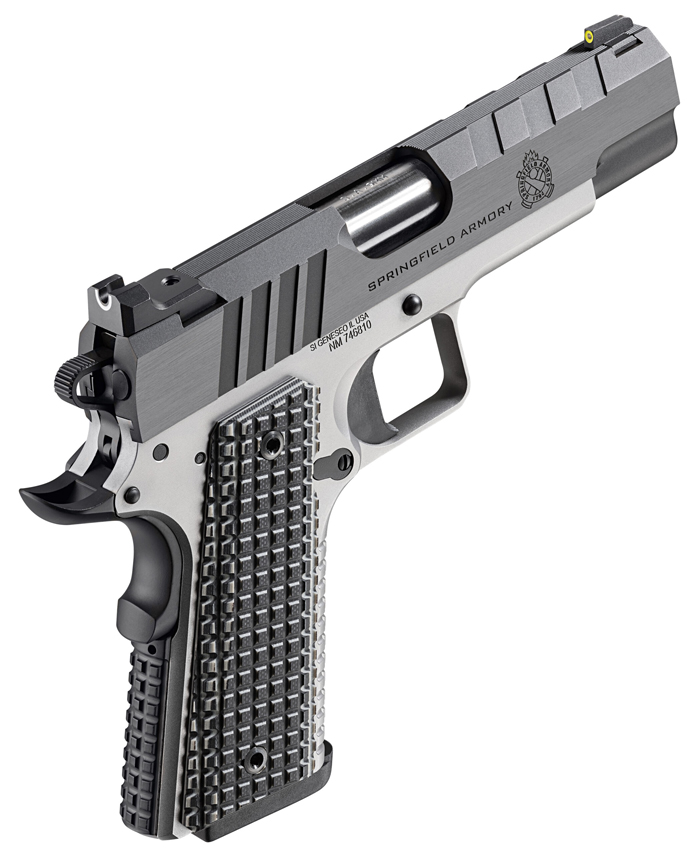 ---
As for us in the airsoft community, we await a release of their airsoft versions. It seems that recently there is a dearth of new 1911-styled pistols in the airsoft market.
Press release below:
---
PRINGFIELD ARMORY® RELEASES 1911 EMISSARY 4.25″ 9MM PISTOL

GENESEO, ILL. (05/11/22) – Springfield Armory® is proud to announce the newest addition to its line of popular Emissary 1911's—the Emissary 4.25" in 9mm. Bridging the gap between duty and custom handguns, the Emissary delivers a bold and capable 1911 pistol with defense-minded features intended for serious use as well as convenient carry.

The new 4.25″ Emissary in 9mm blends form and function seamlessly in a firearm built for defense and loaded with custom-grade features. It's constructed with a forged stainless steel frame and forged carbon steel slide, with a beautiful two-tone finish. The blued carbon steel slide pairs with a stainless steel frame featuring a distinctive squared trigger guard with additional room for ease of operation with a gloved hand.

The slide's "Tri-Top" cut gives the Emissary custom styling, while a flattened top strap is finished with 40 LPI serrations to diffuse light and reduce glare. On top, the tritium and luminescent front sight on the Emissary pairs with a Tactical Rack U-Dot™ rear sight for easy target acquisition in all lighting conditions.

A bushingless stainless steel 4.25″ bull barrel delivers maximum accuracy while reducing felt recoil and muzzle flip. In addition, the Emissary's skeletonized hammer delivers ultra-fast lock times and combines with a solid-body, flat-faced trigger for top-end performance.

The forged stainless frame's front strap and mainspring housing are wrapped in a grenade-pattern texture for firm engagement in adverse conditions, which are matched with slim line grip panels by VZ Grips® machined from G10. Each pistol comes with two top-quality 9-round stainless steel magazines with base pads. MSRP is $1,349.

"With its more compact slide and barrel length and the ever-popular 9mm chambering, this newest addition to Springfield Armory's 1911 family of pistols provides an excellent option for a defensive handgun with an added level of refinement," says Steve Kramer, Vice President of Marketing for Springfield Armory.

The Emissary 4.25″ 9mm is truly a refined 1911 built for self-defense, blending the best elements of a defensive handgun and a custom pistol to create a gorgeous and capable firearm that stands ready to deliver.

Emissary 4.25″ 9mm 1911 | PX9217L
---