We're On The Second Week Of Nominations! Keep Sending Them In!
OptimusPrime
03 Dec 2019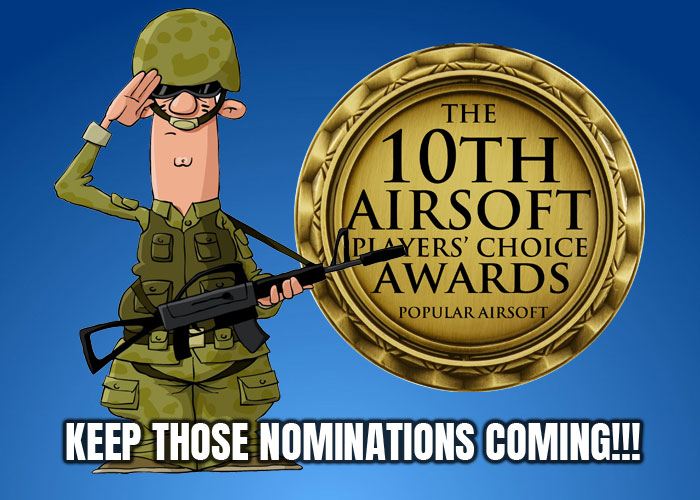 We have already received thousands of nominations for the various categories of the 10th Airsoft Players' Choice Awards, but that's still a small number based on the history of the awards. Better keep those nominations coming in as the more nominations that your favourites get, the better chances for them to get into the Finals/Voting Period. You better work harder as the weeks get tighter to get those nominations.
Remember, the deadline is on the 29th of December 2019, 2400H PST.
If you want to nominate immediately, click the button below to start nominating:

There are 25 categories for you to submit nominees. We suggest that you make your list first  before nominating copy the list below then write your nominees after each category until you complete your list:
Best Airsoft Retailer for North America
Best Airsoft Retailer for Europe
Best Airsoft Retailer for Asia
Best Gear Retailer for North America
Best Gear Retailer for Europe
Best Gear Retailer for Asia
Best Airsoft Magazine (Print or Digital)
Best English Language Airsoft News Website
Best Non-English Language Airsoft News Website
Best Airsoft Blog (Regardless of Language)
Best Airsoft Community/Forum
Best Airsoft Video Posted Online in 2019
Best Airsoft Event (Over 500 Players)
Best Airsoft Podcast or Video Channel
Best Airsoft Upgrade/Parts Maker
Best Airsoft KABOOM (Grenade/Mine/Mortar/Rocket/Pyro) Maker
Best HPA Airsoft Engine
Best Airsoft Pistol
Best Airsoft Gas Blowback Rifle
Best Airsoft Shotgun
Best Airsoft Sniper Rifle
Best Airsoft Automatic Electric Gun (AEG)
Best Airsoft Manufacturer
Special Airsoft Player Award (Male)
Special Airsoft Player Award (Female)
MAIN PRESENTER

Please remember these dates so you can follow the award process properly:
Nomination Period
25 November - 29 December 2019
Voting Period
6 January - 3 February 2020
Winner Announcement
10 February 2020
Awarding
Airsoft Meetup
IWA Outdoor Classics 2020
8 March 2020




Please do take time to click on the logos of the sponsors for the awards. With their valuable support, we are able to hold the awards each year. By clicking on the logos you get to visit their websites for you to learn more about the companies and their products.
Make the 10th Airsoft Players' Choice Awards great! Nominate your favourites now!