Airsoft T-Plug Campaign Wants Airsoft To Move Fully To Deans Connectors
OptimusPrime
03 Jul 2019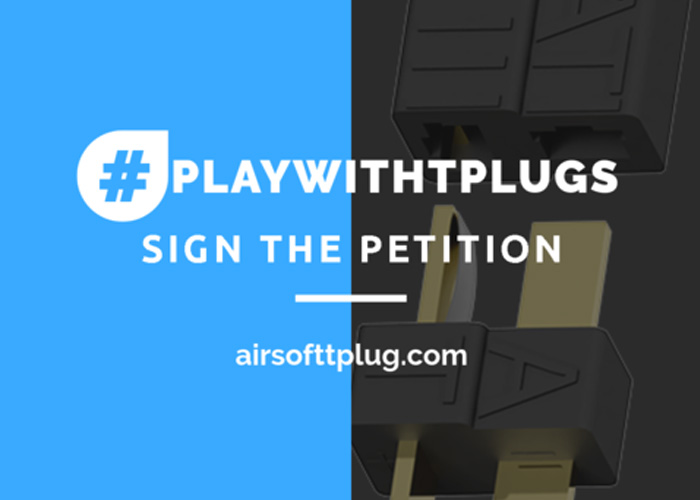 Is it now a Deans (T-Plug) revolution in airsoft? With NLAirsoft.com and Titan Power leading the charge, airsoft players who prefer using Deans connectors for use in their AEGs are petitioning airsoft manufacturers to make the switch from Tamiya to Deans Connectors. Tamiya connectors are still the dominant way of connecting batteries for AEGs, which is basically the influence of Tokyo Marui when it first introduced AEGs in the airsoft market almost 30 years ago as the Japanese airsoft makers mainly uses Tamiya, the rest of the airsoft world followed suit when they started cloning Tokyo Marui AEGs.
But over the years, there has been a silent debate on which connectors to use in airsoft. For those who customise their AEGs, many have shifted to using Deans connectors, whilst the rest just maintained the Tamiya connectors as these are the default connectors of AEGs coming from Asia. The arguments for moving to Deans are explained by the T-Plug Campaign, are listed below:
Tamiya connectors are old, they are around since 1972.
Deans connectors feature less resistance, increasing performance.
Deans connectors help to take full advantage of higher performance parts and batteries.
Deans Connectors provide better conductivity.
Over time while using the Tamiya connectors they can get wobbly and difficult to connect. Deans Connectors don't wear out.
Deans Connectors have more surface area that is nice and tightly packed together.
Deans Connectors can handle higher battery outputs.
An Airsoft replica typically runs at about 30 Amps. At this point a Deans Connector has 60% less resistance. See our graph below.
Deans will last longer.  Decreases the chances of the connectors melting under high-load.
Deans Connectors are smaller compared to Tamiya connectors. Even less than half the size (48%) of a Mini-Tamiya connector. See our comparison below.
Also the RC world adopted Deans in favour of Tamiya connectors. Already for years!
Furthermore, another reason why manufacturers have not shifted to Deans is explained by the campaign and have resolved it by making their own T-Plug:
During the setup of we campaign we wondered why Manufacturers didn't switch to T-Plugs. One issue was to find a reliable source, with good prices and consistent quality. So this needed to be solved, to make switching easy also for Manufacturers. Addressing our problem by the source and enable them to ship their AEG's of factory with quality T-Plugs.

We our proud to say we solved this issue by introducing our own Airsoft T-Plug. We partnered with Titan to launch our own Airsoft T-Plug and have a reliable partner to solve this issue. They open up their T-Plug supply to the rest of the Airsoft industry, using the same high quality they use on their T-Plug enabled batteries. Millions of these are produced the get the price really low and consistent. Titan commits to keep the price the same all throughout 2019, and slightly increase with max 3% inflation correction yearly. There will be no Minimum Order Quantity (MOQ) and no lead time.
As for airsoft manufacturers, those who have agreed to use are Perun, RWA, Modify-Tech, Airsoft Systems and of course, Titan Power.
If you want to help push for making Deans the default connector for AEGs out of the box, there is an ongoing petition for you to sign. The more players supporting this move, then it makes it more compelling to give in and start adopting the connector.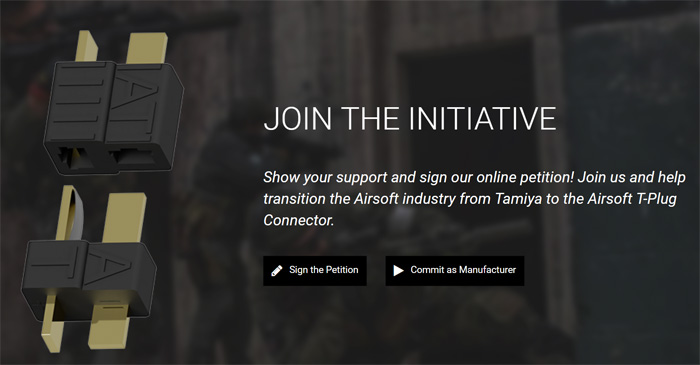 Is it time to for a Deans revolution? You, the airsoft player, will have to decide on that.