All About The VFC Airsoft Guns Revealed At The MOA Exhibition 2020
Azzkikr
03 Dec 2020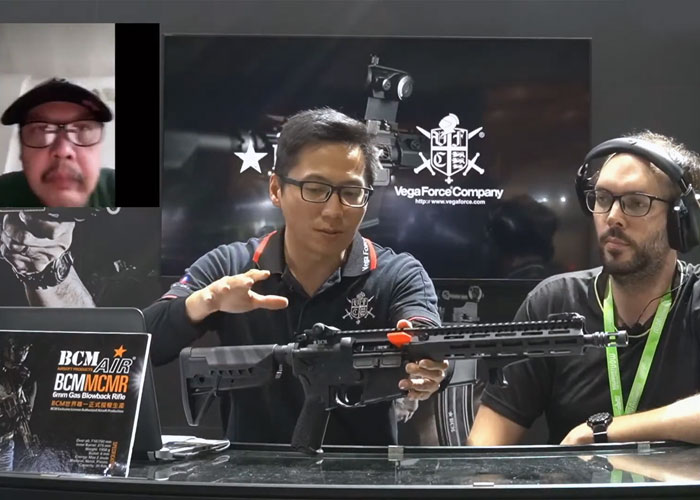 As promised, we'll break down whatever information we have gathered from the MOA Exhibition 2020 that was held in the weekend in Taipei. Most airsoft player will be keen to learn more about the newly announced and not newly announced airsoft guns from Vega Force Company (VFC), which had the largest booth at the trade fair and made the most out of its presence, on site and virtually.
VFC realised that most of the international airsoft media won't be able to attend to the event due to travel restrictions caused by the Covid-19 pandemic and prepared ahead to have a livestream call session with them whilst at their exhibit booth. There were technical issues, but eventually they were able to hold all their livestreams and here is the Popular Airsoft sessions represented by Owen/Masterchief as they present their upcoming products:
Now, here is the breakdown of what has been represented if you prefer the information presented by Ray and Stewbacca to be in readable text:
---
BCM MCMR (Gas Blowback Rifle)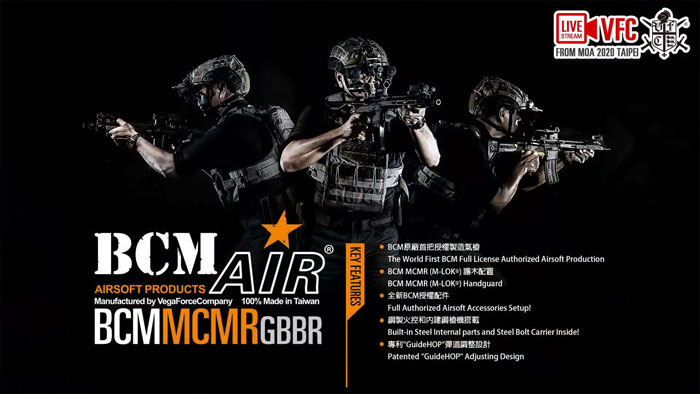 ---
This is the World's 1st BCM (Bravo Company Manufacturing) fully licensed airsoft product and features the BCM M-Lok compatible rail. The other features are built-in steel internal parts and a steel bolt carrier which makes it more solid. It has the patented "GuideHOP" for easier adjustment of the hopup unit. VFC will soon be releasing authorised BCM airsoft accessories such as pistol grips, flash hiders, stocks, charging handle, and different rail lengths for external upgrades.
Specifications:
Overall: 716/790 mm
Inner Barrel: 275 mm
Weight: 1958 g
Enegry: Max 2 joules
Capacity: 30 rounds
Release date: Early next year
---
H&K PSG 1 (Gas Blowback Rifle)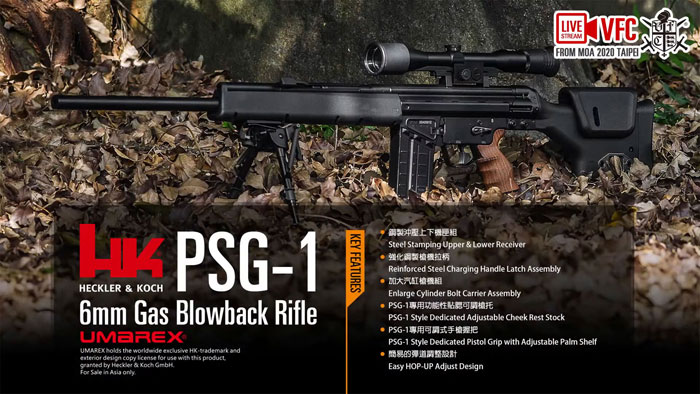 ---
This is the very 1st PSG 1 GBBR ever produced! For historical reference, the first PSG 1 airsoft rifle was produced by Tokyo Marui. This gas blowback rifle has steel stamped upper and lower receivers as well as reinforced steel charging handle that make it very sturdy. It features the easy hop-up design and adjustable cheek rest and trigger. Its wood effect pistol grip with adjustable palm shelf makes it more realistic. The PSG 1 is also compatible to all VFC G3 magazines. This rifle is definitely a MONSTER!
Specifications:
Overall: 1220/1280
Inner Barrel: 650 mm
Weight: 5200 g
Enegry: Max 2 Joules
Capacity: 20 rounds
Release date: early next year
---
KAC M110K1 (Gas Blowback Rifle)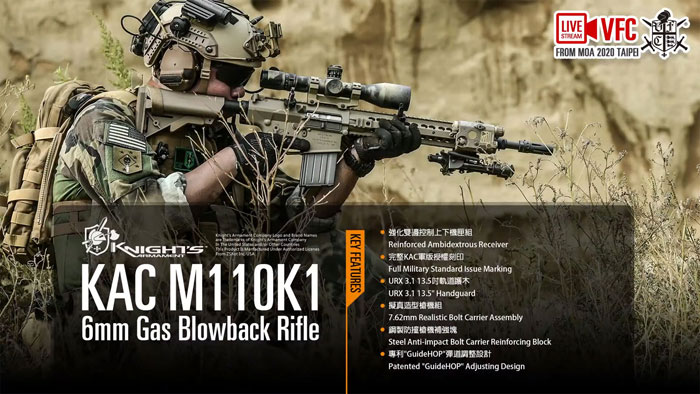 ---
What makes this gas blowback rifle unique is its amazing military style and realistic appearance with full military markings. It has an ambidextrous receiver so you can switch sides faster and easier. It also has a steel anti-impact bolt carrier and the VFC's GuideHOP for easier jhop-up adjustments. The M110K1 also has reinforced steel upper receiver for what thet claim to be their upgraded and very powerful recoil system.
Specifications:
Overall: 904/989 mm
Inner barrel: 420 mm
Weight: 3614 g
Energy: Max 2 Joules
Capacity: 20 rounds
Release date: Mid next year
---
MK48 Machine Gun (AEG)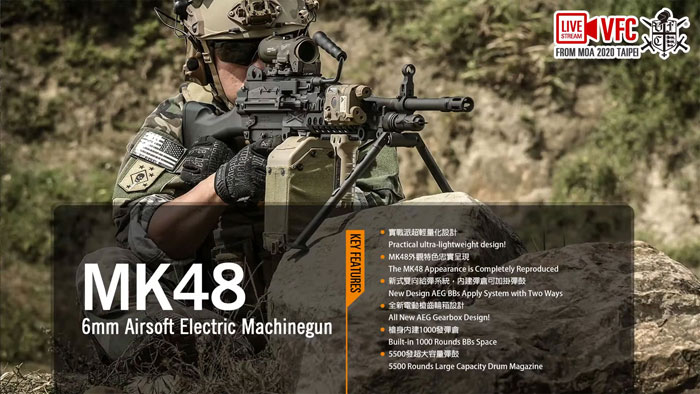 ---
Announced in 2019 during the MOA Exhibition 2019, this is certainly not your normal support weapon! Its robust design makes it really standout. VFC has reproduced the MK48's look but with ultra-lightweight aluminium design which allows the player to move around with ease. It's so light, you can even carry it with one hand! It has the new VFC AEG gearbox design and at the same time, the new TWO-way AEG BBs application system. You can either use its built-in 1000 round BBs space or maximise its full potential by using its massive 5,500 capacity Drum/Box Magazine and you'll have a total of 6,500 BBs to rain on the opposing airsoft players. It is perfect for overnight games and Milsim events wherein you can carry this all day with no sweat.
Specifications:
Overall: 1000mm
Inner Barrel: 465 mm
Weight: 3690 g
Energy: Max 2 Joules
Capacity (internal): 1000 rounds
Capacity (external): 5500 rounds
Release date: Summer next year
---
Light Automatic Rifle (LAR) (Gas Blowback Rifle)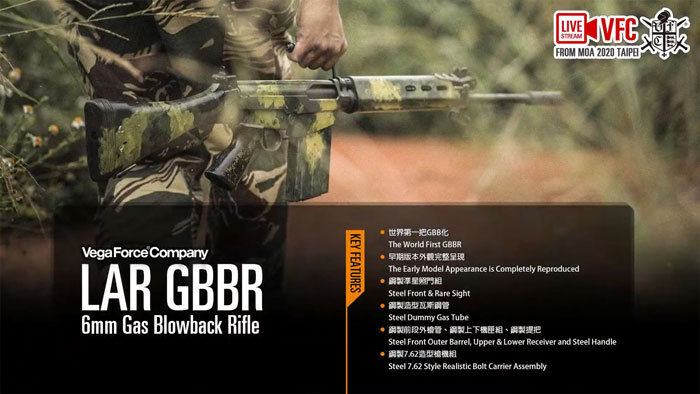 ---
This is the world's 1st LAR GBBR! If you are confused with the LAR name, it is actually the FN FAL (French: Fusil Automatique Léger, English: Light Automatic Rifle) with which most people are familiar with. This bad boy has its parts in solid steel such as the Lower and Upper receiver, front and rear sights, front outer barrel, handle and its realistic 7.62 style bolt carrier. This rifle is claimed to have a powerful and crisp recoil. A definite head-turner in the field!
Specifications:
Overall: 1095 mm
Inner Barrel: 491 mm
Weight: 3949 g
Energy: Max 2 JouleS
Capacity: 20 rounds
Release date: Mid next year
---
Avalon SPR (AEG)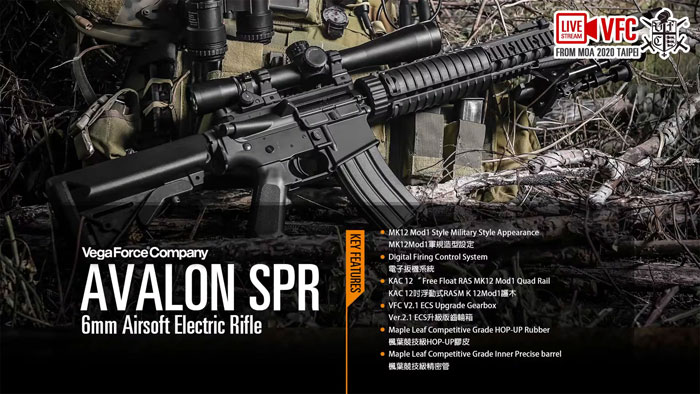 ---
Another addition to the magnificent AVALON line is the SPR (AEG). It is the MK12 Mod1 reproduction with the KAC 12" Free Float RAS Quad rail. No need to upgrade this beast as it already has the quick change Spring system, the VFC V2.1 ECS upgraded gearbox, and Maple leaf internal upgrades such as Competitive Grade Inner Precise Barrel and Hop-Up unit. Great for precision shooting or DMR setup. I think this is the best "out-of-the-box" airsoft rifle in this collection!
Specifications:
Overall: 908/990 mm
Inner barrel: 475 mm
Weight: 2900 g
Energy: Max 2 Joules
Capacity: 120 rounds
Release date: Summer next year
---
We were very lucky to be the one of the first to see the VFC's 2021 collection. A lot of people say they just can't wait for 2020 to end. But now, with all of these coming out in the next year, Vega Force Company definitely made us all look forward to 2021 even more!