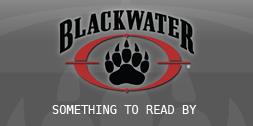 Any contractor wanna-be reading this? The Blackwater look is famous among airsofters who are fascinated by the rise of private security contractors which are generating much controversy for their involvement in security operations in Iraq and other parts in the world. Blackwater seems to generate the attention of many in the media and discussion in political circles for their high-profile involvement and powerful connections.
In between skirmishes or involvement in flame wars in airsoft forums, we recommend a quiet time reading more about Blackwater and other private contractors. Since Blackwater is the most controversial, you'll need to have a brief understanding of Blackwater by checking their website:
Blackwater was founded in 1997 from a clear vision developed from an understanding of the need for innovative, flexible training and operational solutions to support security and peace, and freedom and democracy everywhere.

Our founder is a former U. S. Navy SEAL. He created Blackwater on the belief that both the military and law enforcement establishments would require additional capacity to train fully our brave men and women in and out of uniform to the standards required to keep our country secure.
Blackwater USA consists of nine separate business units: Blackwater Training Center (the largest private firearms and tactical training center in the U. S.), Blackwater Target Systems, Blackwater Security Consulting, Blackwater Canine, Maritime Security, manufacturing of custom Armored Vehicles, Parachute Jump Team, Aviation, and Raven Development Group. We also have relationships with our strategic partners, Aviation Worldwide Services and Greystone Ltd.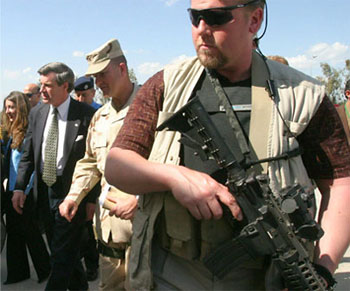 We are not simply a "private security company." We are a professional military, law enforcement, security, peacekeeping, and stability operations firm who provides turnkey solutions. We assist with the development of national and global security policies and military transformation plans. We can train, equip and deploy public safety and military professionals, build live-fire indoor/outdoor ranges, MOUT facilities and shoot houses, create ground and aviation operations and logistics support packages, develop and execute canine solutions for patrol and explosive detection, and can design and build facilities both domestically and in austere environments abroad.
Blackwater lives its core values of excellence, efficiency, execution, and teamwork. In doing this, we have become the most responsive, cost-effective means of affecting the strategic balance in support of security and peace, and freedom and democracy everywhere.
Issues and Controversies:
We take from Wikipedia some of the issues and criticisms about the company:
In March 2006, Cofer Black, vice chairman of Blackwater USA, allegedly suggested at an international conference in Amman, Jordan, that the company is ready to move towards providing security professionals up to brigade size for humanitarian efforts and low intensity conflicts. Mr. Black denies the allegation. Critics have suggested this may be going too far in putting political decisions in the hands of privately owned corporations. The company denies this was ever said.
Critics claim that Blackwater's private military company self-description is a euphemism for mercenary activities.
Blackwater is currently being sued by the families of the four contractors killed in Fallujah in March, 2004. The families allege that they are not suing for financial damages, but rather for the details of their sons' and husbands' deaths. They claim that Blackwater has refused to supply these details, unless the families sue. Four family members testified in front of the House Government Reform Committee on February 7, 2007. They asked that Blackwater be held accountable for future negligence of employees' lives, and that Federal legislation be drawn up to govern contracts between the Department of Defense and the defense contractor. Blackwater has counter-sued the lawyer representing the empty estates of the deceased for $10,000,000 on the grounds that the lawsuit was contractually prohibited from ever being filed.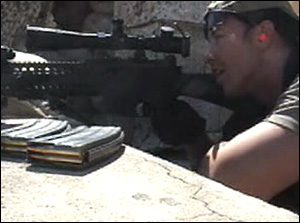 On April 19, 2006, The Nation magazine published an article titled, "Blood Is Thicker Than Blackwater," concerning the lawsuit against Blackwater brought by some of the families of the four deceased employees. The article discussed the removal of the word "armoured" from already-signed contracts, and other allegations of wrongdoing. The author of the article, investigative journalist Jeremy Scahill, has reported more extensively on these issues and others in his book, Blackwater: The Rise of the World's Most Powerful Mercenary Army (2007). Scahill testified before House Appropriations hearing on defense contracting on May 10, 2007.
Author Chris Hedges wrote about the establishment of mercenary armies as a threat to democracy in his June 3, 2007 article for the Philadelphia Inquirer, What if our mercenaries turn on us? Particularly of note in the article is the question being raised of the wisdom of allowing private enterprises to become involved in combat operations, and its potential advantages and disadvantages.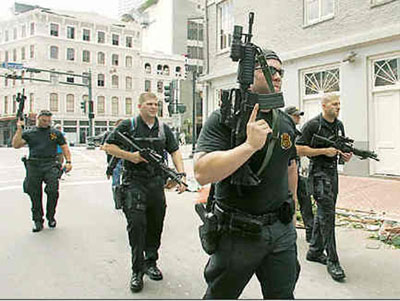 From the Jeremy Scahill article, "Inside the World's Most Powerful Mercenary Army", it is estimated that 25 to 33 percent of the ground forces used in the War on Terror are private contractors. Private contractors of all types consume 40 cents on every dollar spent on the war.
On August 12, 2007, an MSNBC report noted the largely unaccountable and unsupervised nature of security contractor activities, and the high number of casual or indiscriminate civilian killings attributed to them. An example occurred on May 30th 2007, when Blackwater employees shot an Iraqi civilian deemed to have been "driving too close" to a convoy of Blackwater armored vehicles. Other private security contractors, such as Aegis Defence Services have also been accused of similar actions.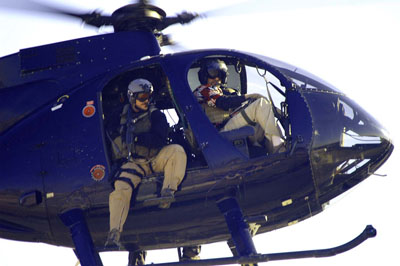 In the summer of 2007, as part of a broader crackdown on undocumented immigration, Blackwater is buying up large tracts of land in the U.S.-Mexico Border Region, and plans to build a series of "detention facilities" in the middle of the desert. [citation needed] It is unknown whether a large percentage of the 13 million-or-so illegal immigrants currently living in the U.S. will find themselves contained in these border prisons within the tenure of the Bush Administration or at another time. Due to Blackwater's view of itself as the preeminent "stability operations company in the world," its foresight in constructing these repositories for future purveyors of civic unrest is laudable.
Those are just some of the issues. For further reading, there are books out in the market right now for further reading on the issues and controversies about private security contractors. What we recommend are the following as taken from Amazon.com (click on the images to go straight to the Amazon area):
Blackwater: The Rise of the World's Most Powerful Mercenary Army
by Jeremy Scahill
Publisher: Nation Books (February 15, 2007)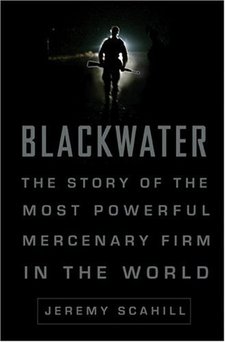 Meet BLACKWATER USA, the world's most secretive and powerful mercenary firm. Based in the wilderness of North Carolina, it is the fastest-growing private army on the planet with forces capable of carrying out regime change throughout the world. Blackwater protects the top US officials in Iraq and yet we know almost nothing about the firm's quasi-military operations in Iraq, Afghanistan and inside the US. Blackwater was founded by an extreme right-wing fundamentalist Christian mega-millionaire ex- Navy Seal named Erik Prince, the scion of a wealthy conservative family that bankrolls far-right-wing causes.

Blackwater is the dark story of the rise of a powerful mercenary army, ranging from the blood-soaked streets of Fallujah to rooftop firefights in Najaf to the hurricane-ravaged US gulf to Washington DC, where Blackwater executives are hailed as new heroes in the war on terror. This is an extraordinary exposé by one of America's most exciting young radical journalists.
Licensed to Kill: Hired Guns in the War on Terror
by Robert Young Pelton (Author)
Publisher: Three Rivers Press; Reprint edition (August 28, 2007)
<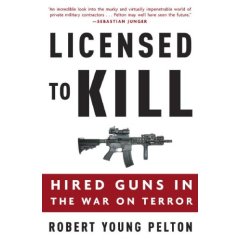 Robert Young Pelton first became aware of the phenomenon of hired guns in the War on Terror when he met a covert team of contractors on the Afghanistan/Pakistan border in the fall of 2003. Pelton soon embarked on a globe-spanning odyssey to penetrate and understand this shadowy world, ultimately delivering stunning insights into the way private soldiers are used.

Enter a blood-soaked world of South African mercenaries and tribal fighters backed by ruthless financiers. Drop into Baghdad's Green Zone, strap on body armor, and take a daily high-speed ride with a doomed crew of security contractors who dodge car bombs and snipers just to get their charges to the airport. Share a drink in a chic hotel bar with wealthy owners of private armies who debate the best way to stay alive in war zones.

Licensed to Kill spans four continents and three years, taking us inside the CIA's dirty wars; the brutal contractor murders in Fallujah and the Alamo-like sieges in Najaf and Al Kut; the Deep South contractor training camps where ex–Special Operations soldiers and even small town cops learn the ropes; the contractor conventions where macho attendees swap bullet-punctuated tales and discuss upcoming gigs; and the grim Central African prison where contractors turned failed mercenaries pay a steep price.

The United States has encouraged the use of the private sector in all facets of the War on Terror, placing contractors outside the bounds of functional legal constraints. With the shocking clarity that can come only from firsthand observation, Licensed to Kill painstakingly deconstructs the most controversial events and introduces the pivotal players. Most disturbingly, it shows that there are indeed thousands of contractors—with hundreds more being produced every month—who've been given a license to kill, their services available to the highest bidder.

A Bloody Business: America's War Zone Contractors and the Occupation of Iraq
by Gerry Schumacher (Author), Steve Gansen (Editor)
Publisher: Zenith Press (May 1, 2006)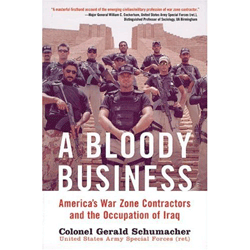 "A Bloody Business provides insight to the selection and training regimes for contractors in Iraq. It then goes on to relate many personal accounts of their work and combat action in that war-torn country. Colonel Schumacher underscores the dangers of 'uncontrolled contracting.' At the same time, he closes with the common-sense view that, while U.S. soldiers will be respected for their service in Iraq, 'American civilian contractors deserve nothing less.'" U.S. Naval Institute Proceedings, August 2006

Corporate Warriors: The Rise of the Privatized Military Industry (Cornell Studies in Security Affairs)
by P.W. Singer (Author)
Publisher: Cornell University Press; Cornell Paperbacks Ed edition (March 31, 2004)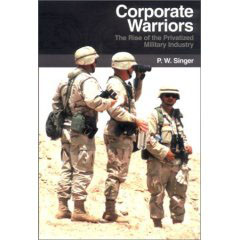 "A security analyst at the Brookings Institution, Singer raises disturbing new issues in this comprehensive analysis of a post-Cold War phenomenon: private companies offering specialized military services for hire. These organizations are nothing like the mercenary formations that flourished in post-independence Africa, whose behavior there earned them the nickname les affreux: "the frightful ones." Today's corporate war-making agencies are bought and sold by Fortune 500 firms. Even some UN peacekeeping experts, Singer reports, advocate their use on grounds of economy and efficiency..." From Publishers Weekly