C.G. Haenel MK556 Chosen To Replace The G36 As The Bundeswehr's New Rifle
Gungho Cowboy
15 Sep 2020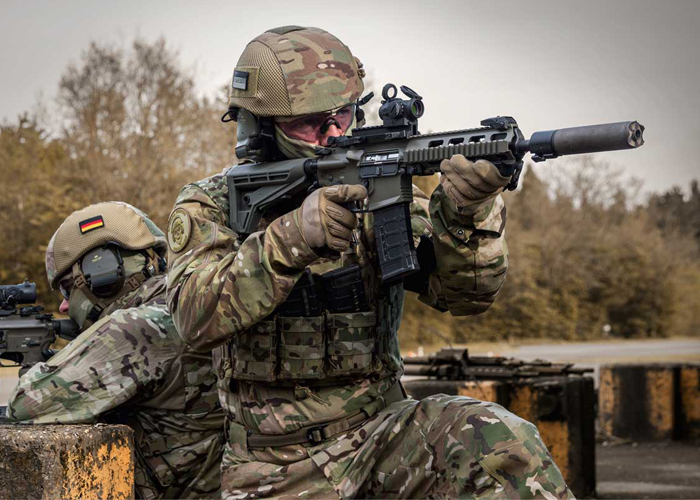 Two years ago, we reported that the candidates for the replacement of the System Sturmgewehr Bundeswehr program to replace the G36 rifle narrowed down to two: the Heckler & Koch HK433 and the C.G. Haenel MK556.  In our discussions with other airsoft players who are following this, their money was on Heckler & Koch given its long relationship with the German Army and that the company's products are in service in many militaries worldwide. The German arms manufacturer is also a favourite of airsoft players given that airsoft versions of its weapons designs are hot sellers.
As it turns out, C.G. Haenel will mark an even deeper relationship with the Bundeswehr as its MK556 Automatic Rifle has been chosen as the new service rifle.

The MK556 Full Automatic Rifle as seen at the Haenel Defense website
---
C.G. Haenel is no stranger in supplying weapons the German military.  It supplies the Special Forces of the Germany Police and the Bundeswehr with been RS9 rifle which the Bundeswehr calls the the G29 and is a medium range sniper rifle. The rifle chambered in the .338 Lapua Magnum, has a colour scheme similar to the RAL8000 with a maximum range of 1,500 metres.
According to Soldat-Und-Technik (S&T), the German news agency DPA reported that MK556 emerged as the winner after evaluation of the offers from both finalists. Both companies have already been informed of the decision but it is still subject to a possible complaint from the losing bidder or judicial review proceedings before it gets official.
The MK556  is a fully automatic AR-based rifle available in 10.5, 12.5, 14.5 and 16-inch barrel lengths. It is made of high-quality materials with indirect gas-operating with adjustable gas-off take. It has a 4 NAR STANAG 4694 rail handguards that can be removed without the need for tools. A civilian semi-automatic version is also available and it is called the CR223.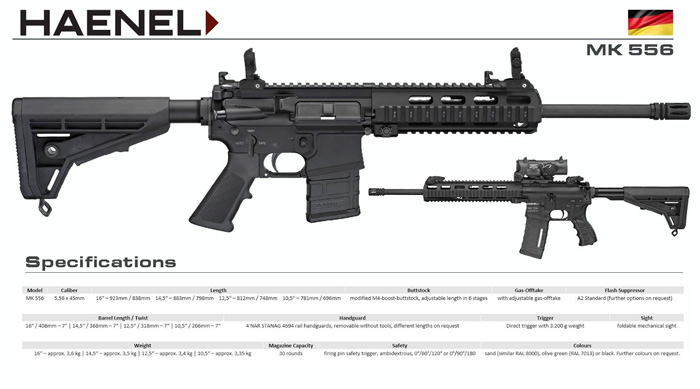 S&T also mentions that approval and procurement will be a total of four lots. The submission for the procurement of the 1st lot should therefore be negotiated in the last week of October in the budget committee of the Bundestag (German Parliament). For lots 2 to 4 as well as the laser light modules and optics are on the plan for mid-December 2020.
According to Zeit, the total order can be 150,000 rifles with a potential value of almost 250 million euros. C.G. Haenel belongs to the Merkel Group, which is part of the Tawazun Holding  that is based in the United Arab Emirates which also acquired Caracal in 2007.