A Closer Look At the Silver Shadow Gilboa Snake
Gungho Cowboy
10 Jun 2014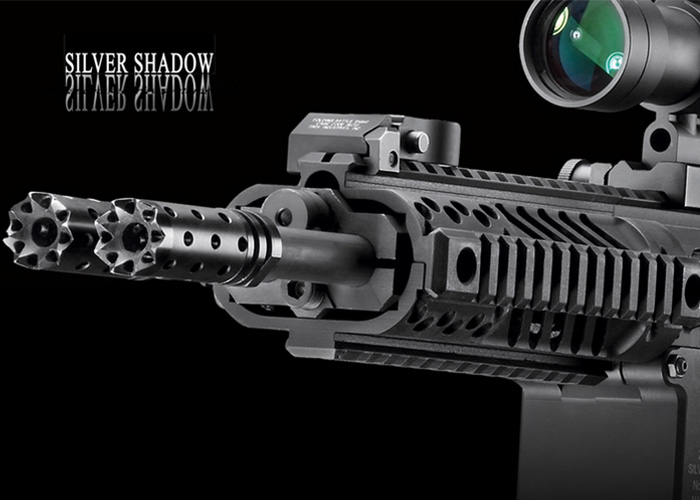 I have to say that there's no other AR-15 variant that has kept interested in the past three years than the Silver Shadow Gilboa Snake. It is interesting as it is the only double-barreled AR in the world right now and finally it is in production for release during the Summer Season. We don't know if the Israeli company is getting a lot of orders, but with the good news that it can become available to firearms owners in the USA, they might be.
We have written about Gilboa Snake ever since it came out. We all welcome such innovation but wonder why the company decided to make a double-barreled AR. Guns and Ammo may have the answer to that as they give us a closer first look at the Gilboa Snake:
Developed by Amos Golan, the Gilboa Snake was developed as an answer of being able to react to ambushes and tight situations for special forces where they will be able to lay down good responding firepower. With the double-barrel the Gilboa Snake would be able to lay down more suppressing fire and also ensuring that a target is down with more rounds shot at any given time.
If you are thinking of double-tap, it gives a whole new meaning to it.
The Gilboa Snake uses two standard bolt carriers, with ejection ports on both sides of the rifle. It has two proprietary piston systems The return spring mechanism is situated at front and not requiring a buffer spring at the rear, thereby reducing the size of the rifle. It can be configured to fire semi only or option for full-auto fire which will be required by SpecOps unit.
A civilian version will be released in the US and will have a 16-inch barrel, there will be two separate triggers, and its semi-auto. This means that this is legal to own without paying a stamp duty. The model that we are seeing is the SBR version which is regulated by the BATFE and will require a tax to be paid.
Many of us would be wondering if an airsoft version can be built. There will be no question that an AEG version can be designed as there were custom AEGs that have twin-barrels. As for a Gas Blowback, there will be some redesigns needed in order to make one. But we won't care which power-source will the first airsoft gun based on this will be, we just need one to be made for airsoft.