Day 1 At The IWA & Outdoor Classics 2014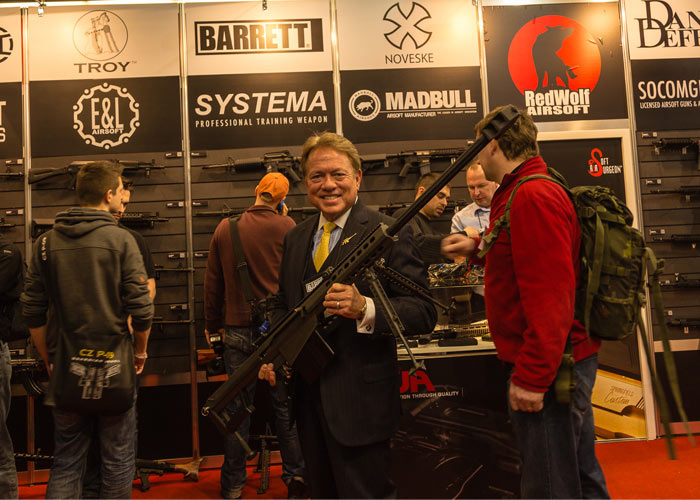 Throngs of people and cars --- these where what Optimus Prime saw when he first arrived at the Nuremberg Messe to attend for the first time the IWA & Outdoor Classics. Lucky for him, he didn't have to queue up at the Press counter as there was no line there and got his Press Pass. I met him at the Press room where we dumped some our stuff in the lockers and had a quick breakfast.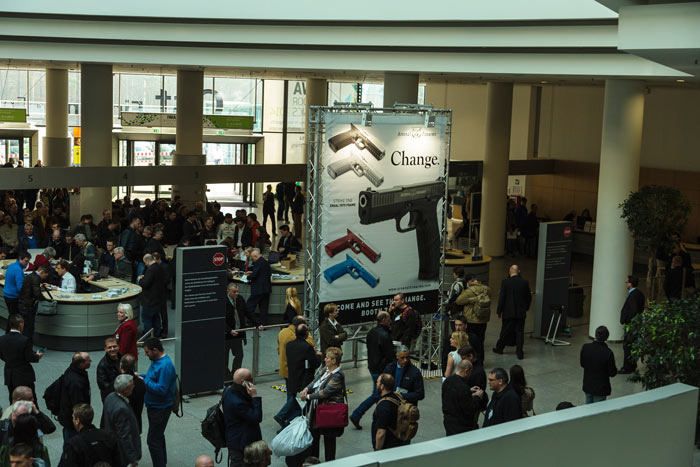 Airsoft Specialists
It was already a bit past 0900H when we started checking the various exhibitors. I brought him first to Airsoft Specialists where they had on display the Silverback Airsoft XP96 Sniper Rifle Chassis Prototype was on display. It was a slick looking chassis which you can drop in the parts of existing Type 96 Airsoft Sniper Rifles. No date yet and pricing mentioned as these will have to be determined once they are happy that the prototype can meet customer expectations.
I talked to Eric Gautier, the CEO of BO Manufacture, who has his products on display at Airsoft Specialists, about the products that they are producing, including that custom Electric Blowback M4 done with Lonex. They are a French company which has some of the neat looking custom airsoft replicas. You will learn more about the company was I plan to have a feature about them.
Airsoft Specialists are also the distributor of Takap-Lupa masks from the Philippines.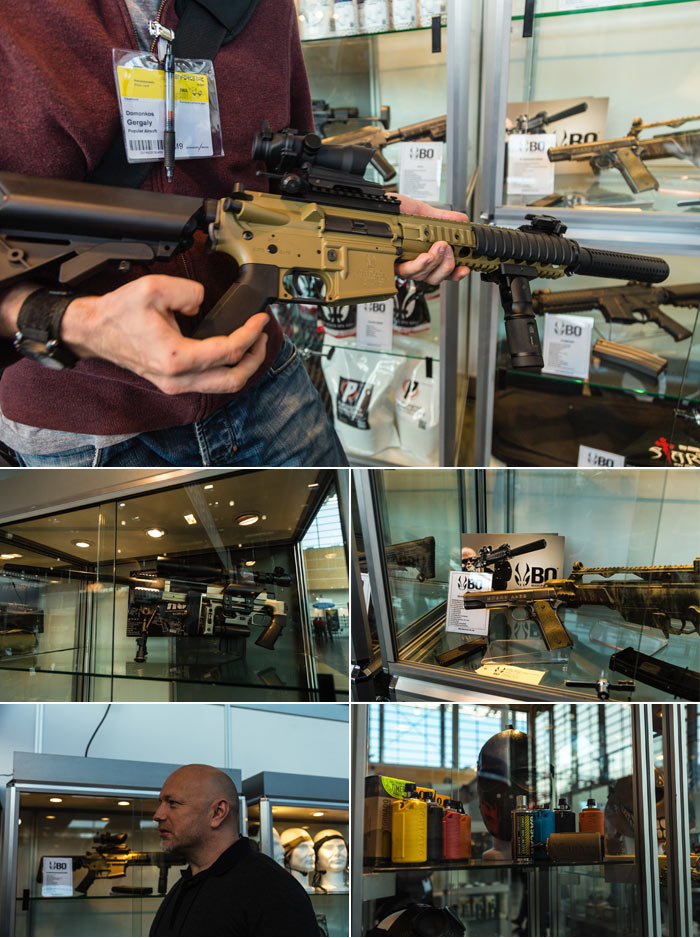 ICS
We had an appointment with ICS at 1030H, so we needed to rush to the end of Hall 7 to find their booth. We are very much interested in the new ICS Transform4. The images show what approach ICS took to create felt recoil with an AEG. The bolt imitation on the side of the gearbox is not attached to the piston so it is easier to disassemble the gearbox plus less things can go wrong. The movement of the bolt imitation is done through that small hump on the top of the piston. We can expect the usual ICS quality here and I'm told the internals can handle a 150 spring out of the box.
More information on the Transform4 in a video that will be uploaded soon.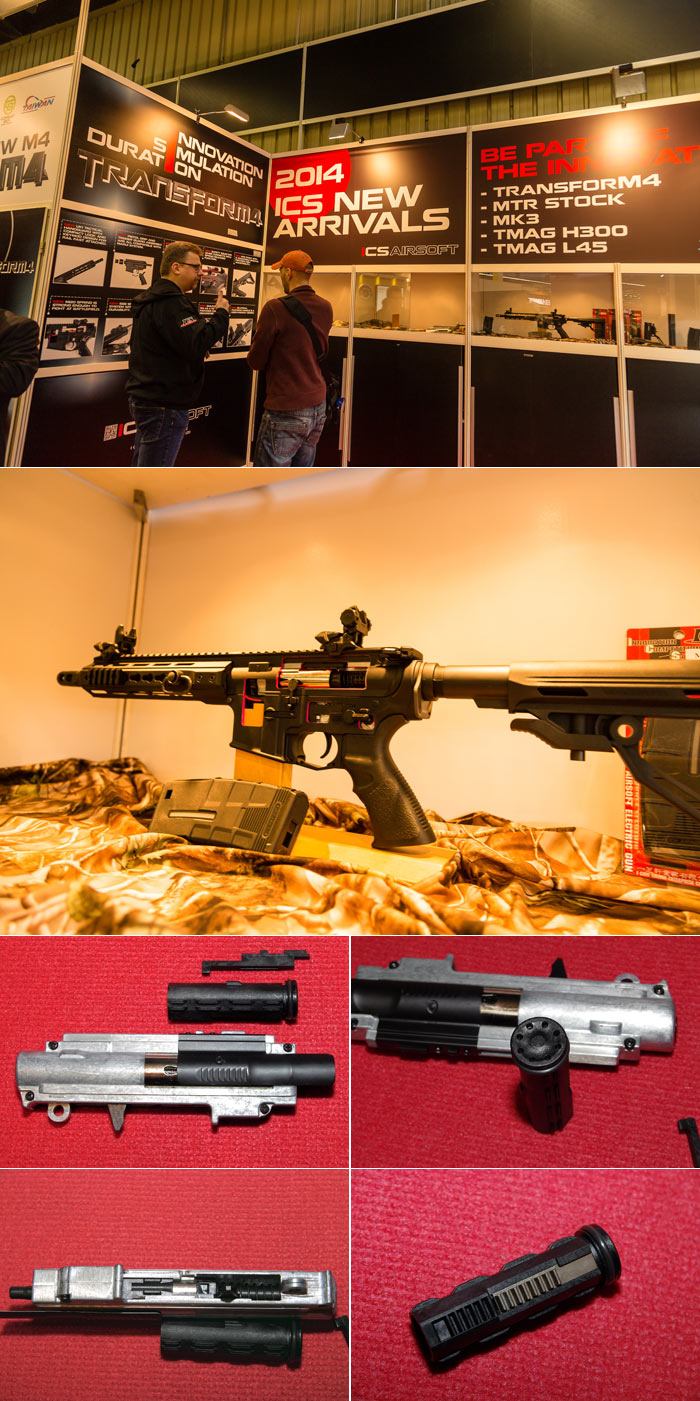 Gunfire
Gunfire has a strong presence at the IWA 2014. The main stars at their boot are the E&L Airsoft AKs and their Glock-like and M4 Gas Blowback Prototypes. On display was the E&L AK AEG that was tortured by SCDTV in the epic torture test video on YouTube. Gunfire also has custom series such as Kryptek Series of AUG AEGs.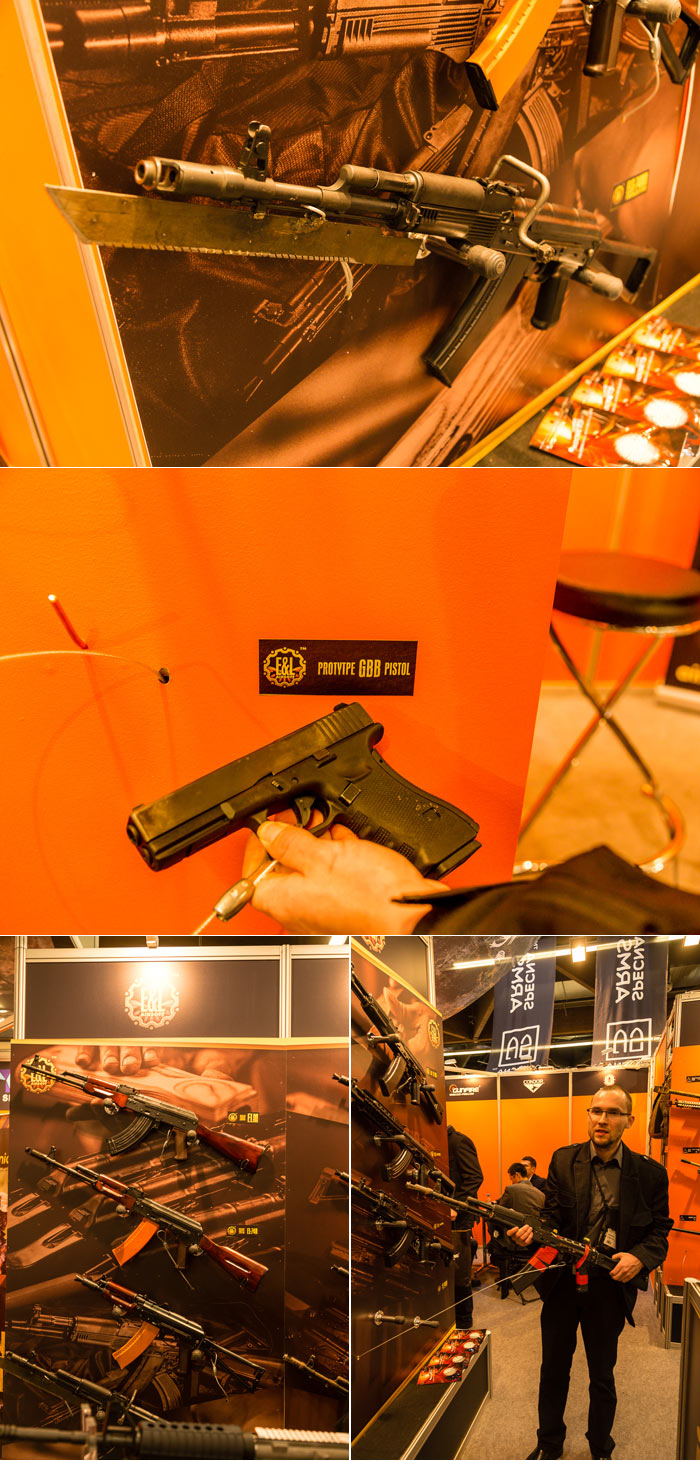 Specna Arms at the Gunfire booth had on display are good range of AR AEGs which we find them of good build. The gearbox of Specna Arms AEGs have what they call "Enter & Convert" which is a quick spring change feature without taking the gearbox apart.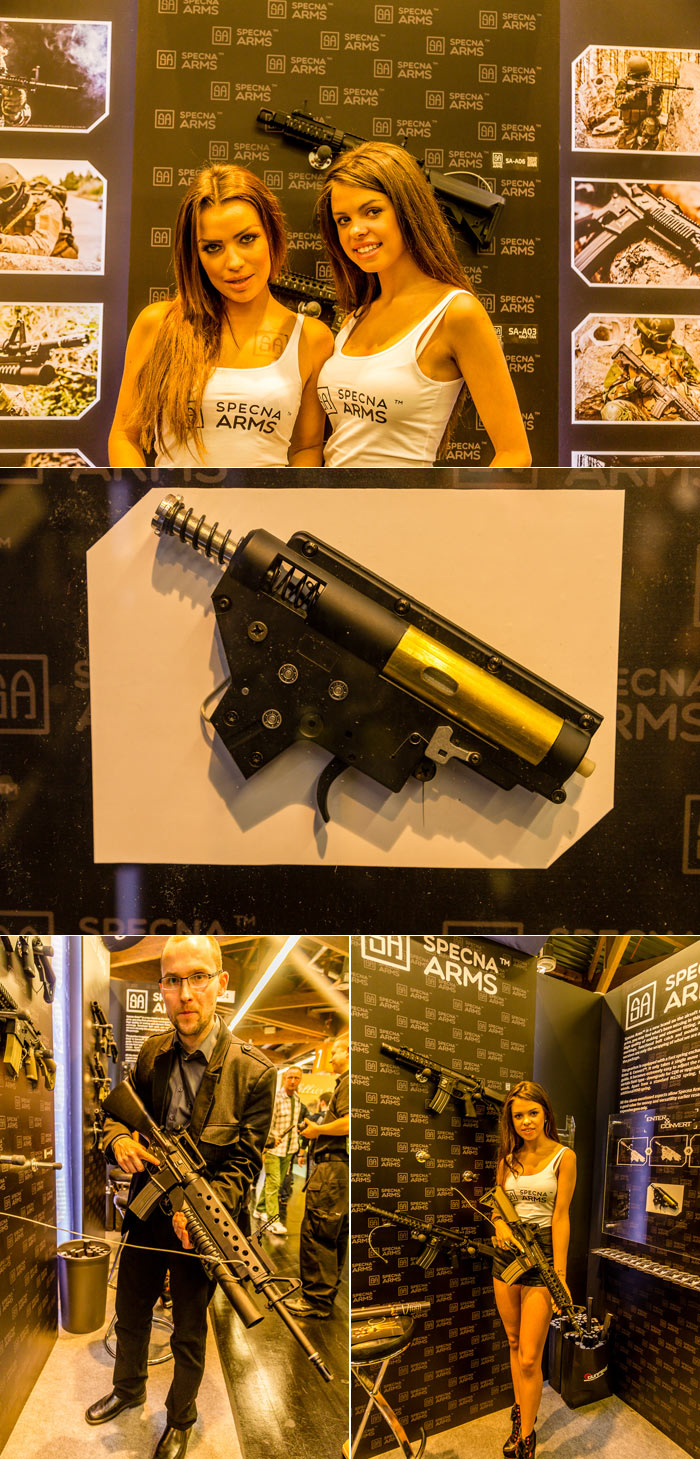 Before moving on the next booth, we had a quick visit at the G&G Booth where it was very much busy with G&G guys making product presentations and meeting customers. A quick chit-chat with Sylvia had us finalise on what we need to do for the big activity that will happen in the morning of Day 2.
RedWolf Airsoft
RedWolf Airsoft was very much busy early in the first day of IWA 2014. There are two fine custom works from Clarence Lai himself. The first one is dedicated to John Noveske, using Madbull parts, the attention to details are second to none with this replica as you can see on these images. The second one is a re-thought KJW KC02, the receiver kit soon will be available on Redwolf's website and it allows any M4 handguard rail to be attached to the 10/22.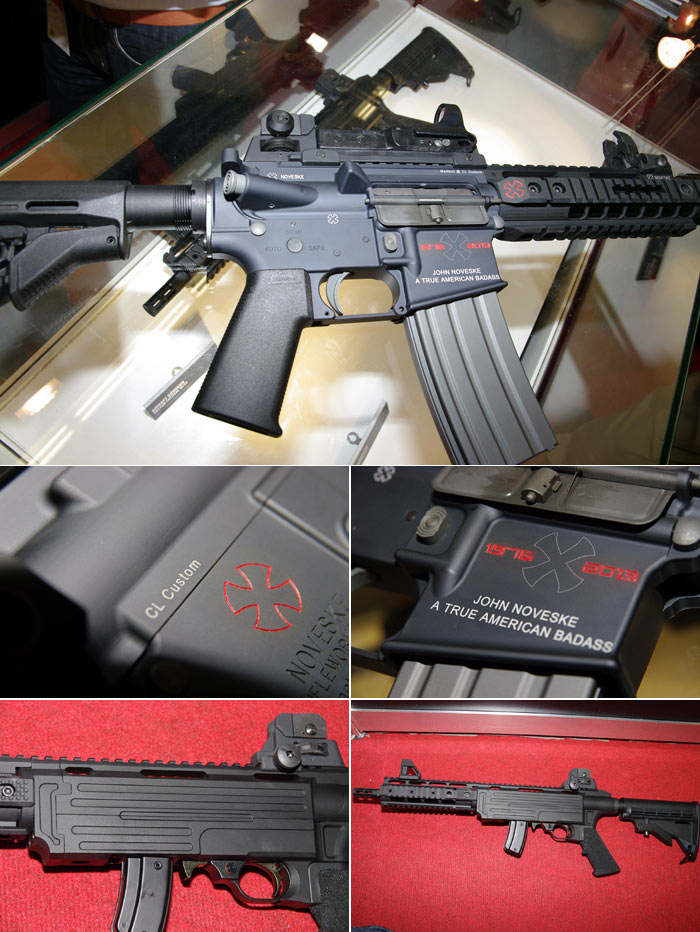 The sentry guns made by Bel-Tec were on display too and do they look imposing. They look like robots with guns mounted on top.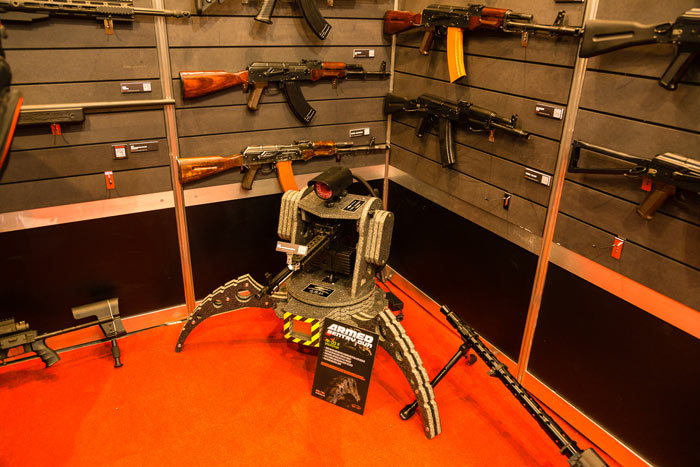 According to Danny Yau, the Airsoft Systems ASAR-15, which were revealed at the IWA 2012, are now being produced for a 2014 release. This is also a split gearbox system which can rival the ICS gearbox technology and the products are being produced in Bulgaria.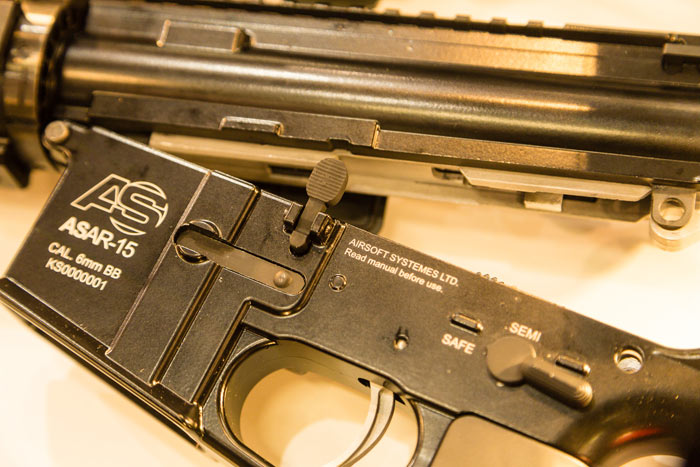 One surprise visitor was Ronnie Barrett, as he held the prototype of the SOCOM Gear M28 Sniper Rifle. It's nice to see a legendary firearms maker visit an airsoft boot.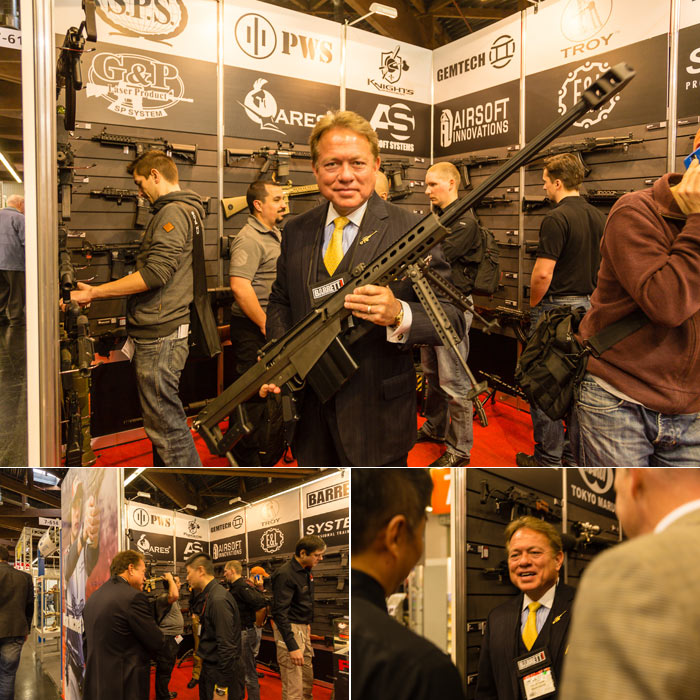 Pantac's area in the RedWolf Airsoft booth show some interesting products --- such as the tactical aprons. They have two prototypes products on display. One is a plate carrier which you can easily detach from your body if you need to quickly unload your gear and another is a backpack which can be easily converted into a tactical vest! No product names yet, but Danny Chan did a demo for us which will be in a video to be uploaded later on.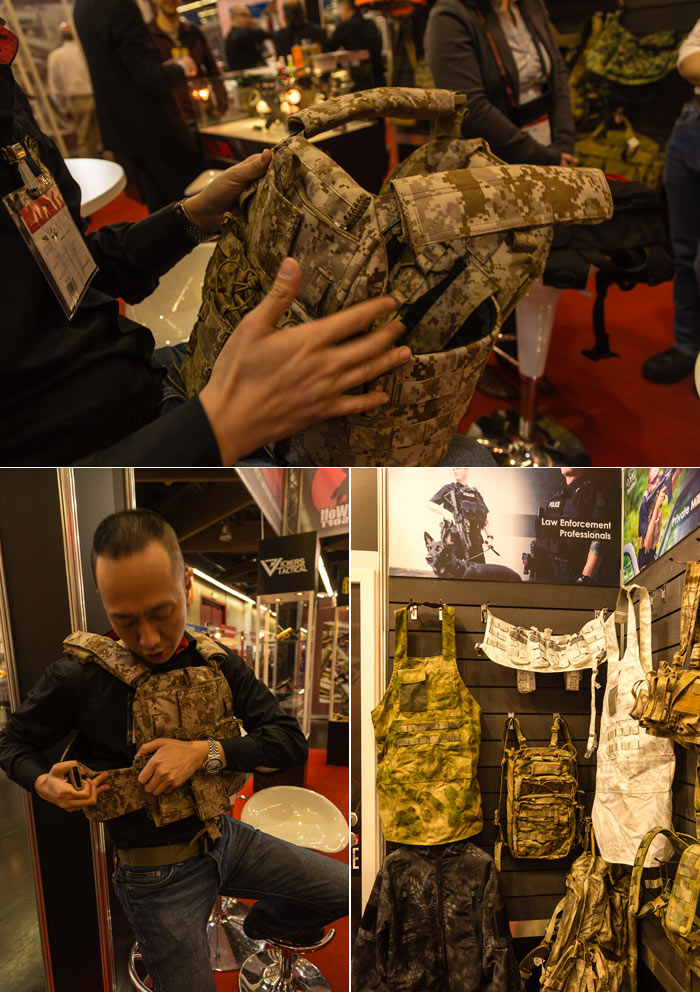 KRYTAC Launch
We finally arrived at the KRYTAC booth, which, of course, is found at the KRISS Group booth. It was also the first time that Popular Airsoft was able to meet Tim Saergeant, formerly of Airsoft GI and very popular figure in the U.S. airsoft and international scene. KRYTAC finally had its official launch with their products revealed as posted by Optimus Prime yesterday.
The soon to be released AEG line from Krytac contains very interesting pieces and the internals are matching the quality of the externals. Here are the main features: ambidextrous fire selector, spring release when selector set to Safe, gearbox shell contains MOSFET unit, designed for 11.1V LiPo, hard steel gear set (each gear is checked with X-ray machine for bubbles or cracks), gearbox material is stronger than average, second teeth removed from piston rack, easy to change front handguard which uses the same alloy as real steel, crane stock has monopod capabality. Here's what might change until the release: a different pistol grip is in the works, the color selection might include anodized desert instead of painted. The first batch will hit the US then Europe will follow.
We'll learn more about KRYTAC during the Airsoft Meetup on Sunday.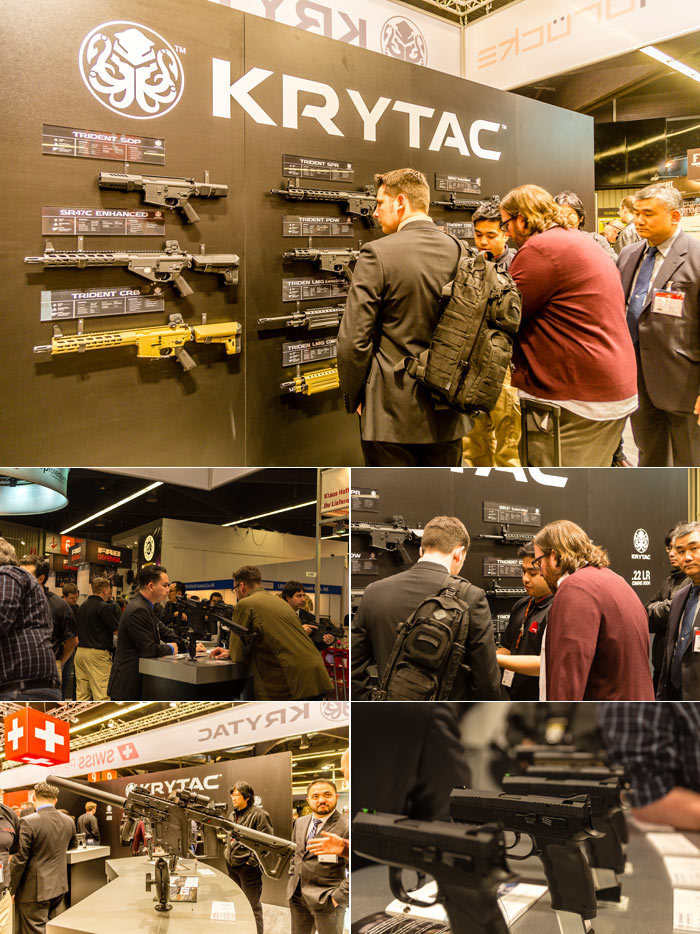 King Arms
The last booth we went to on Day 1 was the King Arms booth which was near the KRISS/KRYTAC exhibit area. It was our first time to meet Bob Poon, who took over the duties of Mark Ng last year. Originally from RedFire HK, Bob serves as marketing for King Arms/V Productions after Redfire got bought by V Productions.
The CAA Airsoft Division (CAAD) Roni B is a recent release and it differs a little from other Roni models because once you open the frame you are able to change two plastic pieces each side and that means no matter that you have M9 or M9A1 you can still use the very same frame. The Roni B will accept most Marui based replicas including WE and KJW.
The famous period guns from King Arms such as the Mosin-Nagant, Thompson, M1 Carbine, and M1 Carbine para were also display, as well as the King Arms VSS Vintorez AEG which is already released to the market and the King Arms AS Val AEG which will soon be released.
An interesting sniper rifle was spotted too and there was no announcement from King Arms on this. Called the TAC 21, details are yet sketchy as this is a prototype. King Arms promised us to send for more information on this.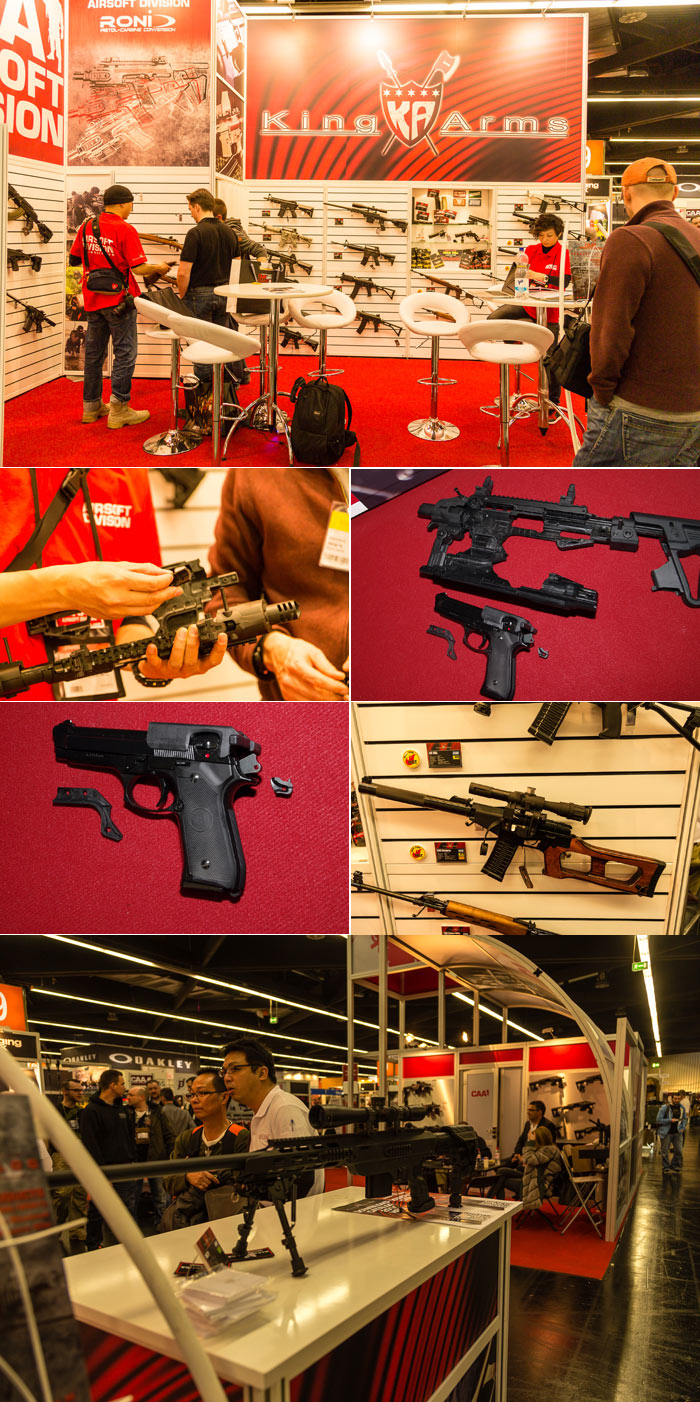 More reports to come as this is only just the first day and 3 more days to go. For Day 1 photos, go to the Popular Airsoft Facebook Page where there are over 200 photos for you to look at.
---
---
LATEST NEWS
............................................

............................................

............................................

............................................

............................................

............................................
LATEST REVIEWS
............................................

............................................

............................................

............................................

............................................

............................................