Dell Launches Notebooks Designed For The Battlefield
Logan
16 Apr 2014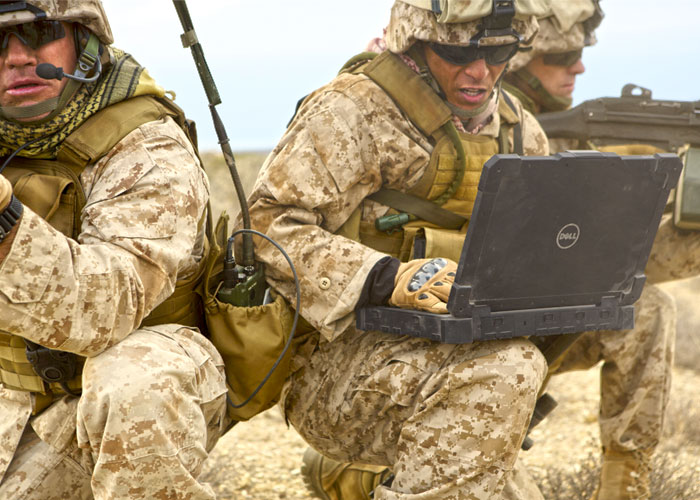 The good thing for us at Popular Airsoft is that we don't worry much about the toughness of our portable computers when brought to the field as we rarely bring them at all during airsoft games unless we what we are going to cover are time-sensitive. But our readers are ok for some delays of hours or even days. Thus, we only worry if our laptops will let us edit photos and videos quickly and another important thing, be able to play the latest first person shooter. For OptimusPrime the last consideration is important for him.
Nowadays there are laptops that are thin and powerful which for people on the go, especially media and blogger types, are god-sent. They are more expensive than the regular laptops, but the investments are worth it. OptimusPrime loves his Alienware, but would ditch it for the thinner, sexier and powerful ones anytime now. It's just a matter of having the budget.
But for those who are on the go and holding touch jobs, rugged laptops are what are needed. Those in construction, engineering, emergency, manufacturing, energy, and military have tough requirements for their laptops and only a few companies offer such and Panasonic holds the Toughbook brand and lords over it over this segment. But a bigger name computer maker will be entering this market segment and introducing two types of rugged laptops/notebook --- and the name is Dell.
The two rugged notebooks will be part of the Latitude Series, which is the business laptop line-up of Dell. The first one, the Dell Latitude 12 Rugged Extreme (no photo available), is what they claim to be the first fully rugged convertible notebook that with its "flip-hinge" techonology, can be easily converted into a tablet with its resistive, multi-touch screen (though there is the Panasonic Toughbook CF-AX2 MK1 Convertible Ultrabook that does the same). The second one, the Dell Latitude 14 Rugged Extreme which is seen to be a tough competitor to the Panasonic Toughbook.
Accordingly, Dell states that "The Dell Latitude Rugged Extreme solutions are purpose-built to withstand hazards such as dust, moisture, drops, vibration, extreme temperatures and other punishing conditions faced by users in fields such as military service, public safety, manufacturing and first response. Latitude Rugged Extreme notebooks are independently tested to military standards including drops up to six feet, as well as ingress protection, emissions and hazardous materials certifications by a third-party testing facility. No single field test accounts for every possible scenario, so the Dell Rugged Extreme portfolio is tested above and beyond every existing standard to verify survivability in real world situations.
The Dell Latitude 12 and 14 Rugged Extreme are built to endure worst-case conditions with the most robust materials available, including impact-resistant ultra-polymers and sturdy magnesium alloy. Data is protected from the elements with sealed doors and compression gaskets while enabling performance at high temperatures with fourth-generation QuadCool™ thermal management."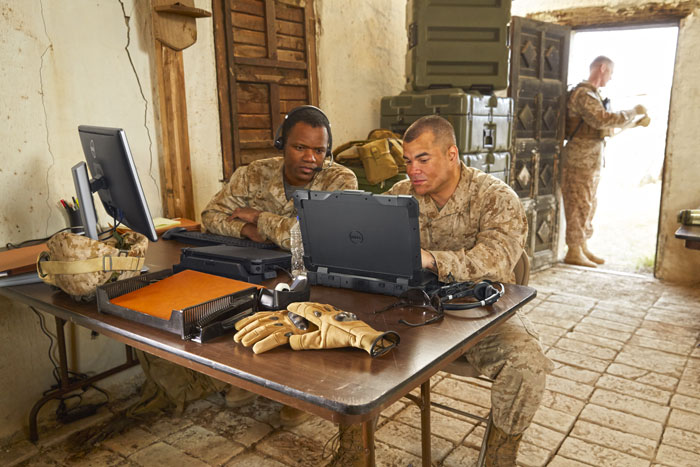 Obviously, these two notebooks will be powered by the latest Intel CPUs with security features such as data protection, encryption, and their own ControlVault advanced authentication. Unfortunately, there's no claim by Dell that such notebooks can also provide protection and replace ballistic plates as inserts in tactical vests.
The Dell Latitude 14 Rugged Extreme will be released on the 6th of May 2014 with an initial price of US$3,499 and the Dell Latitude 12 Rugged Extreme by Mid-May with an initial price of US$3,649. Airsoft event organizers might find it useful but they may need to justify such investment.
For us writers and contributors of Popular Airsoft, we do not need to spend on such equipment. These rugged notebooks are ideal, but not exactly necessary tools for us yet.