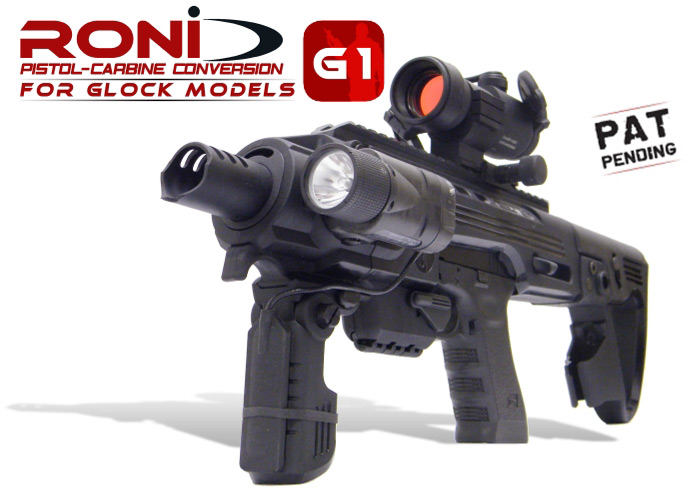 Another Pistol to Carbine conversion kit now available. We gave heard about the RONI earlier on, but we did not know much what happened to it, when its original developer CAA Tactical, got bought by EMA Tactical, which is based in Israel. But then EMA Tactical has a good history of making rifle parts and accessories and got to work on the RONI. They just announced recently that they're now taking orders for the RONI that can accept Glock pistols.
The difference between the RONI and the conversion kit made by HERA Arms, is that it has more features and flexible to use. In under 6 seconds, as they claim, you can drop in the Glock Pistol (accepted for now are Glocks 17, 18, 19, 22, 23, 25, 31, 32, 34 and 35) into it and you have an ambidextrous firearm with its own safety locks. The stock and cheekpad are adjustable and at the stock area, there's a magazine holder so you have an extra magazine ready for you to insert for a quicker magazine change. There's a brass catcher which you can attach so you won't have shells lying around after firing, which is indeed a good assasin's weapon.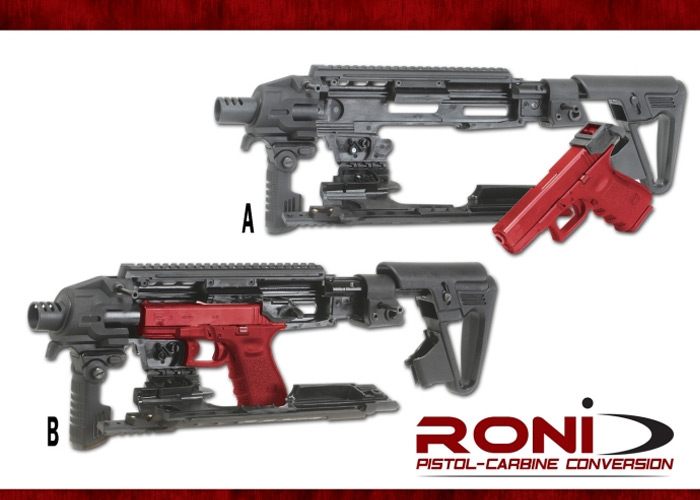 The RONI also has rails so you can attach accessories to it, such as scopes, torches, and a front grip. Furthermore, it can allow you to attach a suppressor.
The RONI is not only limited to Glock pistols as specified above. They're planning to come out with models that are able to take in the Glock 21, Jericho, USP, PX4 Storm, Beretta 92, FN Five-seveN, Sig P226 and more.
Now, we'll just have to wait a little bit more for an airsoft replica to be made for this. What I am keen on if an airsoft replica is made, is a model for the Marushin Glock 21 Maxi8 which is a shell ejecting airsoft pistol. You can use the brass catcher with it.