G&G Armament's Photo & Video Contests Are Now Accepting Entries
OptimusPrime
03 May 2021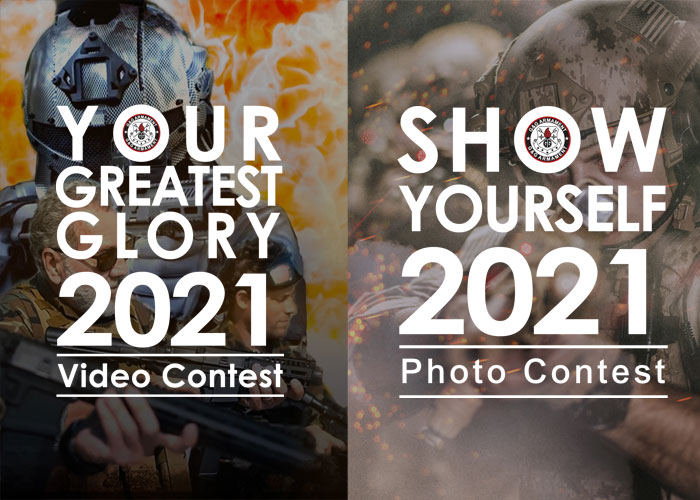 Two of the longest running video and photo contests in airsoft, the G&G Show Yourself Photo Contest and the Greatest Glory Video Contest, are now in taking entries. It is a surprise that they have started early, giving interested airsoft players who are creative and brave enough to submit their entries, more than enough time to plan and do their shoots.
With easy access and even better tools to take photos and videos these days, even with just the cameras on smartphones, these contests sure will get tougher but with the prizes that await the winners, they better work harder to create some of the best photos and videos for this year.
But before you dust off your cameras, setup your lights and set about with your photo ops and video shoots, it's best for you to know more about the contests you're getting into:
---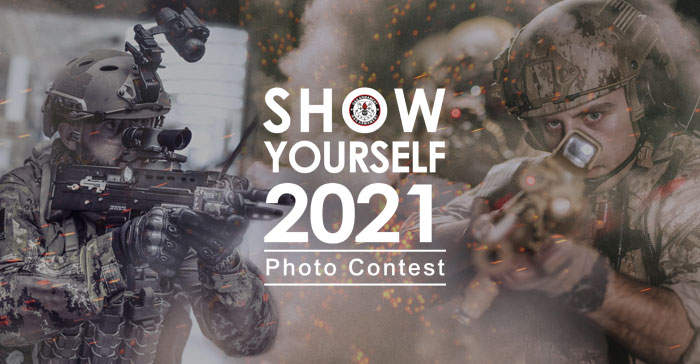 ---
EARLY SUBMISSION INCREASES THE CHANCE FOR MORE VOTES

Dear Airsofters, The annual G&G Photo Contest "Show Yourself" is back! Bring your camera and shoot your favorite G&G product. The winners will win G&G replicas and a chance to be shown on G&G product catalogs and advertisements!

TEAM PRIZE

Qualifications

Download and fill out the [team application], send back the copy to complete the registration.
Must include at least 3 team mates in all photos.

If a team wins any top three prizes, additional 6 units of airsoft replicas will be added to the orignal prize.

TERMS AND CONDITIONS

All participating contestants agree to follow the set forth regulations and rules of this contest, please read through all the rules carefully.
Each submitted work please do not exceed 50 photos; G&G  internal voting score rating will be based on all submitted photos from the contestant, not on a single photo.
Contestant and team will be held responsible if the submitted photo violates the rights of a third party, G&G Armament will not be liable for any unauthorized photos submitted.
Contestant acknowledges, any submitted photo waives the intellectual property rights and becomes property of G&G Armament for commercial use at any given time.
Contestant must comply their local regulations and laws. If winner is from a country that prohibits airsoft, will forfeit the prize(s) and no compensation will be given.

CONTEST PERIOD

Starting Now - 16.9.2021 (11AM)

VOTING PERIOD

22.9.2021 (10AM) -  30.9.2021 (5PM)

ANNOUNCEMENT

*Above time periods are all based on GMT+8 taipei time

*Complete application earlier will increase the chance to receive more votes for your artworks.

APPLICATION FORM

LIMITATIONS

Any works submitted to G&G must be related to airsoft, focus on G&G brand, and emphasize the interaction between players and G&G products, without showing any other brands and/or logos.

PHOTO FORMATS

File must be JPEG or tiff format and 3000 x 2000 pixels or greater.

SUBMIT METHOD

*Participants must upload all pictures to online drive, send back the online drive link address and completed application form to [email protected] , application will be deemed to be incomplete if not following above steps.

VOTING METHOD

Internal Voting

The top 3 places are voted by authorized G&G personnel from all submitted pieces by every participant/team.

Online Voting

Every submitted work will be selected by G&G, before uploading to G&G official website for public voting.

ATTENTION: Voting process for the top 3 places will not be disclosed to public this year. Special award winner will be selected by the highest number of online votes.
---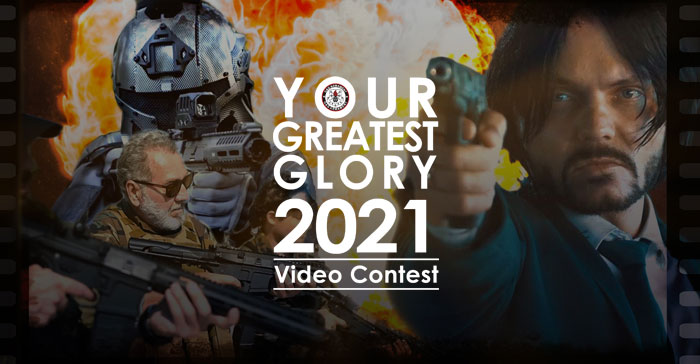 ---
Dear all G&G brand lovers and Airsoft enthusiasts! Thank you for entering our 2021 "G&G Your Greatest Glory" international video contest. Do you want to express how much you love G&G and Airsoft? Do you want to show how creative you are? Do you want to be well-known to the world? Would you like to take home a cash prize? Now is your greatest chance to show the world what you can do! Any short film/video about G&G and Airsoft skirmishing is welcome. This is a great opportunity to express your creative talent. Total prizes are worth up to $30,000 and a unique chance to win a trip to Germany. Top prize will be presented at the G&G booth at the IWA Outdoor Classics show in Germany 2022. Make your Greatest Glory with G&G! SHARE WITH YOUR FRIENDS NOW & DO NOT MISS IT!!!
CONTEST RULES

All submitted videos must include English subtitles.

PRIZES

Best G&G Commercial Award

Shows the variety, quality or innovation of G&G products
US$ 10,000 CASH PRIZE
A round trip for an economic class flight to Nurnberg, Germany.
One night stay at a hotel booked by G&G Armament.
1 day VIP Pass to G&G  booth at international trade show "2022 IWA & Outdoor classics"and the award ceremony (ceremony and related accommodations will be cancelled, if IWA is postponed/cancelled or G&G is unable to attend due to pandemic.), winning team must assign 1 representative to participate.

Best Video Award

Tells great story with G&G products
US$ 5,000 Cash Prize

Best Creative Video Award

Shows your creative ideas with G&G products
US$ 5,000 Cash Prize

Nominated Masterpiece Award (7 Winners)

NOTE:

Prizes in this contest do not include tax. Final amount may be varied due to different taxation in different countries.
Available models for nominated masterpiece award are as following: EBR-S/EBR-L, G980 GAS/CO2, G980 SE, GM1903 A3/A4, M1 GARAND, GC16 PREDATOR, GC16 SRS/L/XL, RK74-T, RK74-E, RK74-CQB, ARP9, SMC9, CM16 LMG STEALTH, ARP556/V2S, PCC45, TR16 MBR 308SR/WH/M-LOK, TR16 MBR 556WH, TR16 SBR308 MKI/MKII, BAMF TEAM.

CONTEST PERIOD

Application Time

Starting now - 17.11.2021 ( 11am)

Voting Deadline

Announcement

Above time periods based on GMt +8:00 taipei time. The winning entries will be announced on guay2.com site by G&G Armament.

VOTING METHOD

Internal Voting (70%)

Vote by G&G personnel, global G&G distributors and internationally well-known media specialists.

Online Voting (30%)

Vote (LIKES) From YouTube Channel

HOW TO ENTER

Step 1

Create a 30 secs to 5 mins video based on G&G products.
Sign in and upload your video to Youtube ( youtube.com ), if not already a Youtube member,
Please sign up for a free membership!
Uploaded videos please add a title [ 2021 G&G Your Greatest Glory Video Contest ] in the front of your own title,
Video quality please follow Youtube's hq format.

Step 2

Please download the application form
Email subject: [ 2021 G&G YOUR GREATEST GLORY VIDEO CONTEST ]
Fill out completely and email back to [email protected]

TERMS AND CONDITIONS

All submissions read and understand terms and conditions hereinafter.
All submissions become property of G&G armament. Entrant agrees to surrender all rights to G&G Armament, including rights to modify and publish with no limitation on location or time period.
If the submitted media violates the rights or laws of the third party act, any and all liability will be on the individual or team who made the submission, including sound and graphic copyrights.
All submitted video entries must be based on g&g products, other brands will not be allowed to be shown on the video.
Winners of the "Best G&G Commercial" awards must be aware these entries are on behalf of advertising and publicity for G&G.
Winners for these categories have an obligation to participate and attend the 2021 Germany IWA Award Ceremony.
This contest welcomes all airsoft lovers, film makers and hobbyists. All rules and regulations must be followed. Team submissions must have a team representative who is responsible for making sure the team members are following the rules.
If submitted videos do not meet G&G criteria, G&gGhas the right to cancel the submission or contest with no prizes awarded.
Any video submitted with pornographic, violent, slanderous or other illegal or negative content will be disqualified. Competition is limited to only participants and locations where such activity is legal. All others will be disqualified.
All content of submitted media does not represent the position or opinions of G&G armament. G&G is not responsible for any submitted media content, legal or otherwise.
All entrants must be aware of all laws pertaining to airsoft in their area and country.
If winner is from a prohibited area or country, prizes cannot be delivered and that submission will be voided.
Competition is limited to only participants and locations where such activity is legal. All others will be disqualified.
Submissions must be new and never used in any previous contests before.
All entrants/team agree and declare: 1. You owned all rights of the submission in both video and audio, and 2. Submission is your original works, not copy part, or whole other productions or works, nor violate any copyright, trademarks, or property laws.
All entrants waive all rights to compensate from any inquiry, damage, lost in any form (including but not limited to damage on physical properties, body, public properties or privacy, slander, intentional or non-intentional) from delivery, seizure, possession, and use or unable to use the prize, based on or refer to any legislation.
All rights reserved by G&G Armament.