A Glimpse Of The Future Of Warfare: Armed Robot Dogs
Gungho Cowboy
14 Oct 2021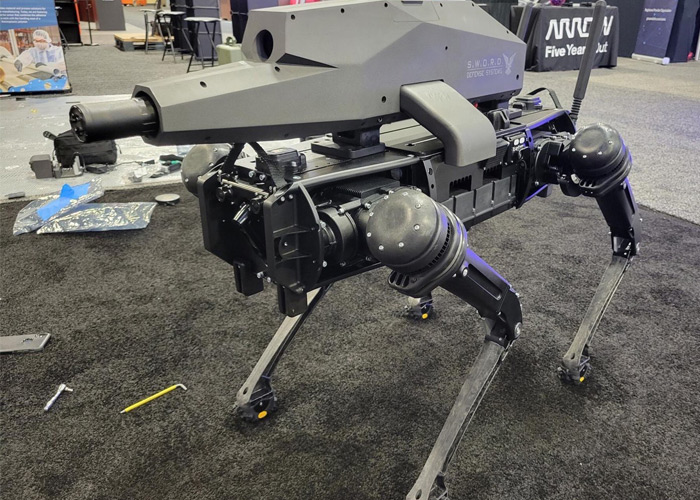 The 21st century will see the rise of network and robot warfare where unmanned vehicles and robots, coordinating via wireless networks and having their own artificial intelligence. We already have armed flying drones, ships, and now are seeing four-legged robots being armed with rifles.
The last one is an interesting thing as SWORD International mated the SPUR (Special Purpose Unmanned Rifle) to one of Ghost Robotics' Q-UGV (Quadrupedal Unmanned Ground Vehicle). On display at the just concluded AUSA 2021 in Washington D.C., the remotely operated robot dog basically just up the ante on armed land robots:
The SWORD Defense Systems Special Purpose Unmanned Rifle (SPUR) was specifically designed to offer precision fire from unmanned platforms such as the Ghost Robotics Vision-60 quadruped.  Featuring safe, chamber, clear, and fire capabilities that allows for safe and reliable deployment of the weapon system – providing the operator an ability to load and safe the weapon at a distance. These features also provide the operator the ability to clear malfunctions, and safely unload the platform prior to recovery. Chambered in 6.5 Creedmoor allows for precision fire out to 1200m, the SPUR can similarly utilize 7.62×51 NATO cartridge for ammunition availability. Due to its highly capable sensors the SPUR can operate in a magnitude of conditions, both day and night. The SWORD Defense Systems SPUR is the future of unmanned weapon systems, and that future is now.
---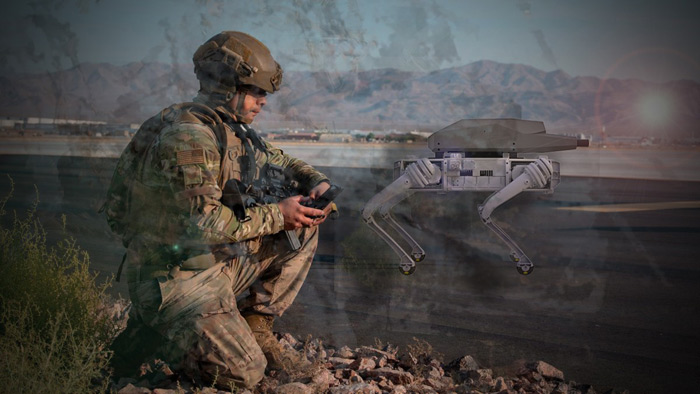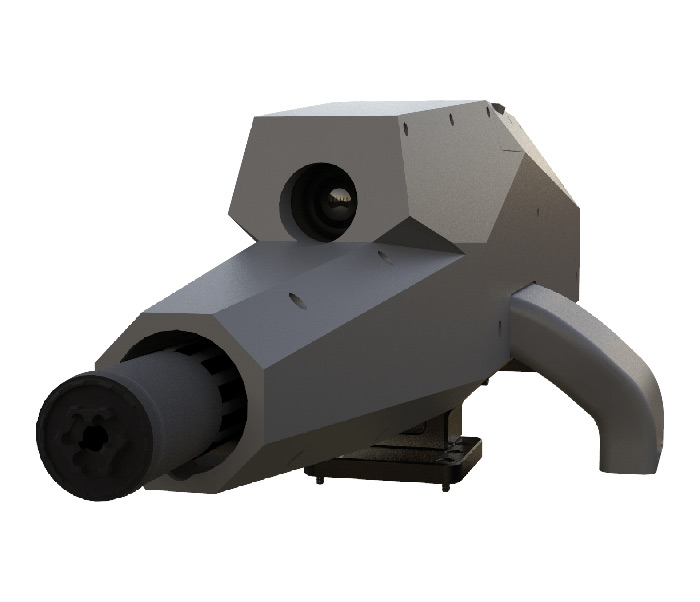 ---
The Vision-60 Q-UGV is a highly capable robot which looks similar to the agile Spot robot dog made by Boston Dynamics that is now owned by Hyundai. It can be equipped with tools for different purposes such as rescue, reconnaissance, and with the weapon Creedmoor rifle, mounted on it, can be used for offensive or defensive purposes.  According to Ghost Robotics the SPUR is capable of shooting up to 1,200 meters, and with the photos showing a muzzle that looks like a suppressor, SPUR looks stealthy that targets may not know where the rounds are coming from.
---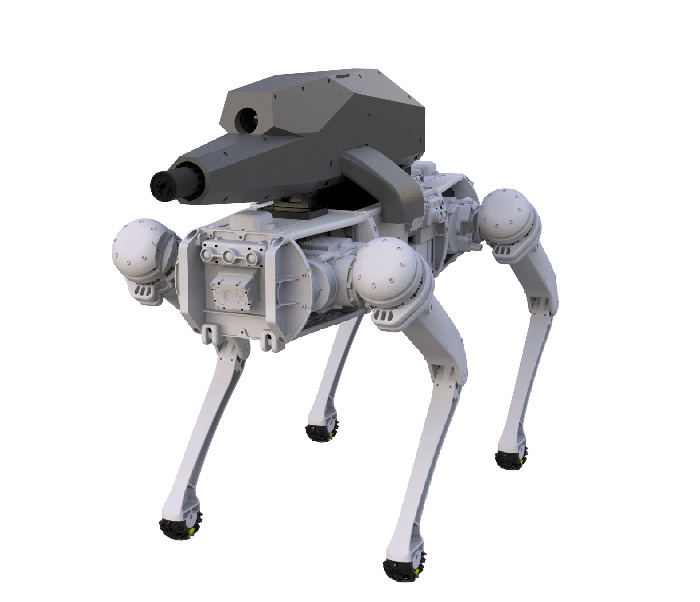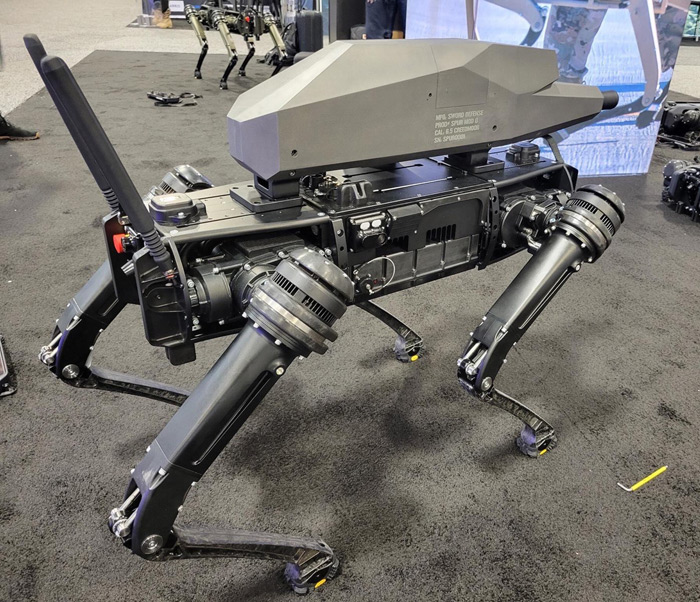 ---
Here is a video from Ghost Robotics doing some perimeter patrol at Tyndall AFB showing that it can recharge itself and below it an older video showing how it goes through different locations outdoors and indoors:
Military and law enforcement organisations will be interested in the SPUR as it can be sent into tight areas where it is risky for humans to go or be used as armed scouts that especially in urban areas where the rate for potential casualties for soldiers is always high.
Just imagine a squad or platoon of these armed robot quadrupeds unleashed for offensive or defensive purposes. With new wireless networking allowing them to coordinate actions via human operators or automated via artificial intelligence, they can be devastating.
Perhaps you are thinking of Skynet, that neural network from the "Terminator" movie franchise might soon become a reality. I know it's scary, but even without thinking of Skynet, just by looking at a group of such armed robot dogs that can shoot from long distances already scares the shit out of me.