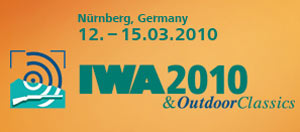 These things aren't that much airsoft related but they are definitely cool. Barrett was sporting three of their guns. And they were carefully placed on the counter so no one will actually walk inside their showroom but customers with fat government wallets. Their black rifle (AR-15) was shown with an Aimpoint Micro: Plain Jane but don't let that fool you because this one is using gas rod system instead of the traditional DGIS system we got used to on our M4s and M16s.
Of course there was the heavy hitter all time favorite .50 cal demolition rifle and its younger brother the Bravo 98 .338 Lapua. If you ask me I rather have this as an airsoft sniper and skip the fifty as it is. "An elegant weapon for a more civilized age."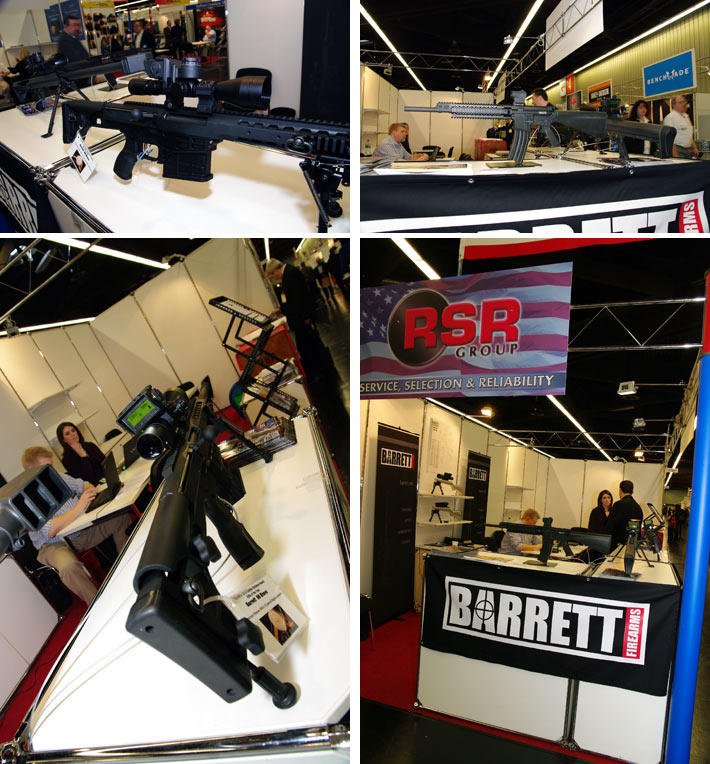 Then off I went to see the Benelli MR1 as well but all I've seen was a million fingerprints and a glassy background what made hard to take excellent photos of this beauty. On the other side of the display they put up the Vinci which is claimed to be the fastest loading lowest kicking 12 gauge of the world. All I know about that part is that they all looked nice.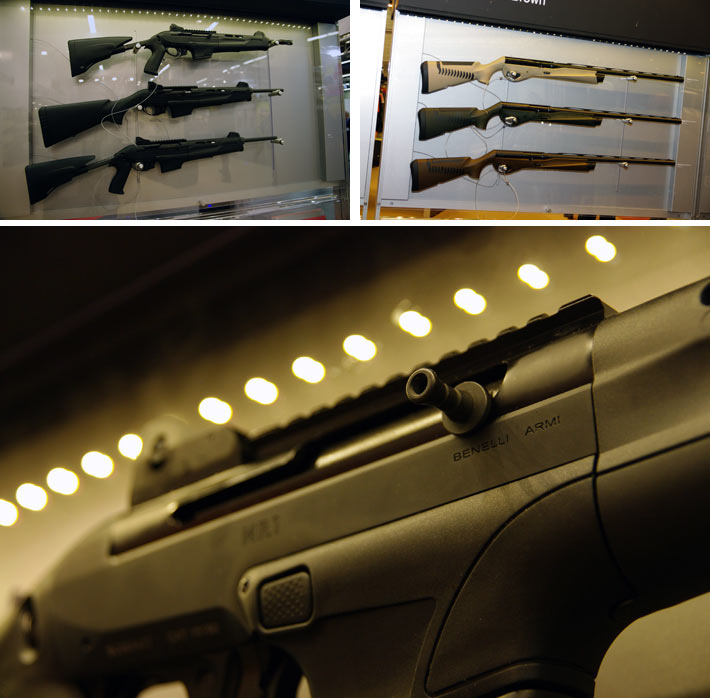 Leupold makes fine optics for people who can afford it. I got a decent salary for my day job but I still find it hard to justify a $1000 dollar scope.
Looking through these scopes is a different thing and I urge everyone to try it at least once. Crystal clear vision with the finest reticles available. I told the sales rep that I am after something low powered and equipped with open turret knobs (Leupold call it M2 turret) and he pointed out that the new MR/T scope is just what I need. Its reticle is claimed to be the fastest one for the job and it was developed for the AR guys. I ask one thing from China makers and that's the copy of this scope under $100.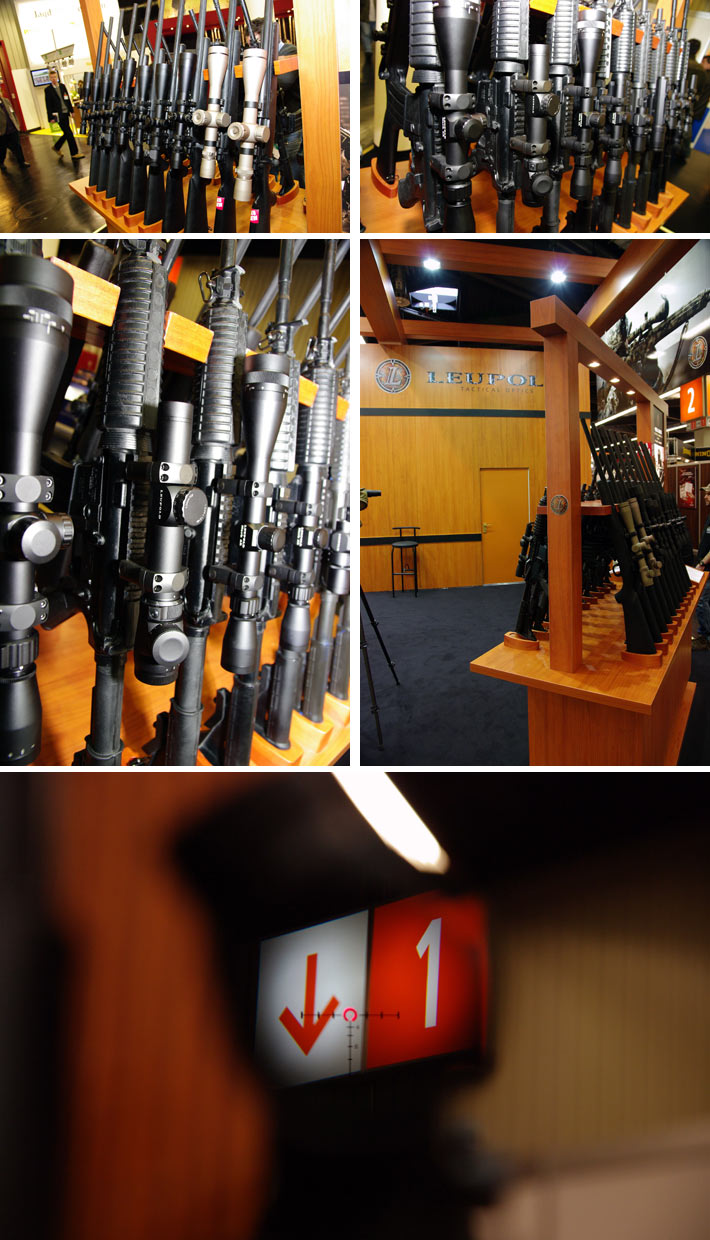 Savage Arms is the maker of "boring" bolt action rifles but now they got something what could make me drop my beloved M4. Their 10 BAT/SK (what a name) is just simply mean. To my knowledge there is no available airsoft version of this .308 Winchester with its 24" barrel. It would be awesome to get my hands on one of these and I wish I'd known about it earlier because I then it would be in our Sniper Survey as an option. The fact that their $2000 dollar rifle was laying on a box of catalogs didn't even bothered the staff so who am I to argue.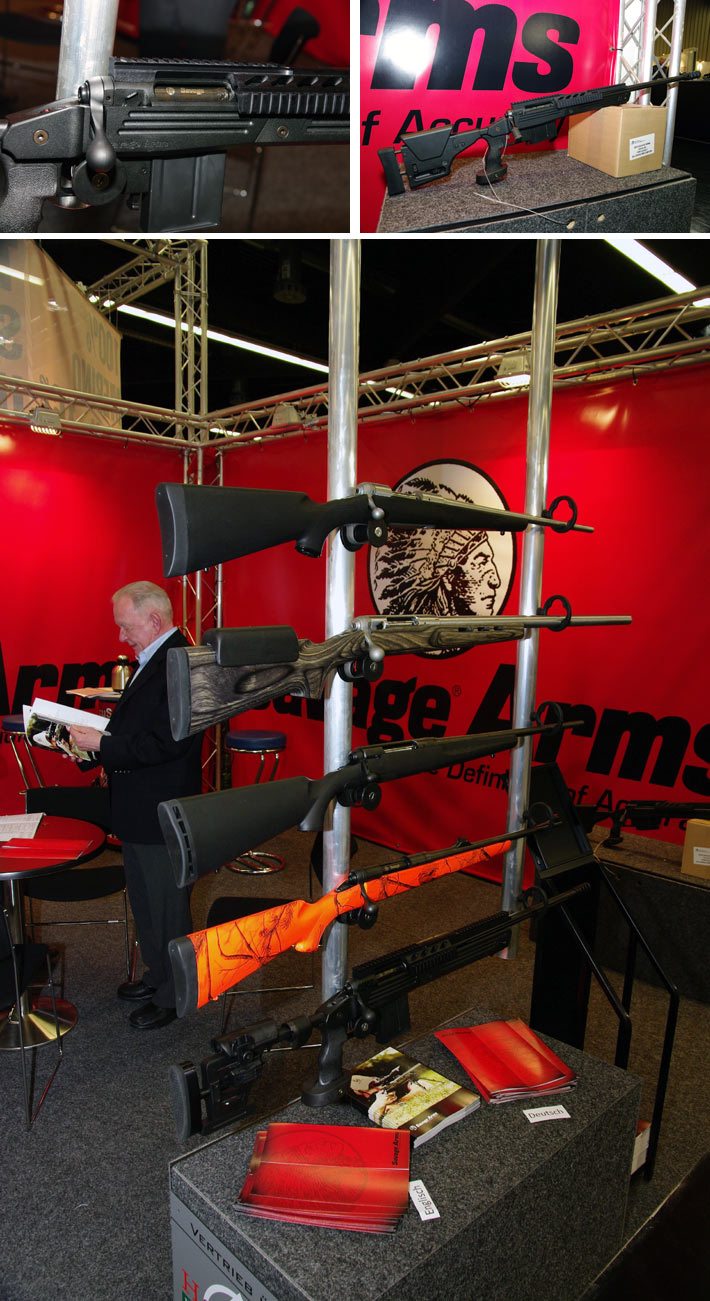 I thought I've seen all the camo patterns but Beretta (and Gore-Tex) was capable to deliver something what still makes me dizzy and they named it "The Science of Nothing". Well, why it's not free then? Just look for a high res version and you'll be able to see the "witchcraft". Digital camo at its best. The material might be waterproof and breathable but the first bush will tear it to pieces. I got PJs built tougher than this.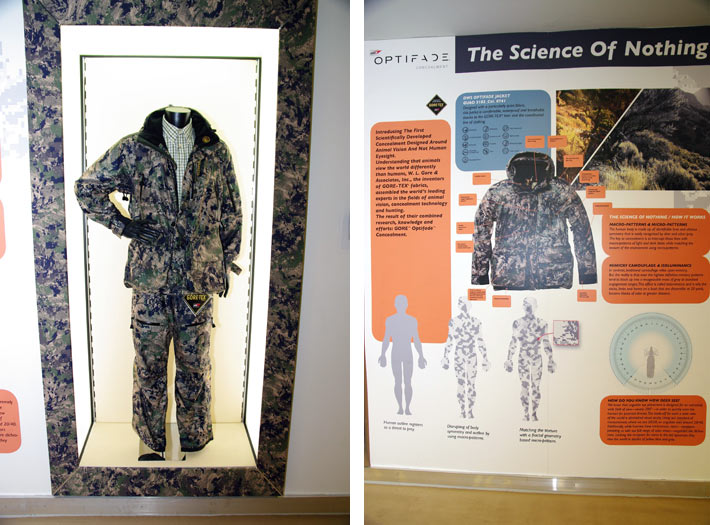 Last but not least a .308 HK which could be a very stylish accessory of any designated marksman on the field. Umarex, please roll out with this and don't let us wait or is it out already and I just missed it?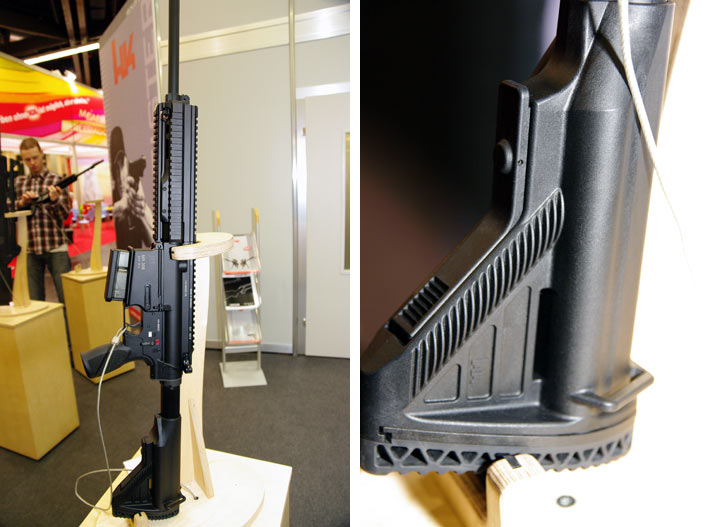 Now here we go with the awards:

Best airsoft related product could be the Evolution Airsoft LR300 but I am afraid we can't give out an award to a non-existing product (although our award is nonexistent too) so the award goes to the B&T MP9 at the ASG booth and the Impact grenade from Airsoft Innovations. HOT HOT HOT. I cannot decide which one is hotter: Me want all!!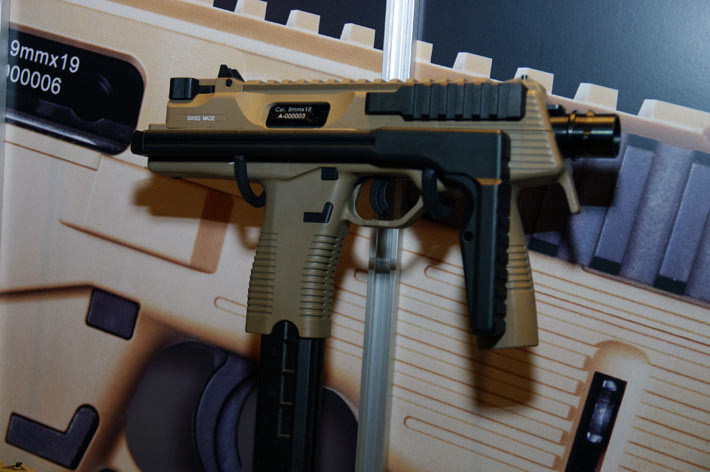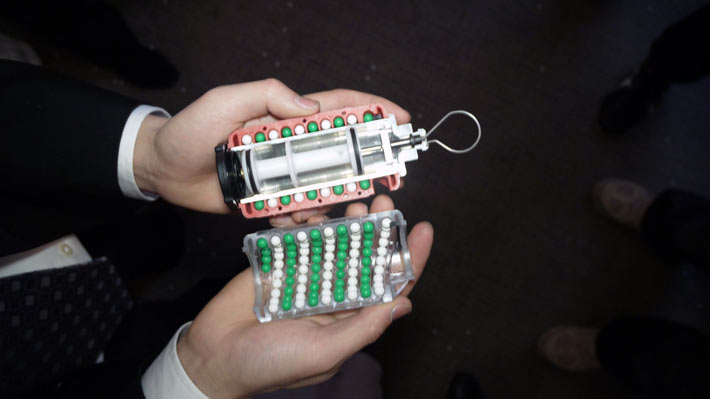 Best non-airsoft product is the massive MUT from Leatherman. This tool will have three versions and one was developed for (and with) the EOD units and it includes a C4 plunger, blast cap crimper, bore cleaner, pin pusher and other goodies.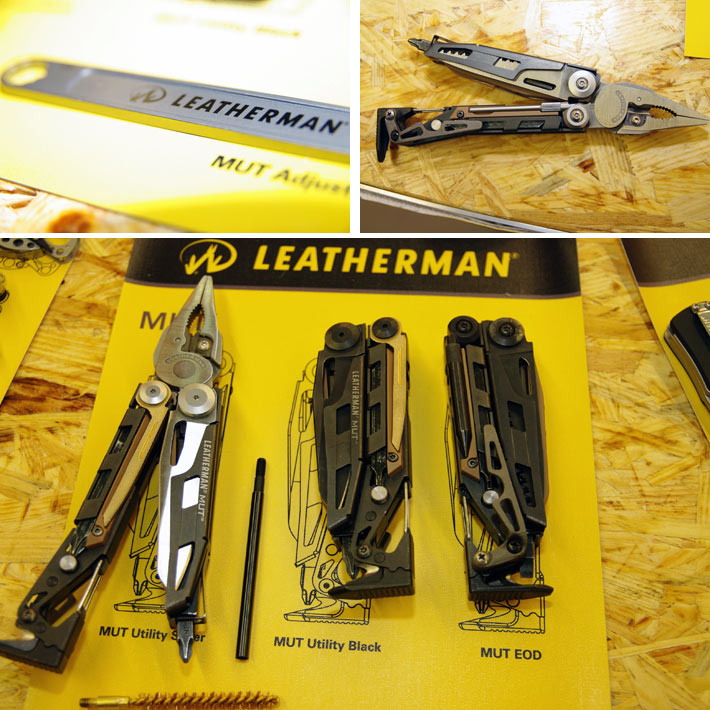 Best airsoft booth should have been Umarex but they kept most of the stuff behind displays, next runner-up is ASG but they were waaaay too hot for this award because of the TWINS so the award goes to Bohemia Airsoft because they were brave enought to bring in a dirty nasty UAZ which occupied half of their space. Let me tell you some names in that area: Glock, CZ, Meopta, Mars. Kudos to you guys pulling this off!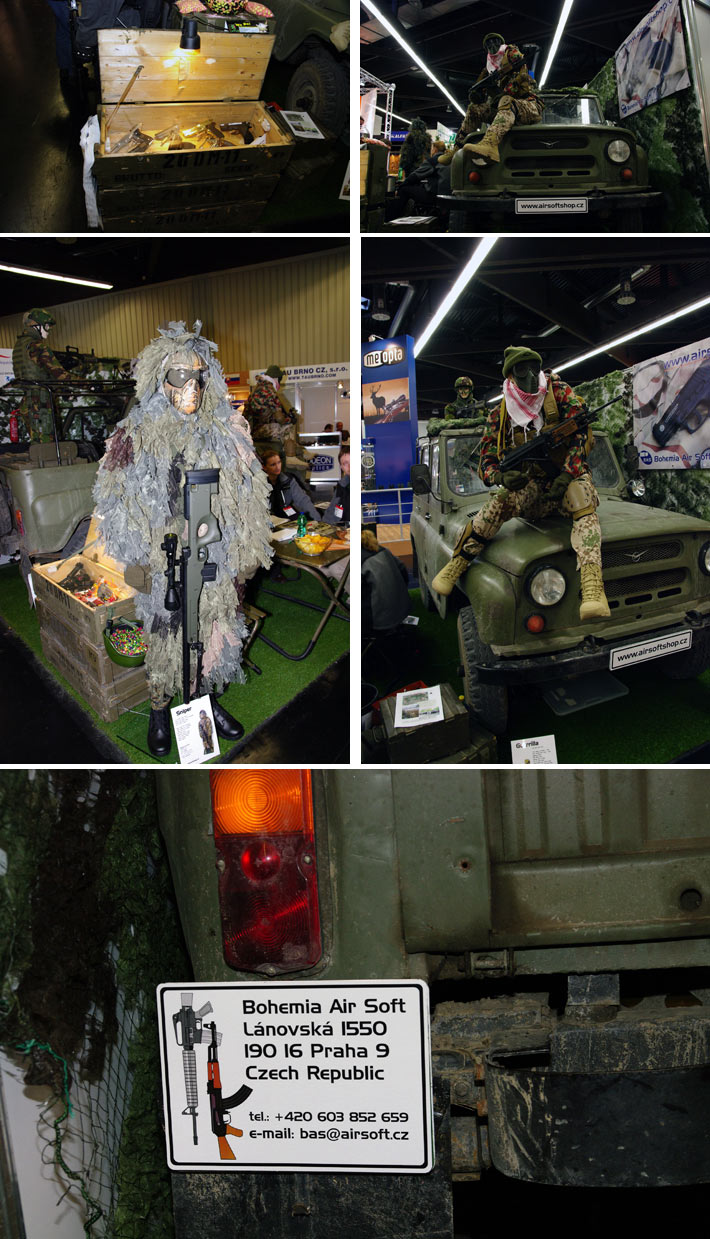 Best non-airsoft booth. Now this is a hard one and of course all the big names tried to be very stylish this year probably spending thousands of "Eurobucks" on dry wall and paint. It goes to CZ. The balance of content and design just amazed me so much that I even forgot to take a picture of the whole showroom, but please trust me on this one.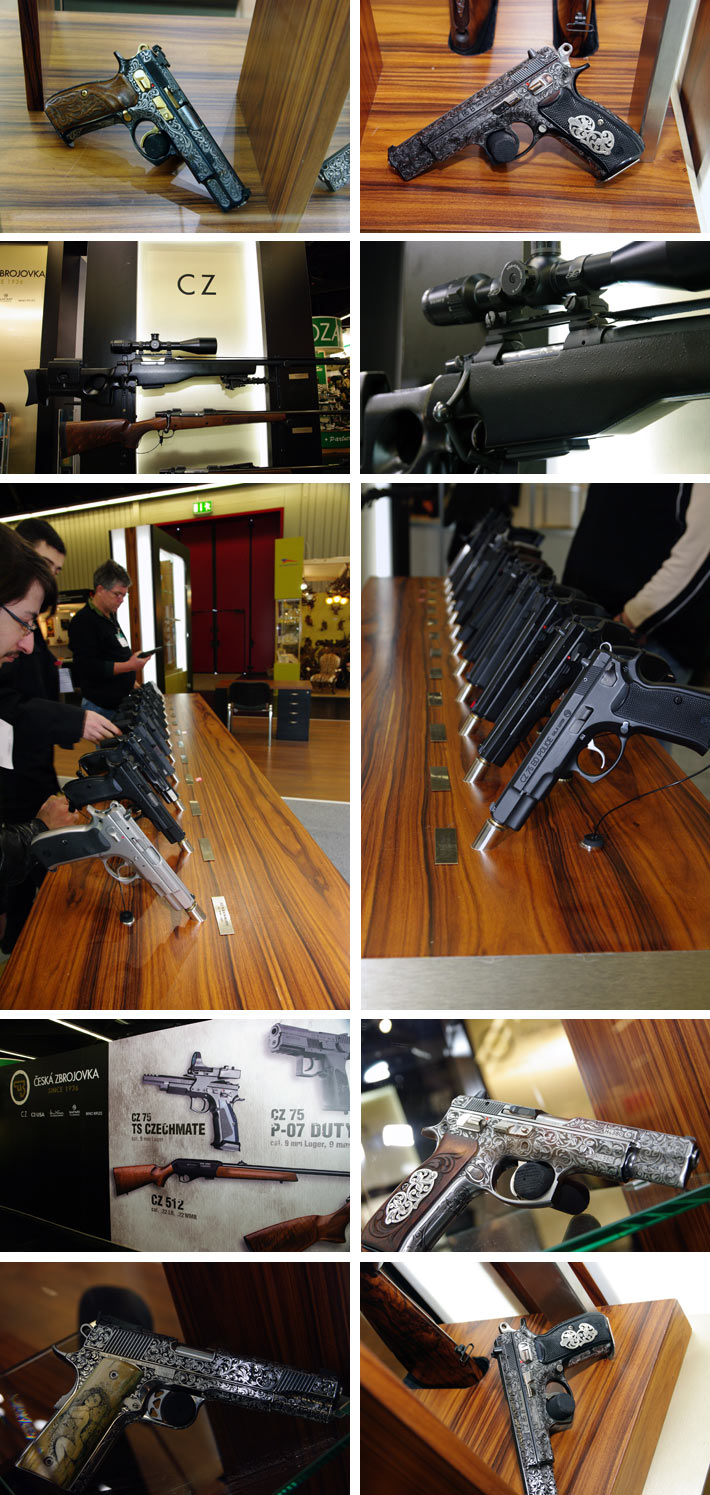 Best gun........... It can be engraved, golden plated, finger print reading, heart beat sensing custom made cannon but nothing can top the Citadel MIG 22. I've found it at the booth of the Arms Corporation of the Philippines. It's by far the best design of the show and it's truly unique with the choice of color. Mr. Commodore George S Chua (EVP of ARMSCOR) thought I was joking when I told him how much I like this weapon, but this was the easiest decision of the last four days and I am not even open for a debate. I just can't wait to obtain my .22 license.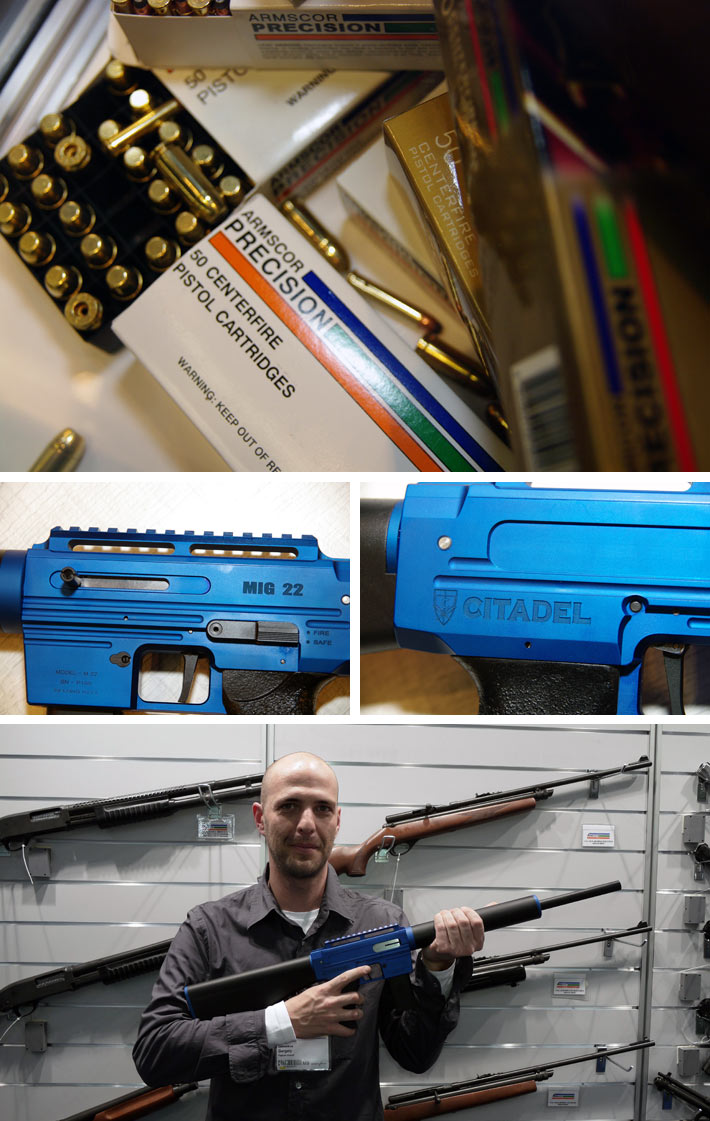 Best Kodak moment of the show: The bosses of ICS, G&G and SRC in one place reviewing SRC AEG's (I ran into problems with the translation of their review so expect this in a later issue).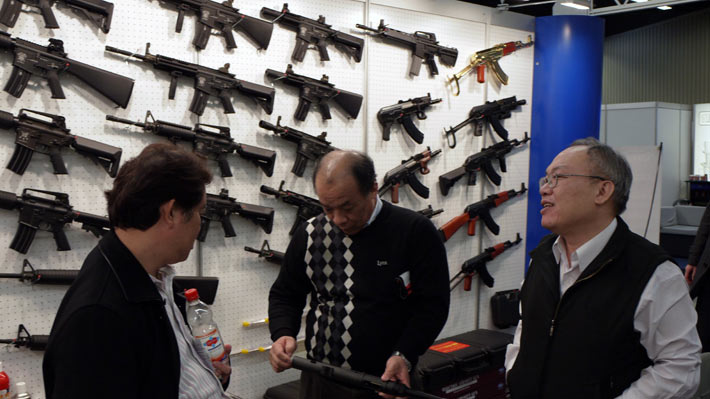 I still have plenty pictures and a couple of things to write about so expect one more load. I will go through the offerings from Leapers, PDI, Milforce, Revision Eyewear and others.

This is my last night in Nurnberg so let me enjoy the rest of it please.