Kiwis Rock 'n' Roll! New Zealand Allows Airsoft To Go Full Auto
OptimusPrime
16 Dec 2013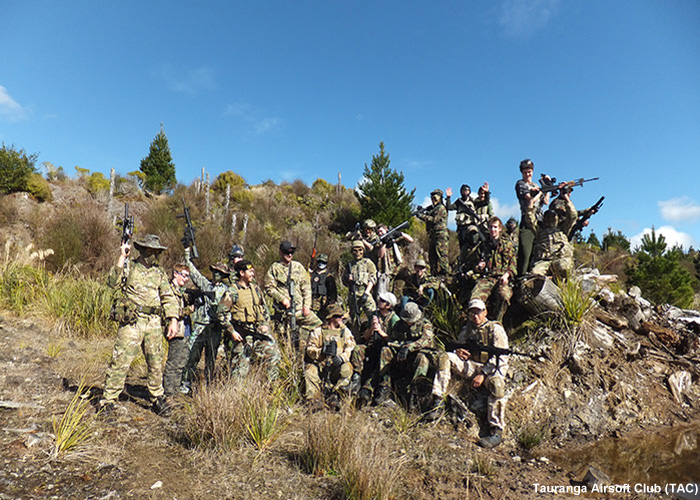 Last 11 December 2013, airsoft players in New Zealand got a very good reason to celebrate as the The Arms (Military Style Semi automatics firearms and Import Controls) Amendment Act (to the Arms Act 1983), which was approved as law last year, came into effect. This act allows airsoft guns to be shot in full automatic whereas previously airsoft guns are only allowed to be used if they only fire in semi or single shot modes.
Jake, a Popular Airsoft Reader from New Zealand, initially pointed to us to this legislation wanting more clarification and we had to contact other Kiwis who can give us a more concrete answer as he wanted to clarify if full auto airsoft guns will be allowed starting this month.
Many retailers had to do modifications for airsoft players in order that the full auto mode is disabled with many Hong Kong retailers providing this as a special service for the customers in New Zealand.
A new category called "Restricted Airgun" was created and this covers the following as explained by the New Zealand Police:
"the restricted airgun. A restricted airgun is an airgun (with or without any of its attachments) that either:
has the appearance of being a pistol, restricted weapon, or military style semi-automatic firearm (MSSA), or;
is designed for use in airsoft or paintball sports and has the appearance of being a firearm capable of full automatic fire."
Thus, the definition accepts the airsoft can go full automatic fire.
It's all good news for airsoft players in New Zealand since it doesn't really make sense running around in authorised game fields with an airsoft support weapon that can only be fire at semi-automatic. We got in touch with the KiwiBandit who for the first time, played with this ICS L86 A2 Light Support Weapon for the first time yesterday at the Tauranga Airsoft Club and he provides this video:
With the rejoicing of airsoft players of being able to fire at full auto now at airsoft games, the same amendments also imposed restrictions on importations of "Restricted Airguns". The KiwiBandit, who is a Licensed Firearms Dealer himself, explains that an import permit will be needed and this permit can be applied for with the New Zealand Police. The information he sent us is further confirmed by the information posted at the New Zealand Police website:
A permit to import is now required to import restricted airguns and there must be a special reason for the import. The same process that is currently applied to the importation of pistols, restricted weapons and MSSAs will be used. Permits will be issued from the Arms control Section at Police National Headquarters.
Restricted airgun - Special Reasons (no firearms licence required other than by dealer)
The individual applying for the permit:
seeks to possess the restricted airgun as part of a collection, and demonstrates that it fits with and enhances an existing collection,or
participates in an identifiable shooting discipline or sport at an incorporated sports club with rules encouraging safe and legal use of firearms/airguns and a range certified for the shooting activity and intends to use the restricted airgun in an event at that sports club, or
wishes to use the restricted airgun in a capacity equivalent to that described in section 29(2)(e) of the Arms Act 1983 ('theatrical purposes'), or
wishes to replace an unsafe or unserviceable restricted airgun, or
requires the restricted airgun for occupational purposes, or
the individual applying for the permit to import demonstrates the special significance of that particular restricted airgun as an heirloom or memento, or
a dealer needs to import restricted airguns for the purposes of maintaining a stock of restricted airguns used for an identifiable shooting discipline or sport, or
a dealer is importing the restricted airgun as agent for an individual who has a special reason for importing that item, or
a dealer wishes to replace an unsafe or unserviceable restricted airgun.
The provisions above are almost similar to the Valid Defence provisions in the VCRA of the United Kingdom. What is important for a Kiwi airsoft player is to join an airsoft club before he or she can start applying for a permit to import an airsoft gun. Whilst these are just additional restrictions for airsoft players, nevertheless the authorities never closed the door on personal importation of airsoft guns, just a bit more difficult with the extra red tape put into place.
The best news really is, it's now rock and roll time in New Zealand.