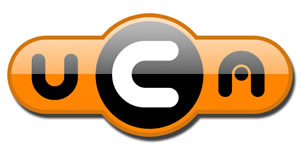 The UCA (Caledonian Airsoft Union or its official name in French, Union Calédonienne d'Airsoft) is a young airsoft association born in 2006, in the Pacific island of New Caledonia, 22,000km away from France, just North East of Australia and nearer to Vanuatu. The reference to France is due to the fact that it is a French territory since 1853 and has a population of almost 250,000.00. It is in the United Nations list of non-self governing territories and by 2014 the residents of New Caledonia will decide if they will remain as part of the French Republic or become an independent nation.
At the beginning, there were only 5 friends looking for spending good time playing Airsoft. But quickly, they realised that they had to create an official structure to play in safe conditions, in order with to be recognised by the authorities and play legally. Today, the UCA has almost 30 members (staff included), and each time they play, there are new people coming to try Airsoft on their island. But airsoft is not a new sport in the territory. It actually started in 1988, so they are not exactly newbies in Airsoft.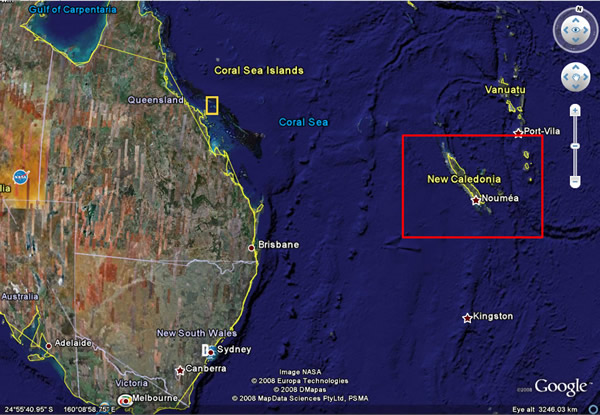 Every day, people from their association are working to give a better perception of Airsoft for people who do not really know this sport/hobby. The only compulsory thing in our association are, respect of the rules (security), fairplay, and good attitude. You can always visit their website, if you understand French, and they're very accommodating and always on the lookout to learning news about airsoft around the world.
We got in touch with them over a month ago, with the help of their one of their members, Sébastien Crornier, who has been in always contact with us. They have been kind to translate their answers into English, and with this we appreciate their efforts so much.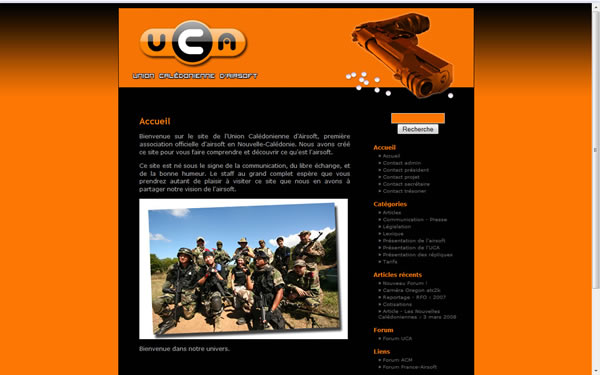 Can you please tell us about New Caledonia as a French Territory?
New Caledonia is a little French island, very far from France (22.000 km). This island was discovered at first by Captain James Cook in 1774. Some years later another French explorer called LAPEROUSE came too, but only the third explorer, who is also French, arrived here, in speaking in the name of Napoleon III, proclaimed New Caledonia was French … and today, we are always French.
When did airsoft start in New Caledonia, how did it come about?

First Airsoft replicas were seen here around 1988 and it was usually Berretta, Colt, etc.. spring replicas. Real good replicas came a bit later, around 1990 with the first GBB replicas (USP Compact KJW and Beretta M92FS WA) and the same year with the first Tokyo Marui AEGs (M4A1 and FAMAS) but were very very expensive.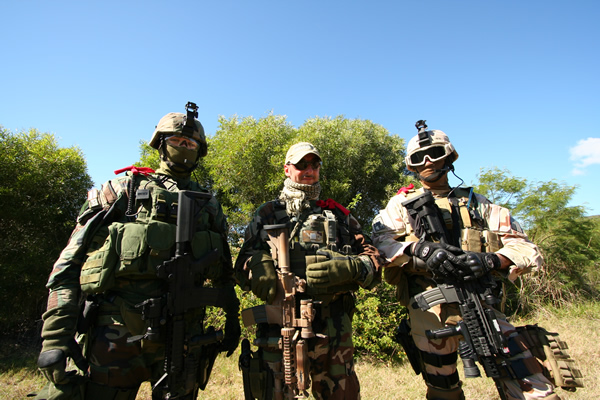 Do French laws affect airsoft play there? What is the perception of the public about airsoft there?

New Caledonia has a particular status: French laws must be approved by our local government before local application. So, French law (decret 99-240) about airsoft is not yet applied here. That's one of our most important work for now. At this time, we are still under "old" (2002) custom's legislation with required CE mark on replica's box to import and play here.
We had a problem with illegal players (playing in a public field without any authorities' acknowledgement) this year and airsoft became a bit "dangerous" for most of people. We've made (and are still doing) efforts to change this point of view. Actually, things are going better as we are becoming well known in Noumea (the Capital of the island) and also because we made several propositions to our local authorities about airsoft regulation and legislation.

Actually, we have a lot of people who want to try airsoft with us, as they finally understand that airsoft is not about politics or military, but only about fun and friendship. We explain to them why and how we're playing airsoft and they really enjoyed it.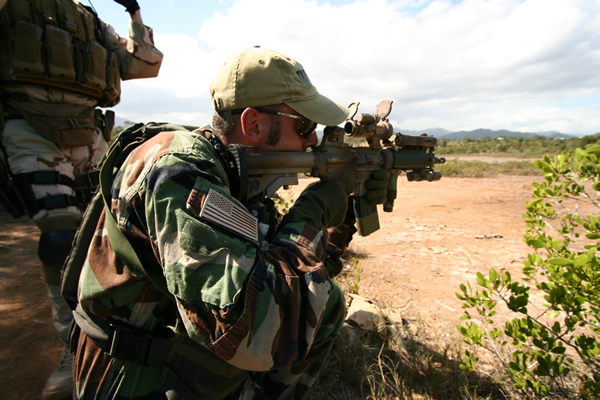 Can you tell us about your organisation? What made you form it?

UCA born on 2006 with 5 friends, enjoying playing airsoft together, wanting to promote airsoft playing legally with insurance and authorities' recognition.
First move was made when youngsters made foolish plays in a public area without any local authorities' approval and without any insurance.

UCA is really about promoting airsoft in the good way: legality, insurance, fairplay and of course, most important, security. Healthy, wealthy and wise.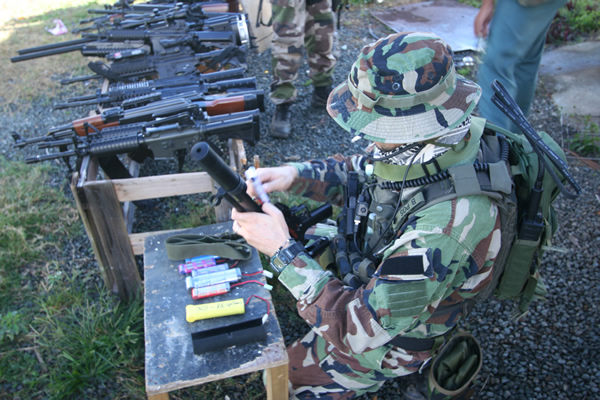 How many teams are there now in New Caledonia?

Actually, we are the only official association in New Caledonia but somehow, we know other players around Noumea (the capital), but at this time, we don't know of any other official team or club with recognition.

Where do you usually play? Any big airsoft event in the island?

We usually play in Païta which is approximately 20 minutes away by car from Noumea, and it is a 180-hectare playground. This is hard to describe it: it is a mix between African savannah, small trees, high grass... You have to see pictures to understand what we want to explain.
All airsoft events I know in New Caledonia are organised by us, so...

We really hope airsoft will grow well here because New Caledonia really has a big potential. For sure we really wish to organise big events for overseas players but at this time, it's still too hard.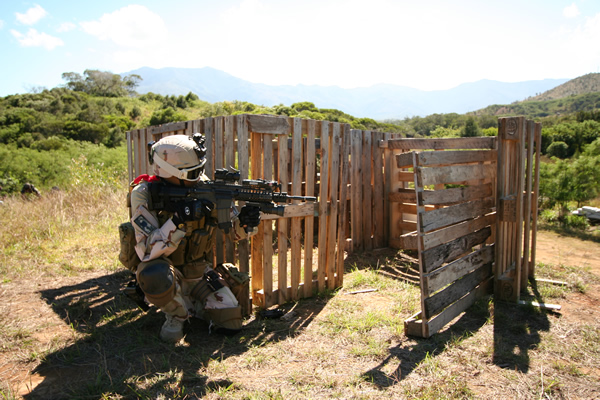 How is the importation of airsoft? Is it tough or is it easy enough for you to get airsoft equipment and gear?

Yes, it's hard to import replicas, because of our local Customs regulation with the CE mark. We provide a solution with the Customs office but, sometimes, it doesn't work or, sometimes, parcels get lost. It's really hard.

For most of equipment parts and gears like spare parts, combat vests, ammos, etc... it's easier because they are not considered as gun toys, spreading around their bullets (bbs). So, things are easier.

We made our proposal sometime ago to our local authorities about airsoft legislation, trying to get French legislation that need no more CE mark to import. It's a tough getting the proposal across, but we're still on the move!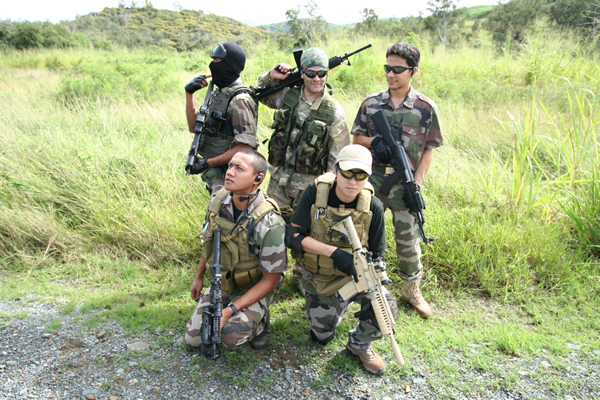 Is there an airsoft event that you want to attend outside of New Caledonia?

Big events outside New Caledonia? Ground Zero in England for example! Or Berget in Europe... There's a lot of them in France also, maybe too many to list!

Near us, we don't have too much events in mind. Maybe in the Philippines... we really don't know.
What are you future plans for airsoft there?


Having French airsoft decret 99-240 adopted in New Caledonia to import AEG, GBB, snipe etc . without the CE mark.
Organize a big event (we are thinking about it)
Always working for people to have a good perception of Airsoft
Make some videos
Never stop having fun
Any message that you want to share to our readers?

If one day you happen to get lost somewhere and come here, don't hesitate to contact us. We would help you come with your Airsoft stuff, and be happy to play with you, and share great time talking about Airsoft.