DogCam Helmet Cam
Anonymous (not verified)
28 Mar 2009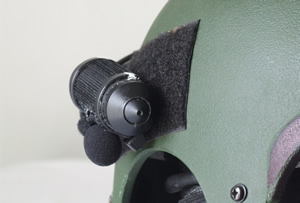 Let's all agree Airsoft is indeed a sport, despite not having its superstars, multi-national corporate sponsors or fans it is still a sport. Just like any sporting event we would like to capture as much of the action as possible. For years airsofters had to contend with taking still images of the action using 35mm film. The number of images taken was limited by the number of shots in a roll of film. When digital cameras came our horizons widened and we were able to take more photos than before. However we were still limited to still images, skirmish actions frozen in time devoid of sound. During the 90s when video camera recorders became smaller and more affordable airsofters shifted from taking still images to taking videos of their skirmishes. It was a big leap from just being able to relive the action thru still images to actually be able to hear as well as see the action.
Despite this advancement it has one very distinct disadvantage, namely to the one holding the video camera. He cannot be part of the action while capturing the event. Then along came the first generation of helmet cams, the more popular ones are the versions that Oregon Scientific made. The first was called the ATC-1000 (ATC stands for All Terrain Camera) which was popularized by extreme skate boarders. The newer version is the ATC-2000. Although this again is a big leap from digital still images it still has its drawbacks. It has a 640x480 resolution at 30fps (frames per second) and only 32mb of on board memory. Despite this, there were quite a few who purchased either variants considering its limitations and price (these were selling from GBP99.00 retail). Most were happy just by adding an extra 2GB of memory in the form of a removable SD card which increased the length of the video that could be captured at full resolution from 52 seconds to 60 minutes. Then along came the heavy weights in the form of the earlier Archos 404 and 405 versions which used high capacity solid state memory to store files (up to 30Gb on the 405). Although the storage space and image quality increased battery life remained relatively the same as with the older helmet cams.
With these helmet cams airsofters who used them not only had the ability to capture moments but they were able to capture it while being part of the action not as a spectator as was the case in the past. Post skirmish stories became livelier and the memories lasted longer. There are some who serious enthusiasts who use it as a tool to improve their game. But the rest just wanted to be able to capture and share the fun they had.
So where am I going with this? Well I just got my first helmet cam. I simply got tired of having to choose between being in the action and capturing the action from the sidelines. After careful consideration of the pros and cons of the different models available I chose one that suited mu needs and budget of course. I cannot make myself become limited by an SD card on the amount of footage I take nor can I make myself get something extravagant that I will have to get on credit because of the price. So off again I went to my favourite online market. I have made a list of specs I want. Must be able to record audio, have a reasonable resolution, mountable, must record to the video camera that I already have and most of all must not cost more than 50 quid. The technical specs are easy to match to specific products it is the price that hindered me for a while until I stumbled upon a cam sold at dogcamsport.co.uk. It met each and every specification I have including the price (just GBP5.00 more than the ceiling of GBP50.00 that I set).
Description
(This was taken from the retailer website
www.dogcamsport.co.uk
) :
DogCam Bullet cam
420 Line Helmet Camera system


The connectors are on a 2 metre cable from the camera: DC in and Video out by way of a standard female RCA socket.

Most DV recorders and cam-corders which have a/v inputs will plug straight in, usually with the cable supplied with camcorder. 9v pp3 battery clips are supplied with all cameras.




All DogCams can be attached to universal camcorder tripods or fittings.

These cameras do not have mics built in. You can purchase a mic with a 12v pass-through for the camera so you can run both from the same power supply or you can purchase a kit which includes the mic and other extras. Standard RCA outputs on all of our helmet cameras to connect to your camcorder's a/v cable. This camera is fitted with a 2 meter cable.

Specifications:


Image sensor: 1/4" SHARP CCD
Signal system: PAL
Horizontal resolution:420 TV Lines
Min Lighting: 3 lux
Electric Shutter 1/60 - 1/30000 sec
Power: 12V DC less than 120mA
Lens: 2.4mm
Video output: 1Vp-p 75ohm composite
1mm lens aperture
My Setup:
I have a replica IBH that has Velcro strips on it so I decided that it is a stable platform to attach the helmet cam to. What I did was wrap the body of the cam with Velcro to make it adhere to one of the helmet's Velcro strips. I also did the same to the microphone to make it adhere to the camera. Two meters of cables is just too much that it makes it unsafe to skirmish. Using tie locks I tidied up the wires. As power source for the camera and the microphone I used 8 rechargeable 1.5v AA batteries each with a capacity of 2500mAh (enough to last up to 8hrs of continuous filming). As for the camera itself I used a Sony DCR HC96e with a 60 minute mini dv tape.
The whole system is easy to operate. It's just like using the video camera the usual way because the recording functions are based on the camera. There is nothing to operate switch on or off in the helmet cam itself. I field tested it in the recently concluded A&E corporate skirmish held at Xsite.
The Verdict:
The whole system worked smoothly. The helmet cam and the Sony handy cam worked like one manufacturer made them; by this I mean I did not encounter any incompatibility issues. I previewed the view via the handy cam viewfinder/LCD screen to make sure that the camera's horizon lined up with the actual horizon before each game. I placed the video cam in a versipack type bag so that it will be kept safe from knocks and shocks. The videos I took were of good quality although there is a slight fish eye effect to the image. There was no loss of image or dropped frames encountered due to rugged use nor were there any audio distortion noted. The helmet cam is a robust and rugged equipment whose capabilities are only limited by the length of the mini dv tape and ones endurance.
Reliability 10/10 (This is one reliable set of equipment, after having been smashed against tree trunks and dropped once it still continues to function)
Usability 10/10 (This was first used for xtreme sports now it's being used for airsoft, maybe it will also be good for taking holiday videos)
User Friendliness 10/10 (There is almost no need to open the manual to be able to use this, as controls are on the video camera)
Customer Satisfaction 10/10 (I'm very happy that I finally have one of these it's worth every penny)